Estimated read time: 4-5 minutes
This archived news story is available only for your personal, non-commercial use. Information in the story may be outdated or superseded by additional information. Reading or replaying the story in its archived form does not constitute a republication of the story.
SALT LAKE CITY — If you've heard the title, "Mummies of the World," it's probably because it was in Salt Lake City in 2013, but curators at The Leonardo say that shouldn't keep you away because 80 percent of it is new.
The biggest reveal is a modern-day mummification. Ronn Wade of the University of Maryland Medical School and Dr. Bob Brier of Long Island University used the Egyptian process of mummification for a man who had donated his body to medical science. He died of a heart attack in 1994.
"We actually had a table made just like it was specified in the Book of the Dead," Wade said.
As they followed the first step from that ancient book, they made an intriguing discovery.
"Once the organs were taken out, the body was covered in natron. Natron was a salt, a crystal salt, and it comes from an area called Wadi Natrun, where there is a salt lake, several salt lakes, much the Salt Lake here," Wade said.
They covered the body with 600 pounds of that salt "in a room that was somewhere between 19 and 23 percent humidity and 110 to 119 degrees. The body had lost over 80 pounds of water through that 35-day period," Wade said.
They continued the process by wrapping the body in linen cloths.
Egyptians always put an amulet over the heart and the scientists did as well. The heart was the only organ they left in the body because it was the center of life.
"We did treat this gentleman like a king, for sure," Wade said. "Periodically, we're going in and we're taking tissue samples and biopsies and making sure everything is OK."
Also new to the exhibition this time is the Burns Collection from 18th century Scottish anatomist Allan Burns. These are his teaching specimens that he embalmed to better study the cardiovascular system. This is the first time they have been exhibited.
"This exhibition teaches people the science of mummification. How it happens, why it happens, where it happens and does it in way that is awe-inspiring. People are going to see things they've never seen before," said Marcus Corwin President of American Exhibitions, Inc.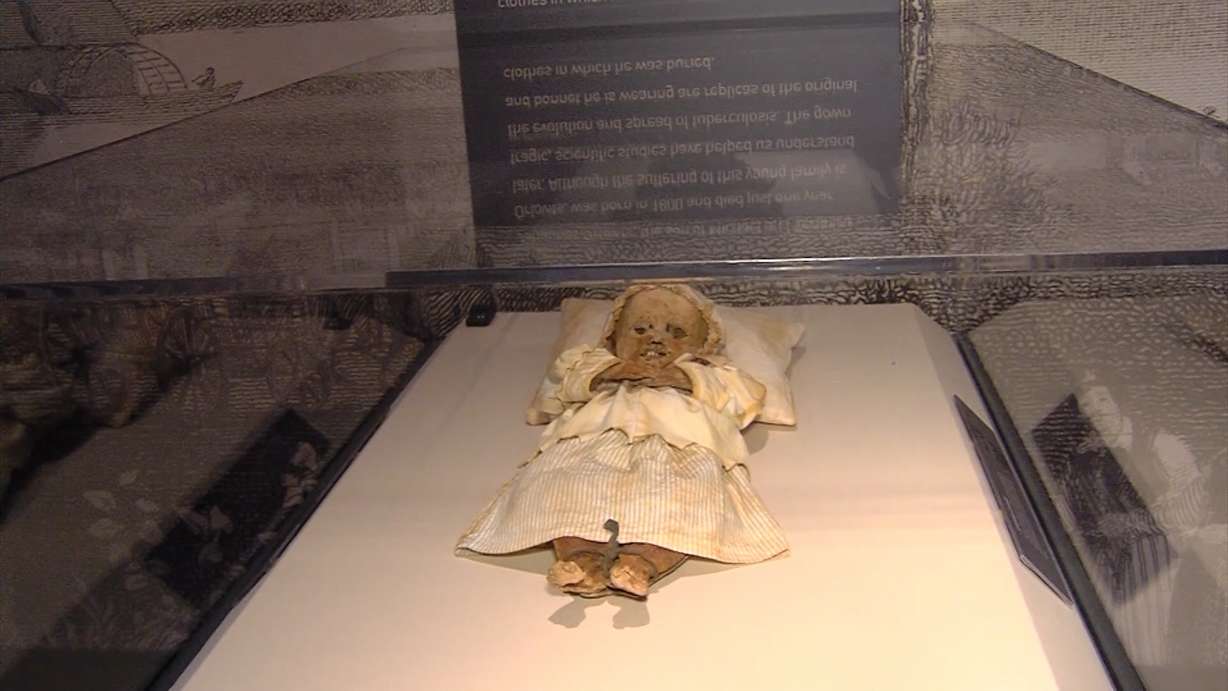 There are Egyptian mummies 4,500-years-old, but also mummies from South America and Asia. And mummies from the Middle Ages, like the Baron and Baroness von Holz, who lived at Sommersdorf Castle in Southern Germany in the early 1600s.
Their bodies were discovered in a crypt in 1806, and their descendants have allowed them to be studied through CT scans.
James Schanandore, a lecturer at the University of Wisconsin, is one of the experts of this exhibition.
"She actually has extreme curvatures in her spine, so she has extreme scoliosis and she has extreme lumbardosis, which is actually what pregnant women get sometimes," Schanandore said.
Even though she had a higher position that most, she lived during the time of the Thirty Years War, and may have suffered from the lack of proper nutrition. Schanandore also made a discovery about the baron that exists in his family line.
"The baron, he's unique in the sense that he doesn't have any big pathologies, but he actually had an extra vertebrae. So, we're born with 24, the baron had 25," Schanandore said.
Likewise, studies done on the Orlivitz family from Vac, Hungary, have helped scientists better understand tuberculosis.
Marcus Corwin said he and the scientists consulted a team of ethicists from the California Science Center to advise them on how to care for these bodies. He said they are handled with care in travel and exhibition set-up.
"We prepared this exhibition consistent with the cultures of where these human remains originate, using ethical guidelines with great deference and respect," Corwin said.
So far, 1.4 million visitors have toured this exhibition throughout the U.S. and curators hope Utah families will come and learn. Andrew Parker is the chief marketing officer for The Leonardo.
"In bringing back 'Mummies of the World' we hope that people will explore the world of genealogy," Parker said. "It's such an important part of the Utah fabric and culture that having the mummies come through, will give many the opportunity to experience it on a larger scale, how people lived, how they died and how we connect as a human family."
The "Mummies of the World" exhibition will be at The Leonardo through March 6. For ticket information, visit The Leonardo's website.
×
Photos
Related links