Estimated read time: 4-5 minutes
This archived news story is available only for your personal, non-commercial use. Information in the story may be outdated or superseded by additional information. Reading or replaying the story in its archived form does not constitute a republication of the story.
SALT LAKE CITY — The evening prayer service began with a saxophone player counting out loud in a jam-packed church.
"One, two, one, two, three," he chanted rhythmically, and then four musicians launched into a familiar melody, "Here Comes Santa Claus."
It was the beginning of a lively night in church as an unusual musical tradition wrapped up its 27th season. It's a series of Sunday concerts, an "evening prayer" service at the First Unitarian Church of Salt Lake City. It's a form of music you don't usually hear in church: modern jazz, played by an outfit called the Jazz Vespers Quartet.
When the quartet tackles a familiar song, such as a Christmas carol, it's just the framework for an artist's canvas filled with spontaneous musical improvisations. In the world of jazz, much of the music is made up on the spot, ad-libbed by musicians schooled in music theory but, in this case, happy to perform in a religious setting.
"There's just a lot of freedom to explore," said saxophonist David Halliday who's been co-leader of the Jazz Vespers Quartet for the past five years.
The other co-leader, pianist Courtney Smith, also appreciates the venue, which seats just under 200 worshippers. "It usually doesn't matter — the venue — as long as the atmosphere is a good place to create and to be inspired," Smith said.
In most churches, especially at Christmas, the faithful are content with familiar music played in familiar ways. But the Rev. Tom Goldsmith values the freedom and creativity of jazz in his church a few Sundays each year.
"It makes your spirit soar; it's a wonderful avenue for deep reflection," Rev. Goldsmith said. "Jazz, fundamentally, is a very spiritual discipline."
In many faiths, the term "vespers" applies to prayer services conducted in the late afternoon or early evening. Rev. Goldsmith began his version — Jazz Vespers — 27 years ago and found that he had a musical hit on his hands.
"People just eat it up," he said. "Everyone who comes here is really intent on listening deeply. And it has filled a niche. People are really hungry for that."
The church is always jam-packed for the performances, which are held on eight Sundays in November and December. It's been standing-room only every time, at least for the past four years.
"The first time it happened it was like, wow!" Smith said.
The jazz worshippers even pack into an overflow room where the jazz concert is shown on a big-screen TV. A fleet of student interns from nearby colleges assists supervisor Lee Shuster in providing a polished and professional video and audio setup.
Churchgoers are so enthusiastic that anyone showing up a few minutes before showtime is unlikely to get a seat. "There are people that come an hour-and-a-half before we play," said drummer Steve Lyman. "That is a huge element of why I love this place."
Anyone who shows up assuming that, because it's in a church, the music will be polite, quiet and restrained will quickly learn otherwise. Sometimes the quartet turns up the intensity and pretty much blows the roof off the place.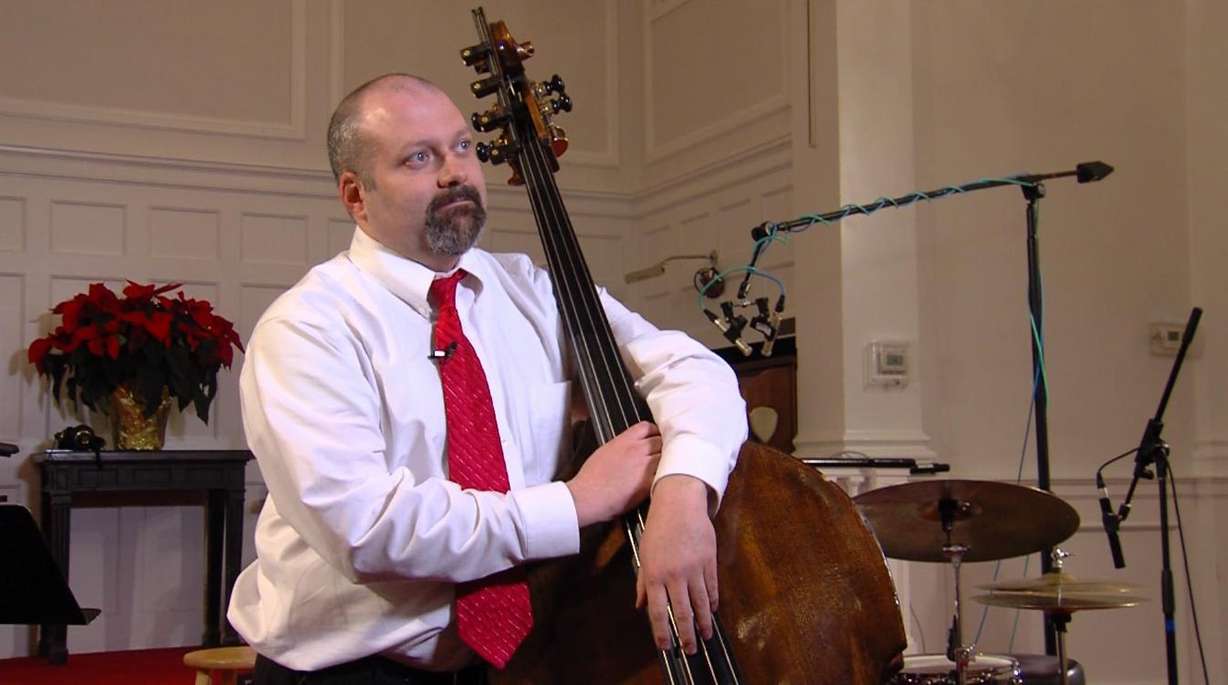 "Oh no, I unleash — full on — in this room every week," said Denson Angulo, bassist for the Jazz Vespers Quartet.
Halliday agrees. "Well it's Jazz Vespers," the saxophonist said. "But we haven't let that stop us. We've done Led Zeppelin. We've done Janis Joplin."
The quartet regularly does tribute concerts to famous musicians, many of them from outside the jazz world. "Especially if it's something like rock or pop or something, we'll take their music and put it into the jazz idiom," Smith said.
Halliday and Smith write all the arrangements. Visiting singers and instrumentalists sometimes join the quartet, supplementing the basic lineup of Smith, Halliday, Angulo and Lyman.
"This is probably my favorite place to perform in Utah," Lyman said.
The music is generally not overtly spiritual, but Angulo thinks there's a component of that in what they play. "I think music can be a spiritual language, and I feel stuff, sure, you bet," he said. "And I'm sure people (in the church) feel things as well, just something deep and emotional."
Jazz Vespers is over for this year. The series will resume next November.
×
Photos
Most recent Utah stories