Estimated read time: 2-3 minutes
This archived news story is available only for your personal, non-commercial use. Information in the story may be outdated or superseded by additional information. Reading or replaying the story in its archived form does not constitute a republication of the story.
A horse abandoned on public lands in Millard County has officials warning people that domesticated horses have no place being left in the desert.
For someone who owns an old horse, the idea of turning it loose may sound better than just putting the horse down. But land managers warn that leaving a horse to live out its final days on the range is not only illegal but will mean a slow and painful death for the horse.
Seeing wild horses running on the range is a symbol of the American West. More than 3,000 horses run wild in Utah. But a photo of a horse abandoned near Delta illustrates just how tough the wild can be.
Jared Reddington, with the Salt Lake Wild Horse and Burro Center, said, "A domestic horse really has become dependent on us to take care of them, whereas a wild horse has that instinct to survive still bred into them."
The horse was near death when it was discovered June 27th, and even after two weeks of veterinary care, the photos taken Friday show the horse still appears to be starving.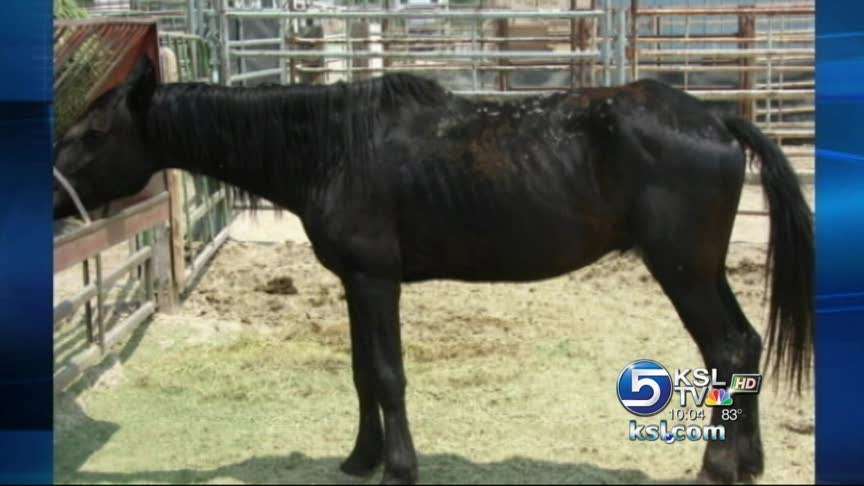 With no more horse slaughterhouses in the United States, horses can't be sold at auctions, and the cost of feeding an old horse leaves some owners feeling they have no other option. "If you turn an animal out, they are not going to know where the water is, they are not going to know what feed is available for them. You will surely see a bunch of grass out there, but some grasses aren't palatable for them," Reddington said.
Wild horse herds are managed by the Bureau of Land Management. At the Salt Lake Wild Horse and Burro Center in Herriman, wild horses that have been rounded up to manage horse herds in the wild are prepared for adoption. And when any horse begins to depend on humans, it can't go back to the wild.
"They are dependent on us to take care of them, and so if we turn them out, we think we're doing something that is going to benefit the animal, but in reality, you are hurting the animal more," Reddington said.
The horse found in the desert a couple of weeks ago is said to be improving. If no one claims the horse, officials will try to adopt it out or may be forced to put the horse down. If you have information on the abandoned horse or who it belongs to, contact the Millard County Sheriff.
E-mail: spenrod@ksl.com
×
Related links
Most recent Utah stories