Estimated read time: 2-3 minutes
This archived news story is available only for your personal, non-commercial use. Information in the story may be outdated or superseded by additional information. Reading or replaying the story in its archived form does not constitute a republication of the story.
A couple of Utah men who dramatically changed their lives in order to make cheese -- that's right, cheese -- are heading off to Chicago next week. They're hoping to make history a second time by beating the giants of the cheese industry.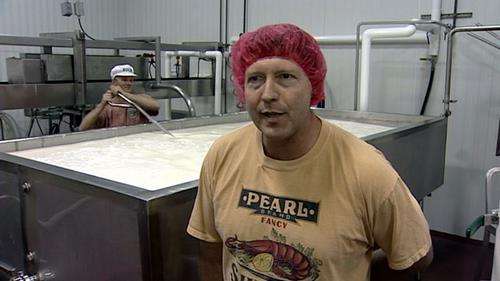 The two businessmen traded in their laptops and their stress for a life making something almost everybody likes. When the beginners knocked off industry giant Tillamook Cheese a year ago, it was all part of the business plan.
Pat Ford was a real estate agent. Tim Welsh owned a software company. Then they learned how to make cheese.
"I told my partners I was gonna start a cheese company, and they thought I was absolutely nuts," Welsh said.
Now their Beehive brand is a sensation, at least for the taste buds. "It actually tastes like cheese. You can tell that it's not processed or anything like that. It's really good," cheese enthusiast Brittney Lark said.
They sell it at farmers markets and selected grocery stores, and they make it in a small warehouse at the mouth of Weber Canyon.
They didn't learn the craft overnight. They did extensive research, traveled a lot and studied artisan cheese-making at Utah State University.
"Our whole first year in business, we didn't make any money. But it was fun, and we've done a lot better than we thought we were going to do," Ford said.
In their second year, their cheddar rubbed with lavender buds and espresso coffee won the industry award for best-flavored cheddar. The newcomers felt like giant killers.
"It was on page 24 of our marketing plan when we started our business. To win an award, but when we actually won, yeah, it was a surprise. But it was wonderful," Welsh said. "In fact, Tillamook Cheese, in our category, took second and third place. ... But here were a couple of greenhorns that had been making cheese for two years, and we win."
A couple of words of warning: This stuff has a very high fat content, and it's not cheap. It will run you about $15 to $20 a pound.
In changing careers, the two never looked back. But they had to settle for longer hours, less money and more rewards.
"As far as the financial performance of what we've done, it's wonderful. But it's not like software. I mean, we're not going to be filthy rich, but we love what we're doing," Welsh said.
Ford said, "It's not stressful, it's wonderful! And we do business with people we like doing business with."
"If we can't make a house payment, we go have a piece of cheese and smile," Welsh chuckled.
In next week's competition in Chicago, they've entered seven cheeses, hoping for another trip to the winner's circle. The Davids of Utah once again standing up to the Goliaths of the industry.
E-mail: jhollenhorst@ksl.com
×
Related links
Most recent Utah stories