Estimated read time: 5-6 minutes
This archived news story is available only for your personal, non-commercial use. Information in the story may be outdated or superseded by additional information. Reading or replaying the story in its archived form does not constitute a republication of the story.
SALT LAKE CITY — A 10-day jail sentence for San Juan County Commissioner Phil Lyman for an illegal ATV protest ride in a restricted canyon turns another page but doesn't close the book on the ongoing tension between southern Utah residents and the federal land managers.
"It will make people on both sides of the issue angry," U.S. District Judge David Nuffer said Friday before sentencing Lyman and co-defendant Monte Wells, who received five days in jail.
The judge also ordered both men to serve 36 months of probation. He prohibited them from advocating or encouraging activities that would violate federal land use laws. He earlier required Lyman and Wells to share in paying $96,000 to repair damage the ride caused in Recapture Canyon near Blanding.
Nuffer reasoned that a long sentence would "inflame" people who want to change federal land use policy, while no jail time would do the same for those who favor land protection.
At the same time, he cautioned against buying into a growing "mythology" that the federal government was out to get Lyman. Calling the case a "tragedy," he cast blame for the prolonged polarization over land issues on both sides.
"We're all people," Nuffer said. "Can we reduce the bitterness and the battle and the conflict?"
The Bureau of Land Management closed Recapture Canyon to off-road vehicle use in 2007, citing damage to cultural artifacts in the area, but it let other authorized uses continue on some sections, such as use by the San Juan County Water Conservancy District. Many locals objected to the closure, asserting it was arbitrary and unnecessary, and thwarted a review process mandated by federal law.
Lyman conceded in court papers that he made a "mistake" in organizing and leading the May 2104 ride to express frustration over federal land management practices. But he didn't say that in court Friday.
"This was not an anti-government rally. I love the federal government," Lyman told the judge.
Lyman said he was responding to the needs of his San Juan County constituents, some of whom are still "devastated" by the 2009 federal raid in the southeastern Utah artifacts trafficking case. Federal agents' harsh treatment of people in that case left a mark on the community, he said.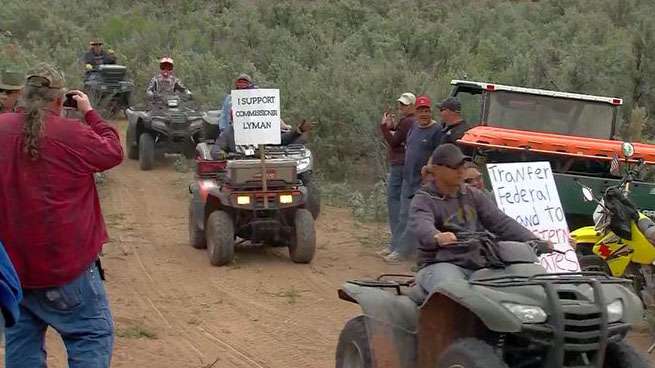 "I feel like I'm a reasonable person. As an elected official, I hear the concerns. I put myself in the middle of that," he said.
A jury convicted Lyman and Wells, both 51, in May on misdemeanor charges of conspiring to operate off-road vehicles on public lands closed to off-road vehicles, and operation of off-road vehicles on public lands closed to off-road vehicles.
Nuffer allowed Lyman, a certified public accountant, to serve 10 days after tax season ends in April. Wells asked to do his time as soon as possible in 2016. Both would be housed in the Washington County Jail.
Lyman's lawyer, Peter Stirba, at one point said there's an "arrogant dynamic" in how the federal government deals with rural Utahns. He argued for probation, saying the ridicule and humiliation Lyman has endured is punishment enough.
"This is a misdemeanor, for crying out loud. This is a misdemeanor trespassing charge," he said. Lyman, he added, didn't damage anything or threaten anyone. "This was a peaceful ride."
Stirba declined to say afterward whether he would appeal the conviction. Nathan Crane, who represents Wells, said he would "likely" appeal. They have 14 days to decide.
Lyman declined to speak with reporters after the hearing.
In June, conservative Republican state legislators, county commissioners and even the governor rallied to Lyman's defense. Some charged that the jury didn't hear the truth during the trial.
They tried to get the state's Constitutional Defense Council to put up $100,000 for his appeal. That effort failed, but Lyman collected thousands of dollars in private donations, including a $10,000 check from Gov. Gary Herbert.
Herbert wrote what his office described as a "character reference" for Lyman to the court before he was sentenced. It was done as a personal letter and not on government letterhead, according to the governor's office.
Utah has sued the federal government over the status of 12,000 rural roads across the state, including in Recapture Canyon.
Federal prosecutor Jared Bennett asked the judge to sentence Lyman to a "limited but reasonable" prison term to promote respect for the law and to deter others from committing the crime. Lyman knew the ride was illegal and he used his political office to recruit others to participate, he said.
Lyman and Wells could have used other means to express their displeasure with the BLM, including calling upon elected representatives, grass-roots political movements, lawful protests, Bennett said. Instead, the men "chose crime."
Nuffer found that Lyman's position gave him an opportunity to be vocal, respected and followed, and he abused that trust, but he said enhanced penalties didn't apply because county voters entrusted him with the position, not the government which owns the land, the BLM which administers the land, or citizens who were damaged by his actions.
The judge also concluded that Wells didn't play a significant role in organizing the protest ride.
Nuffer asked all the parties whether they were worse or better off since the protest ride.
Bennett said the biggest problem is how people perceive the government and the justice system. People on the ground view the federal government as an "imperial government," he said.
U.S. Attorney for Utah John Huber said after the hearing that the government is satisfied with the sentence. His office initially sought up to a 10-month prison term and as much as a $30,000 fine for Lyman.
BLM officials "begged" Lyman not to go through with the ATV ride when they learned of his plans, Huber said.
"You can't poke law and order in the eye and expect reasonably that nothing would come of it," he said. "He made the choice."
Huber said the case wasn't about political beliefs or positions but about the rule of law. He said he hopes both federal land managers and Utahns with deeply held historical beliefs can "dial down the rhetoric."
"This is a tragedy, in Judge Nuffer's words, that will live probably live on through this generation, much as the other tragedies that were cited by Mr. Lyman in particular today that become these focal points for communities," Huber said.
"My hope echoes Judge Nuffer's that we can ground ourselves in common sense, facts and reality as we form opinions and then to civilly respect divergent opinions that others may have."
×
Photos
Related stories
Most recent Utah stories