Estimated read time: 5-6 minutes
This archived news story is available only for your personal, non-commercial use. Information in the story may be outdated or superseded by additional information. Reading or replaying the story in its archived form does not constitute a republication of the story.
SALT LAKE CITY — Jeff Weber admits having to hire 300 new employees in one year can be a good problem to have as a young company.
It is, nonetheless, a problem, especially when the work requires highly specialized training in technical fields, such as data analytics and software development for mobile devices.
That's the plight of Instructure, a Salt Lake City-based company that develops software programs such as Canvas, an online education platform used by universities around the world.
Part of the problem stems from a limited number of college graduates in those fields, and part of it has to do with the rate at which technology changes, making it difficult for colleges and universities to keep up, according to Weber, who is senior vice president of people and places at Instructure.
It's not an insurmountable challenge, but it is a common one, he said.
"Generally we can find most of the talent we need in Utah. But we still struggle finding the right kind of people with those skill sets," Weber said. "We do find great talent here in Utah, there just isn't enough of it."
Difficulty finding quality hires
Most Utah companies struggle in some way to find qualified employees, according to a Utah Foundation report released Wednesday.
In a survey of 151 local employers, 71 percent reported some level of difficulty in finding enough skilled or qualified hires, and 32 percent said a talent shortage is the greatest factor impeding economic growth.
But the report notes that the shortage might not rest entirely on shortcomings within the workforce.
An analysis of data from the Utah Department of Workforce Services showed 68 percent of companies are offering below-median wages for positions that are difficult to fill, and 38 percent are offering wages beneath the 25th percentile.
"Any discussion over the difficulty of finding enough people definitely needs to have wages as part of the discussion, not just super low unemployment rates and what is traditionally portrayed as a skills gap, which is what people are putting a lot of focus on right now," said Utah Foundation research analyst Christopher Collard.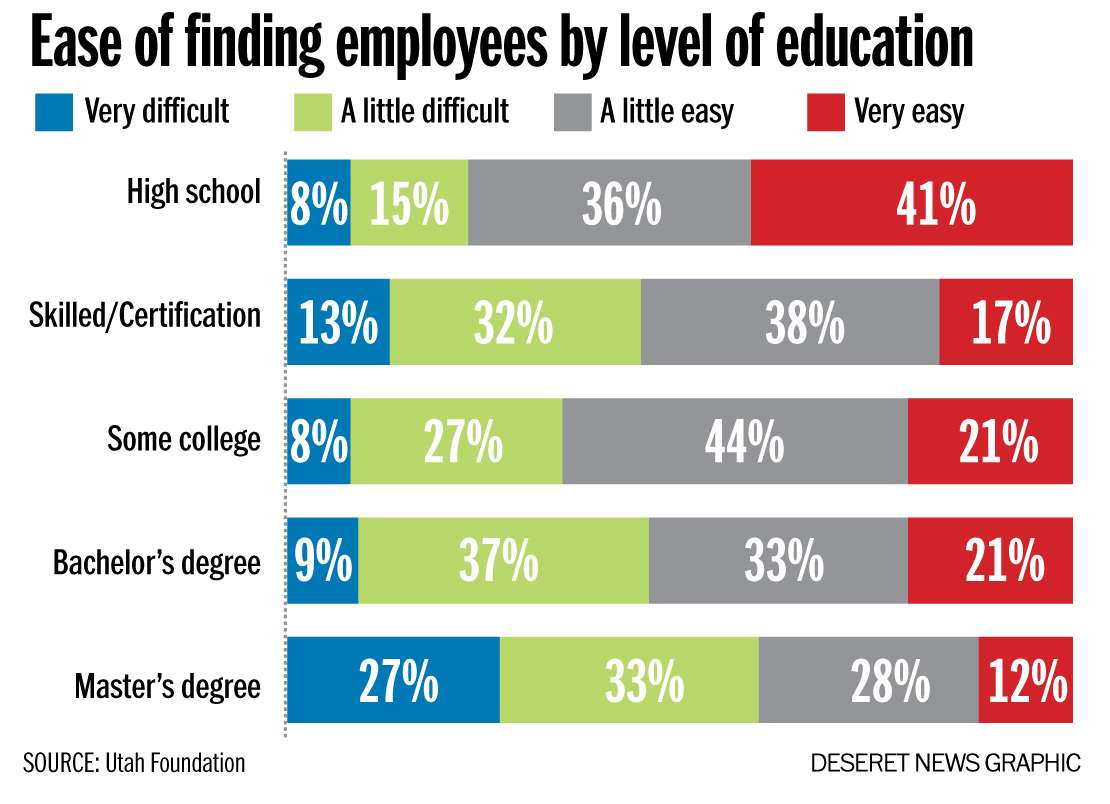 Utah's work ethic
Low wages don't necessarily mean a lack of quality education or work ethic. Almost 90 percent of employers with an out-of-state presence indicated that their Utah employees had about the same or better education than those working outside the state. Sixty percent of companies said their Utah employees are more productive than their out-of-state counterparts, the foundation reported.
"A lot of companies really recognize the productivity and hard work ethic of Utah's labor force," Collard said.
Utah has traditionally had below-average operating costs for businesses, which is partly driven by wages for young workers on a lower stage of salary progression, according to Jeff Edwards, president and CEO of the Economic Development Corporation of Utah.
But keeping wages at family-sustaining levels remains critical in helping people, especially young families, who are still recovering from the Great Recession. Estimates from the U.S. Census Bureau released last week show Utah still had 80,000 more people living below the poverty line last year than in 2008.
Utah raised its median household income by more than $4,200 between 2009 and 2014, but raising wages across a spectrum of income levels each year will help the state compete for jobs and talent with companies in other states, Edwards said.
"Yes, we want technology jobs and the high tech that comes with that, but we also want a balance of those, and it's important in the long run to see wages grow over time," he said. "We don't want to lose our competitive advantage."
Competition is a daily reality for companies like Instructure, which provides training and certifications for many of its new employees, which, at the same time, increases the incentive for other companies to poach talent.
"I think it's absolutely critical to pay market rates for these kinds of positions, or you won't be able to hire people in this environment," Weber said. "Or if you do hire them, other companies will entice them away fairly quickly, paying them more than you're paying them."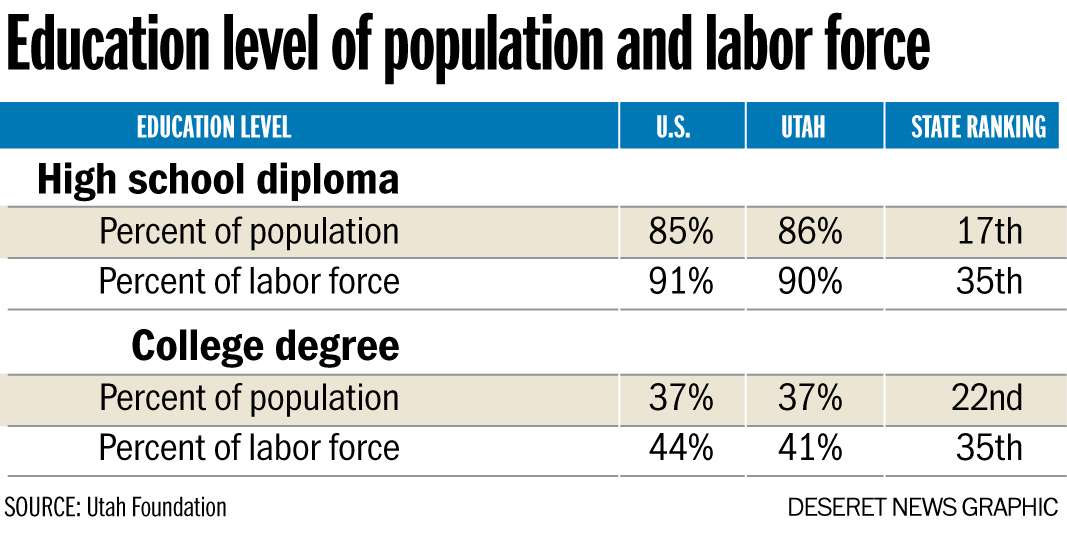 Preparing graduates
Edwards said the primary objective in addressing the skills gap lies in preparing students for the workforce well before they graduate. One of the priorities outlined in Gov. Gary Herbert's 2017 budget proposal, which asks for $422 million in new money for education, is better access to college and careers for at-risk students.
Science, technology, engineering and math — collectively known as STEM — offer a broad array of opportunities for those students, such as the Utah Aerospace Pathways program announced in September. The program will allow high school seniors in several schools to get paid internships, graduate with a certificate in aerospace manufacturing and immediately begin a career with companies like Boeing.
"One of the really critical parts of that is giving high school and even junior high school students an idea of what the workforce is about," Edwards said. "I think part of that could be influenced by people with the right skill set to help people look at their choices."
Previous Utah Foundation reports have highlighted large differences between the baby boom generation, which is entering retirement age, and millennials, who are still fairly new to the workforce. While millennials overall have more college education, they lack the experience that baby boomers leave behind.
There also appear to be generational differences in taste when it comes to employment.
"Many individuals in the manufacturing industry are older and arriving at retirement ages," Wednesday's report states. "As they phase out of the workforce, younger individuals do not seem interested in replacing them."
But providing mentoring opportunities between seasoned employees and their inexperienced replacements can help bridge the gap in skills, experience and expectations, according to Edwards.
"We're hiring millennials in our office, and that's a great fit. The challenge is getting boomers to even speak the same language as millennials so they're on the same page," he said. "But once that gets sorted out, there's plenty of knowledge transfer that can go back and forth."
×
Photos
Most recent Utah stories