Estimated read time: 6-7 minutes
This archived news story is available only for your personal, non-commercial use. Information in the story may be outdated or superseded by additional information. Reading or replaying the story in its archived form does not constitute a republication of the story.
SALT LAKE CITY — Slippery roads and shuffled school schedules weren't the only byproducts of the snowstorm that blanketed much of the state Monday and Tuesday.
Like flood rains in a desert canyon, the snow's impact has rapidly flowed throughout the Wasatch Front, bringing skiers to the mountains, moisture to reserves, snowplows to the streets and anxious customers to local businesses with an economic boost.
And it keeps on flowing.
Ski resorts
"It's hard to overstate the importance of a storm like this and this kind of timing early in the ski season," said Nathan Rafferty, president of Ski Utah. "This is going to go a long way."
Rafferty said conditions at most of Utah's ski resorts have "drastically improved" since last weekend, but the spike in visitation has also been driven by the snowy reminder in the valleys.
"We were in decent shape going into it, but the timing is super with Christmas just a couple weeks away, which is one of our busiest weeks of the year," he said. "There's nothing that drives skier visitation more than snowfall, especially here in the valley. It reminds everybody that we've got snow up in the mountains."
Rafferty said the storm will also bring visitors from outside the state who may have been debating where to travel and when to arrive. Even so, several of Utah's resorts are already "packed," he said.
"It helps a ton because we're a state that is known for really easy access. Literally, people wait to see if it's going to snow or not and they book their flight," he said. "It'll help with Christmas, but I think it will help even more with quick weekend skiing."
Visitors can find snow and weather updates for each of Utah's resorts at SkiUtah.com.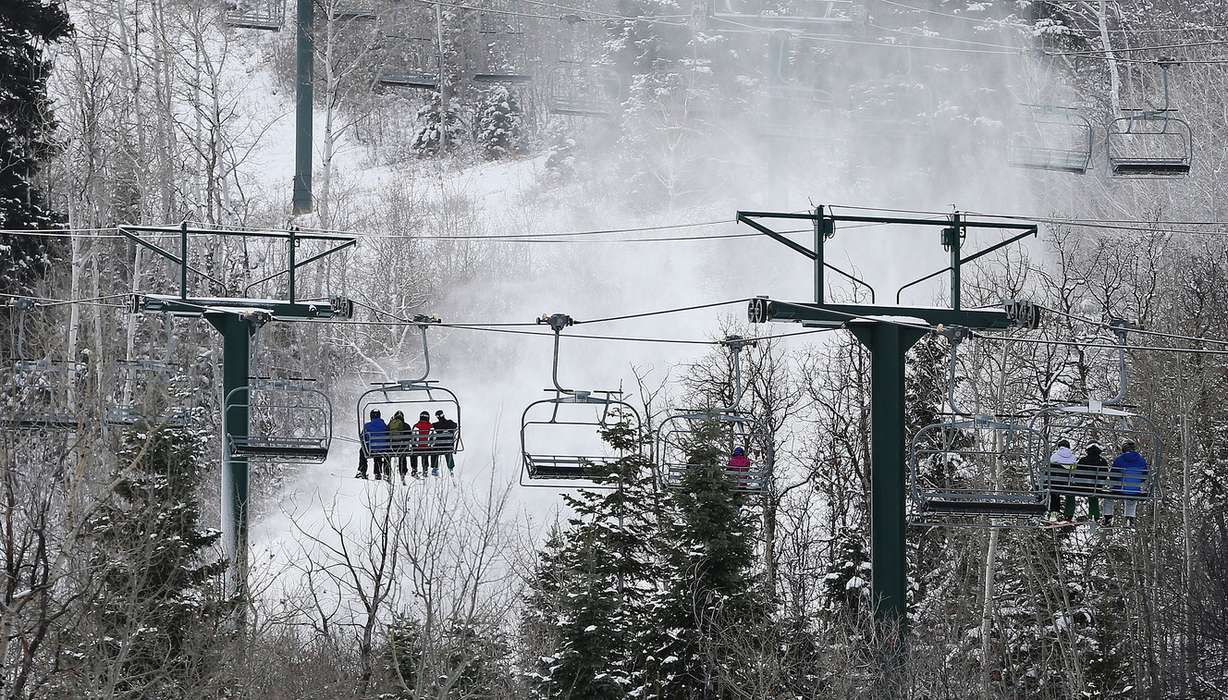 Water
The storm's reach extended from Zion National Park all the way to the northern Wasatch Front, according to Randy Julander, snow survey supervisor for the Natural Resources Conservation Service's Utah office.
Kolob Canyons, which sits above Zion National Park, got 3.2 inches of water from the snow. Midway Valley near Cedar City got 3 inches. Rocky Basin in Iron County got 2.3 inches, and the Tooele Valley got 2.4 inches. The smallest measurements — typically less than 1 inch — were in central Utah, according to Julander.
"We have 110 sites scattered across the state, and it's bumped all sites up in a general positive trend. That's great," Julander said. "There have been a lot of sites that have gotten a phenomenal amount of snow."
Snow from Monday's storm fell mostly with 10 percent density, meaning that 20 inches of snow, for example, resulted in 2 inches of water, he said.
It's a welcome drink given the "dribbles here and there" of last winter, but a series of moisture events sustained throughout the season are still needed, Julander said.
"It's been a fantastic storm," he said. "What we hope for this year is a continuation of this particular pattern where we get one or two storms a week throughout the wintertime.
"One storm doesn't make the winter, but it's off to a really nice start," he said.
Plows and garbage trucks
The sudden magnitude of the storm proved a challenge in some places for snowplows making their way out of the garage and onto the highway.
Kevyn Smeltzer, operations director in public works for Salt Lake County, said that as of Tuesday afternoon, his trucks hadn't left the roads since 2 a.m. Monday.
"It was a big challenge because it was pretty much the first storm of the year and it was the biggest one we've had in many years," Smeltzer said. "Safety is always an issue, and the drivers have done a great job."
The county's fleet of 70 plows administers roads in unincorporated portions of Salt Lake County. The entire fleet runs from midnight to 3 p.m., then operations usually scale back to 20 trucks for the rest of the day while drivers rotate and rest, Smeltzer said.
"We're doing the best we can. In our jurisdiction, we think we've hit every road at least once," he said. "We're still going back and checking and making sure things are clear."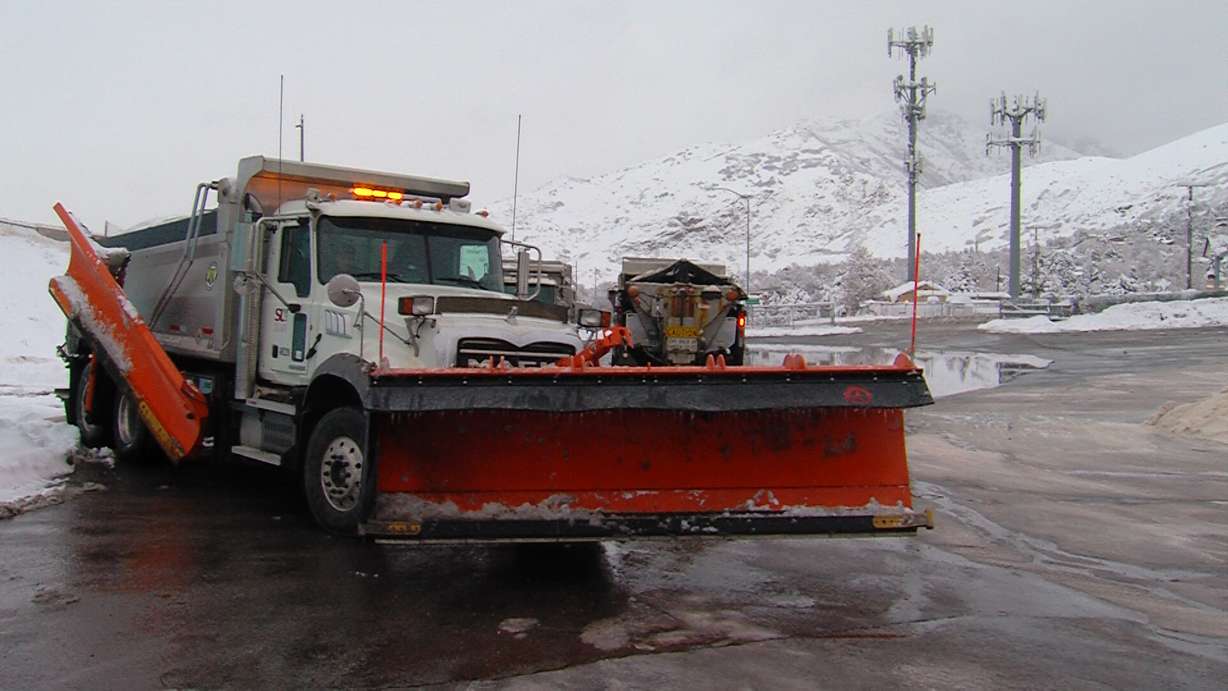 But "one of the biggest problems" plows encounter is being unable to clear snow in areas where cars are parked along the streets, he said, even though many city and county ordinances prohibit parking on streets during or immediately after a snowstorm.
He also said motorists should stay clear of snowplows they encounter while driving.
"When you're driving on the roads, give the plow plenty of room. Stay back in case he has to stop and back up," he said. "They're doing the best they can to get the road clear and make it safe. It's just that more difficult when they have to be watching for a bunch of people around them all the time."
Garbage and recycling trucks have also been delayed in reaching neighborhoods with heavy snowfall.
Pam Roberts is executive director of the Wasatch Front Waste and Recycling District, which collects in Magna, Kearns, Taylorsville and several communities along the Salt Lake Valley's east bench. She said crews have had difficulty reaching areas east of Wasatch Boulevard, but she expects garbage collection to be caught up by Wednesday.
"We're anticipating being able to take care of all of our folks this week and hopefully have lighter times next week," said Roberts, who noted that residents have been patient during initial setbacks.
If future delays occur, she said residents should remove their garbage cans by 5 p.m. on their scheduled collection day, even if the trucks don't come, so that snowplows can clean the streets. Residents can place the cans out the next morning, but if they're not collected within two days of the normal time, they probably won't be collected until the following week, she said.
Several public schools also encountered schedule delays on Tuesday, including some in the Davis, Canyons, Tooele and Granite school districts, several charter schools, and the University of Utah.
Retail scramble
Prior to the storm, the Lowe's store in Sandy had some 50 snowblowers in stock. By the time the store closed on Monday, every machine had been sold, according to assistant store manager Jon Brunson.
"Yesterday, specifically, was very, very crazy when it came to snowblower sales," Brunson said on Tuesday. "Our store and many of our other stores sold out of snowblowers."
Brunson said the initial days and weeks of winter are always busy, but the amount of snow produced by Monday's storm only added to the flurry of last-minute purchases.
"Sales have been fantastic as retail goes — everything from snow shovels to snowthrowers to salt. The fact that we haven't had a storm like this in years definitely was a contributing factor," he said. "It is a good reminder for people out there to make sure that they get their planning done and get themselves ready."
Weekend forecast
Sunny conditions and high temperatures in the 40s were forecasted for this weekend, with additional snow showers possible Monday and Tuesday, according to KSL meteorologist Grant Weyman. Get the forecast on the KSL Weather Page.
The same could be said for automotive businesses. Robbie Carter, who manages a Big O Tires shop in downtown Salt Lake City, said Monday and Tuesday were packed with customers replacing bald tires or getting snow tires.
"The snow generates quite a bit of business. I think that's fair in all the automotive industries," Carter said. "The bigger the storm, the busier we get. So this year was quite a bit busier than last year."
×
Photos
Related stories
Most recent Utah stories