Estimated read time: 4-5 minutes

This archived news story is available only for your personal, non-commercial use. Information in the story may be outdated or superseded by additional information. Reading or replaying the story in its archived form does not constitute a republication of the story.

SALT LAKE CITY — As the snow piled up across the Wasatch Front Monday morning, many parents were not happy that school was still in session.

Trudge through a few of Salt Lake City's freshest snowbanks and it's not hard to see why some parents would just as soon keep kids home. For little legs it's even harder, and then there are all those road hazards to get here.

"I think they should cancel," said parent Tara Rodriguez. "I think they should cancel and just let the kids stay home."

But Utah school districts say there are other considerations that also impact a lot of families.

"We try to err on the side of keeping schools open, if it's safe and we're able to do so," said Ben Horsley, spokesman for the Granite School District.

For instance, Horsley pointed out that schools provide some students with vital services they may not otherwise get.

"They may not eat if they don't come to school," he said. "They may not have a safe place to be; and again, the supervision component is critical."

Most school districts issued statements that schools would be lenient with tardies and absences, leaving the "snow day" decision up to parents.

"We want to make every accommodation necessary for our parents — for those who do want to send their kids and for those who don't want to send their kids," Horsley said.

There were a few schools that did close Monday, including Mana Academy Charter School in West Valley City and Intermountain Christian School in Holladay. Some other schools delayed start times until 10 a.m.

Closures/delays planned for Tues AM
Rowland Hall will be closed
Canyons School District plans a 2-hour late start for all schools
Davis County School District plans a 2-hour late start for all schools
Tooele County School District plans a 2-hour late start for all schools except those in Wendover and Ibapah
Several private and charter schools have also announced late starts. Please check with your child's school for specific delays and start times.
School buses in the snow
When school districts opt to remain open on heavy snow days, it often means a challenging work day for school bus drivers.
"Early this morning we were out looking at the roads and it wasn't bad. It was a regular Utah snowstorm," said "Unfortunately, about 30 minutes later it became the perfect winter storm and came down really, really hard."
At the south end of Salt Lake County a Canyons School District bus became stuck Monday morning. But thanks to a passing driver who got out in the cold to hook up a tow chain, the bus was able to get back onto the road and going again. An alert KSL-TV photojournalist caught the whole thing on video.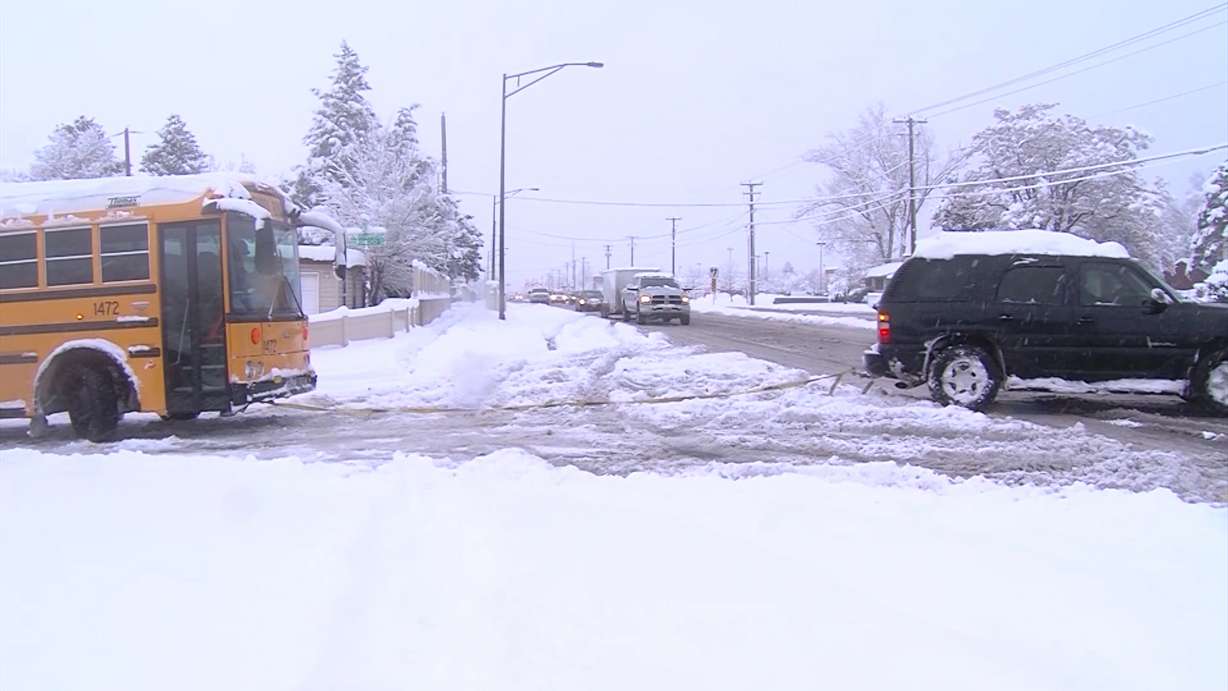 "Those guys do a lot of good work. It's extremely hard driving those big old buses in this extreme weather. They did the best job they could do given the circumstances," said Jeff Haney, spokesman for the Canyons School District.
Bus drivers don't have the luxury of four-wheel drive on a snowy day. And while the size of their vehicle provides good traction, they really appreciate the rest of us giving them plenty of room to do their job.
"They are making frequent stops. They are stopping for children, they are stopping for other drivers, and reacting to traffic in front of them," said Joe Hayes, director of transportation for the Alpine School District.
"The more room (drivers) can give our buses, and kind of slow down … that is the same advice we give our (bus) drivers: to slow down and give us as much following distance as they can," he said.
Hayes said drivers in the Alpine District receive additional training involving driving in the snow.
"Our drivers are well-trained," he said. "The majority of our drivers are use to (snow). "They have been driving for a while in these conditions and they are very wise about how fast they are going and the following distance they have between them and other vehicles."
When it snows, bus drivers always focus on safety — even if it means students are a little late.
"We want the kids to get to school and be delivered home safely, and unfortunately sometimes it takes a little longer in the snowy weather. But those delays are worth it, as long as they get home ant to school safely," Hayes said.
×
Photos