Estimated read time: 3-4 minutes
This archived news story is available only for your personal, non-commercial use. Information in the story may be outdated or superseded by additional information. Reading or replaying the story in its archived form does not constitute a republication of the story.
SALT LAKE CITY — Burgeoning online holiday sales have resulted in big spikes in shipping locally and across the country.
In Utah, the U.S. Postal Service processing centers are projected to handle 5.4 million packages and 3.4 million cards, envelopes and flats on Monday alone, according to Margaret Putnam, Salt Lake City district marketing manager.
Those predictions, based on last year's performance, might even be low.
"We're already running over 20 percent of what was done last year," Putnam said.
The Postal Service has hired more than 450 new employees in Utah to sort and deliver mail. According to Putnam, carriers are delivering mail both earlier and later in the day, and clerks are sorting mail throughout the night.
Between Thanksgiving and New Year's Eve, the Postal Service is expected to move 15.5 billion pieces of mail — about 541 million pieces of mail daily — with more than 200,000 vehicles.
Nationwide, the Postal Service predicts it will process more than 612 million pieces of mail on Monday alone.
"FedEx predicts it will move a record-breaking 317 million shipments between Black Friday and Christmas Eve," said Rae Lyn Rushing, FedEx Global Media senior communications specialist. "This forecast marks a 12.4 percent increase in year-over-year seasonal volume."
Rushing said the holiday season is augmented with three shipping volume spikes — Cyber Monday and the first two Mondays in December. FedEx moves more than double the daily volume on these days, she said.
"As online shopping and e-commerce continues to grow, consumer shopping habits have continued to shift," Rushing said.
FedEx has added more than 55,000 positions — including package handlers, drivers and other support positions — throughout its network during the holiday season.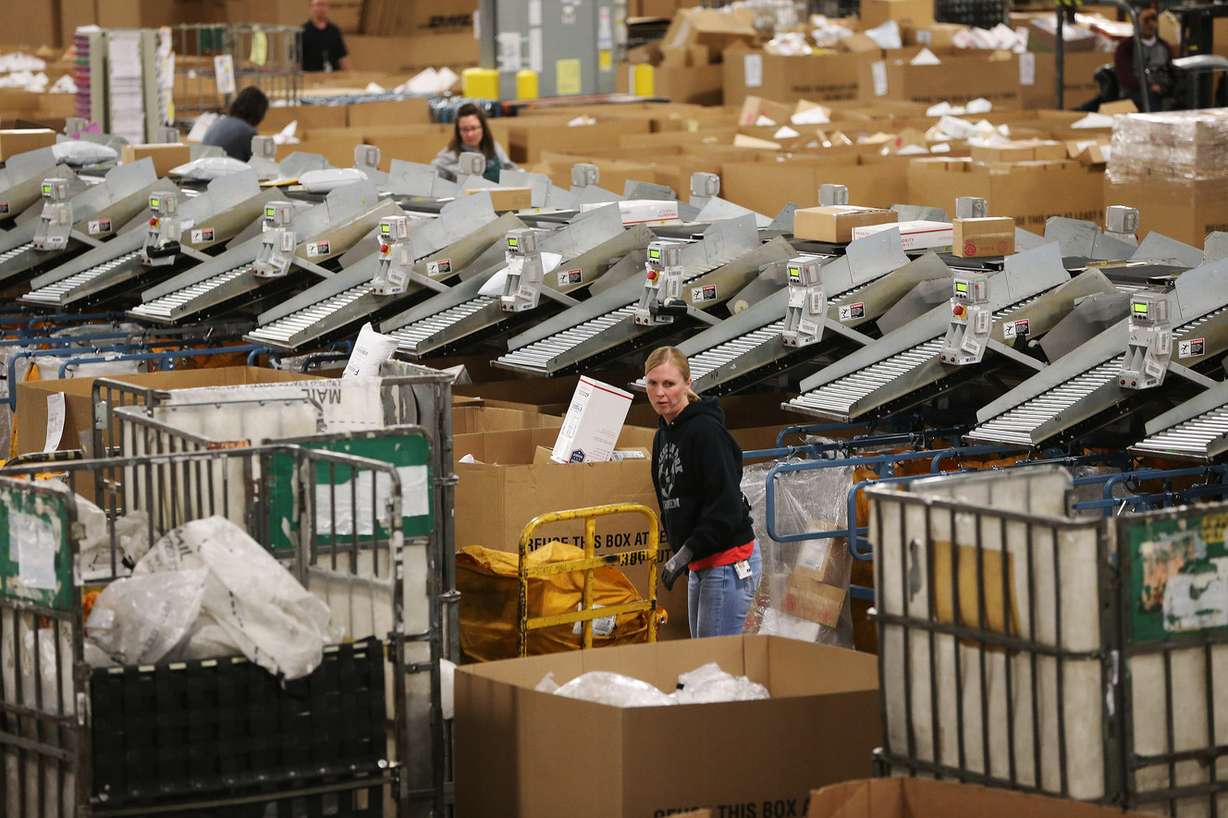 UPS added 900 seasonal drivers, package operations and driver helpers in Utah to meet seasonal demand, according to UPS spokeswoman Susan Rosenberg.
She said UPS expects to deliver 630 million packages between Thanksgiving and Dec. 31, an increase of more than 10 percent from last year.
UPS officials believe Tuesday, Dec. 22, will be their busiest day, with 26 million packages to be delivered.
UPS increases capacity by contracting trucks and trailers locally, setting up temporary "mobile delivery villages" next to distribution centers, and dropping off trailers in neighborhoods where package helpers then deliver packages on foot.
Rosenberg said the increased shipping volume at UPS is heavily influenced by online shipping by both online exclusive vendor and brick-and-mortar stores.
At Adobe, consumers spent $48.7 billion online from Nov. 1 to Dec. 6 — a 9.3 percent year-over-year growth, according to public relations manager Kevin Fu.
"So far, it's been a banner season for online sales. U.S. consumers have turned into digital shopping ninjas this year," said Tamara Gaffney, principal analyst with Adobe.
From Thanksgiving Day to the end of Cyber Monday, Adobe reported an estimated $11.1 billion in online sales.
To get mail to destinations on time, Putnam said that mail needs to sent as soon as possible.
Packages shipped internationally should have been postmarked by Dec. 10 to reach their destination by Christmas. For domestic shipping, she said the deadline for guaranteed Christmas deliveries is Dec. 21, or Dec. 23 for additional postage.
The Postal Service also predicts Monday, Dec. 21, will be its busiest delivery day of the year, with 30 million packages expected to be delivered nationwide.
---
Chris Larson is a BYU news media major interning with Deseret News. Contact him at chlarson@deseretnews.com
×
Photos
Related stories