Estimated read time: 8-9 minutes
This archived news story is available only for your personal, non-commercial use. Information in the story may be outdated or superseded by additional information. Reading or replaying the story in its archived form does not constitute a republication of the story.
Every morning, Christine* used to wake up and tell herself that today was the day she would quit drinking. In those first few wakeful moments, she was determined and hopeful.
"And every night, I found a way to make it to the liquor store," said the successful professional who lives in Salt Lake City.
Christine's drink of choice was vodka. But she wasn't drinking to get a buzz — she was drinking to forget the night ever happened.
"The way I explain it is there's a fuse that tells people when they're drunk, and mine's burned out," Christine said.
Her husband watched these nightly quests for oblivion play out. While Christine managed to keep her career on track, her home life was in trouble.
"It just reached a point where I realized I was going to cause irreparable harm to my marriage if I didn't do something about it," said Christine, who decided to seek help at the University of Utah Health CareUniversity Neuropsychiatric Institute, which offers an array of services for people battling addiction, including providing medications that can ease withdrawal symptoms and reduce cravings.
Yes, even for alcohol dependency. You've probably heard of methadone and may know that there are a number of new medications that render opioid withdrawal far less hellish and increase a user's chances of staying clean. There are also effective medications for alcoholism.
"To me, it was a perfect solution," said Christine, who was prescribed naltrexone, which is used both in opioid and alcohol addiction. "It helps reduce cravings, and it blocks the pathways that would cause me to feel euphoria from drinking."
Christine was amazed. After five years of dealing with an unquenchable need, her cravings essentially vanished shortly after she began the medicine. It was like her brain had been rewired.
For people who are ready to quit, such medicines are often just what they need to safely navigate the treacherous bridge between acute use and long-term recovery, said Katie Carlson, M.D., M.S., a psychiatrist and the medical director of UNI Outpatient Recovery Services. While many people are able to detox and begin taking their medication at home, others may require inpatient care.
"There are degrees of alcohol dependence in terms of severity," said Carlson, noting that the detoxing process can take three days to two weeks. "For some people, withdrawal can be life-threatening."
Christine wasn't at risk for seizures or cardiac arrest so she was able to detox at home.
When it comes to UNI's recovery services, "There's no one size fits all. It's really up to the patient," Carlson said. "What do you want to do? How committed are you? What resources can we help you muster to make this happen?"
Christine was as committed as she'd ever been. With her cravings under control, she enrolled in Recovery Works, an 8-week outpatient program that meets four nights a week from 6 to 8:30 p.m. The first step was addressing the physical side; now she ready to face why she was doing it and how she could stop.
---
"There's no one size fits all. It's really up to the patient. What do you want to do? How committed are you? What resources can we help you muster to make this happen?"
---
For a working mom with a young child, it was a significant time commitment, but her husband assured her that they would figure out babysitters and logistics.
"It had to be done," she said.
During the Recovery Works sessions, Christine began to feel her shame disappear just as her physical cravings had. She learned to deal with the emotions she'd been drowning in alcohol.
"It was a safe group to do that in," she said. "Being with a group of people who were going through the same thing I was going through was very effective for me because it sort of normalized my experience. I didn't feel so isolated."
In the early stages of recovery (up to about 12 months), group therapy can't be beat, said Amanda Speer, L.C.S.W., program manager of Recovery Works.
"I love running a group when I have 5, 6, 8 or 10 other people in the room who are able to support a person and also challenge a person," Speer said.
Fellow group members can say things like "The way you're talking about this feels dishonest to me, and the reason I know that this is dishonest is because it's what I do when I'm lying or when I'm minimizing," Speer said. Because of professional boundaries and because she's just one person, that type of interaction isn't possible in one-on-one therapy.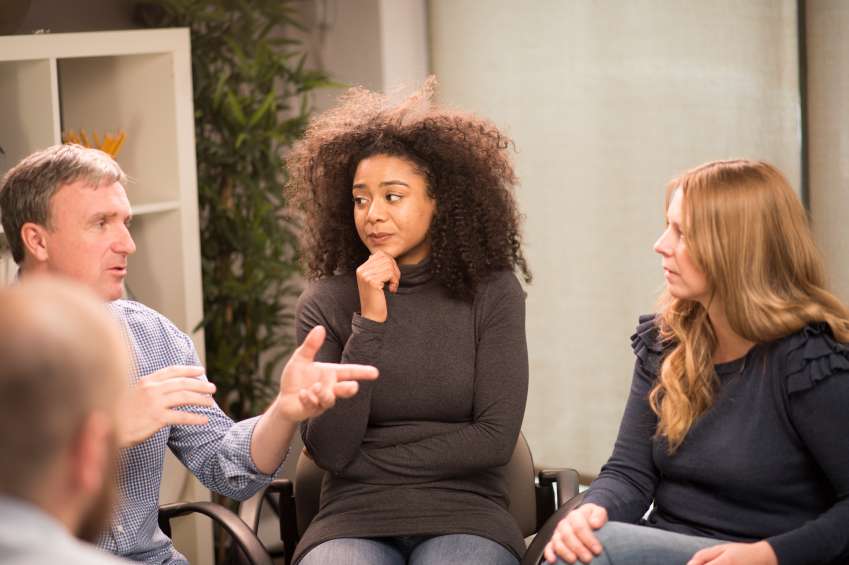 Along with traditional group therapy, Recovery Works patients participate in other therapies such as art, music, equine therapy and a team-building ROPES course. On Tuesday nights, family members are invited to attend.
"We know that people who include a friend or family member — and not just talk about it but actually include them in the process— report a higher level of social support in recovery, and that is one of the most crucial pieces that goes into whether someone makes it or not," Speer said.
Another huge factor in success rates is committing to after-care. Patients who have completed the program are invited to attend special groups for alumni that are held three times a week. The groups are free, and alums can attend whenever they'd like for as long as they'd like.
Speer hopes they keep coming back forever. Addiction isn't like breaking an arm where you go to the doctor, get it fixed and forget about it, she said. It requires life-long maintenance.
In addition to attending regular groups, Speer points out that people are more likely to remain sober when they actively address issues that led to their addiction.
"We very often see, when someone gets clean and sober, that there's been some kind of untreated physical or mental health issue. People who are successful in their recovery are taking that really seriously," Speer said. "They're not just saying 'Wow, I'm clean and sober. I guess I'll just settle for being depressed.' They're staying on top of that as a contributing factor."
---
Addiction isn't like breaking an arm where you go to the doctor, get it fixed and forget about it. It requires life-long maintenance.
---
If a person in recovery slips, it's OK, Carlson said.
"We consider relapse to be part of the disease, and part of the treatment plan is to prepare people for relapse, and help them develop skills to manage that relapse and return to treatment as quickly as possible with as little damage as possible," Carlson said.
Today, Christine is going strong. She recently reached 18 months of sobriety.
"I have done and achieved things that I hadn't thought possible — not that I hadn't achieved things before in my life, but I have a different type of persistence and perseverance and motivation that I haven't had before," she said.
Christine is no longer on naltrexone, which she took for 11 months. She has cravings still, sometimes daily, depending on her stress level, but she's equipped to get through them now. She attends weekly alumni meetings, and when she's feeling an urge to drop by the liquor store, she uses a technique called "playing the tape" that she learned in Recovery Works in which she fast-forwards her life and sees a glimpse of her potential future.
"If I were to drink, what would it look like?" Christine said. "For me, it's not one drink. Everything I know that I've learned through treatment, through after-care, is that you start right where you left off. So, I'm going to start with a toxic amount of alcohol, and I'm going to wind up in the hospital. My husband probably wouldn't let me home until I've done inpatient treatment. I would've destroyed the trust in our marriage that we have worked very hard to rebuild over the past year and a half."
She paused for a moment before adding, "None of that looks good. There's no upside there."
Are you or a family member struggling with addiction? Call 801-583-2500 to learn more about the University Neuropsychiatric Institute's comprehensive medical and therapeutic services.
*This Recovery Works alum's name has been changed to protect her identity.
×
Most recent Utah stories