Estimated read time: 5-6 minutes
This archived news story is available only for your personal, non-commercial use. Information in the story may be outdated or superseded by additional information. Reading or replaying the story in its archived form does not constitute a republication of the story.
SALT LAKE CITY — Utah continues to be one of the most generous states in the country when it comes to residents who donate their time and income to charitable causes.
That's according to recent research by the Corporation for National and Community Service, which ranked Utah at the top in volunteerism and civic engagement for the 10th year in a row, and WalletHub, which ranked Utah as "most charitable" for the second year in a row.
With the rankings came a call from state leaders Tuesday to take volunteer efforts in Utah to the next level.
"It says a lot about the state. I think it says a lot about our people," Gov. Gary Herbert said. "I encourage every Utahn to find opportunities to volunteer, to help, find ways to serve and help your neighbors, people you know, people you don't know."
Volunteerism
Last year, 46 percent of residents — almost 954,000 people — volunteered in some way, and 68 percent of residents donated $25 or more to charity, according to the corporation's Volunteering and Civic Life in America report, which was generated using data from the U.S. Census Bureau and the U.S. Bureau of Labor Statistics.
Those efforts equated to 193.7 million volunteer hours, 93,000 full-time jobs and $4.5 billion of service contributed to the state.
Salt Lake City ranked first among the 51 largest metropolitan cities in the country, with about 38 percent of residents volunteering some 78 hours per capita and 66 percent of residents who donated $25 or more to charity. That translated into 38 million volunteer hours and $1.3 billion of service contributed, according to the report.
Provo and Ogden, respectively, ranked first and second among midsize cities across the U.S. in their volunteer efforts.
The study counted only volunteer hours with official organizations but not those in unofficial capacities, such as neighbor-to-neighbor relations. The majority of Utah's volunteer efforts — almost 65 percent — took place through a religious affiliation.
It's unclear what portion of service was spent volunteering for or through a church organization, but both are valuable contributions to the community, according to LaDawn Stoddard, director of the Utah Commission on Service and Volunteerism, also known as UServeUtah.
"I don't care if it's the church group that gets together. I'm not sure that's much different than you getting 10 of your friends together," Stoddard said.
Other volunteer categories for Utah included education, which accounted for 14.2 percent of service hours, social services at 8.5 percent and civic organizations at 4.6 percent.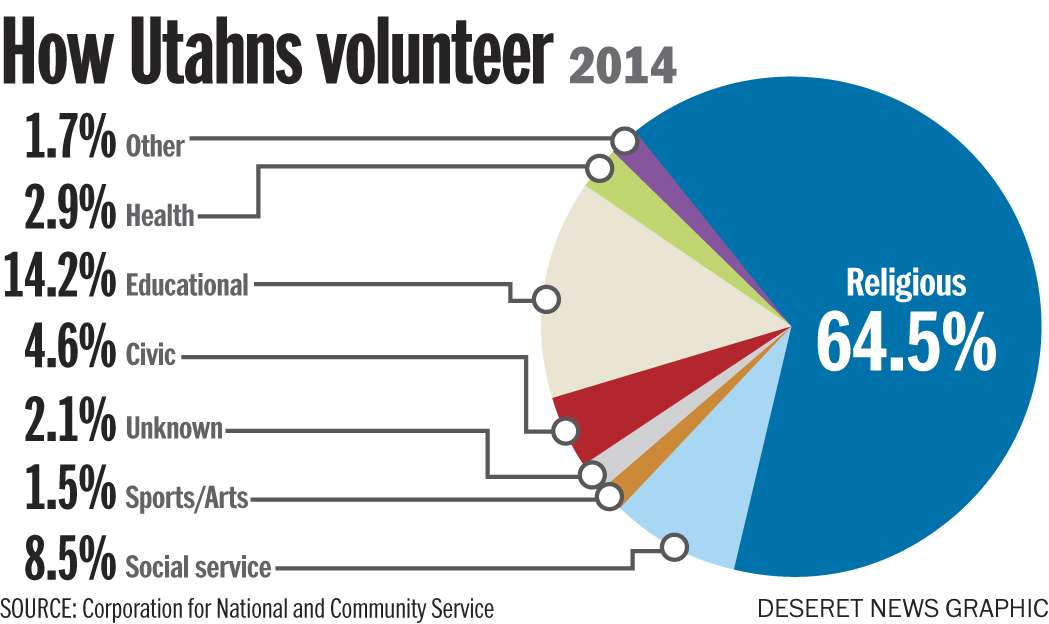 Nationally, religion still accounts for the largest portion of volunteer efforts at 34 percent, but other categories had much higher rates than in Utah — education at 26 percent, social services at almost 15 percent and health at roughly 8 percent.
Stoddard said that while service for or through church organizations can be impactful, Utahns should consider diversifying their efforts and "look outward" in volunteering their time and resources.
"I think that we really need to look at our communities and see how we can motivate those individuals to fill those gaps," she said.
Charitable donations
Utah was also praised in the WalletHub report, which considered mostly financial contributions of residents. About 71 percent of Utahns reported having donated money to charity, and on average, families donated 6.6 percent of their household income. WalletHub's data didn't differentiate between secular charities and religious organizations.
Fifty-six percent of residents said they donated time, and 45 percent said they did volunteer work in official capacities, with 75 volunteer hours per capita, according to the financial advisory website.
Utah ranked first in each of those metrics.
"Utah really dominated here," said WalletHub analyst Jill Gonzalez. "Obviously, there are quite a few things that are going right in terms of helping that charitable giving along, people being motivated to give both time and money."
Utah, however, ranked second-lowest in the country for having only seven public charities per capita, just ahead of Nevada with six. Utah is also one of 27 states without a community service requirement for high school graduation.
Gonzalez said the metrics provide a timely reminder about opportunities to donate and volunteer during the holidays.
"I think it's a good time to be checking in with the generosity of people," she said.
Opportunities to serve
In light of the rankings, the governor challenged residents to pledge 10 hours of volunteer work during the next year as a way to get Utah's volunteer rate from 46 percent to above 50 percent.
"I'm proud of our people and the successes they're having in contributing to this volunteer effort. I'm proud of the fact that we have a culture that lends itself to helping your neighbor," Herbert said. "Let's see if we can't lengthen our strides and do better."
It's an effort that can make all the difference for some families. Lee Manwaring, assistant vice president for retail operations at Goodwill Industries International, said both volunteer efforts — monetary donations and donation of goods — are convenient ways for people to help other community members in need.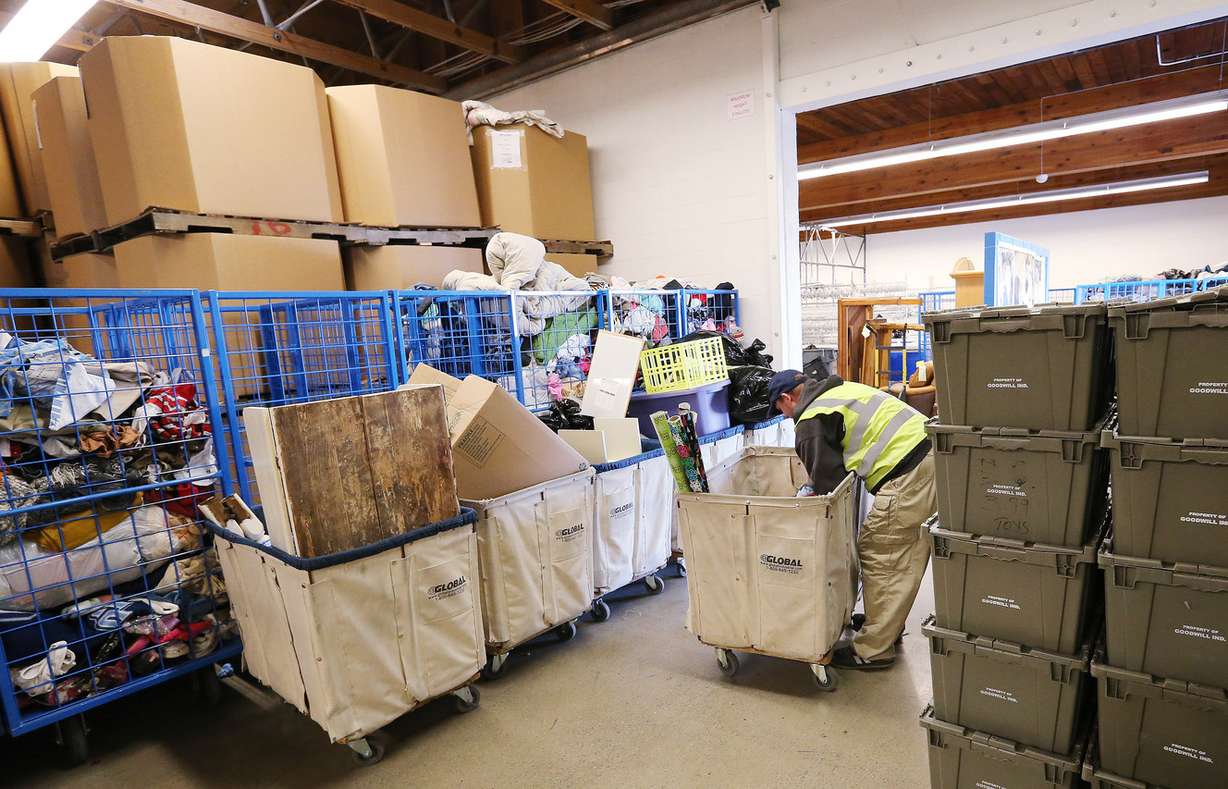 "The donations themselves are a huge support to the community," Manwaring said. "It gives anybody who is on a fixed or lower income the ability to come in and purchase more items that will be able to benefit their family and clothe their children."
Goodwill currently has three locations on the Wasatch Front, which combined see about 1,000 patrons each day, according to Manwaring. He said the nonprofit has also had support from Rotary clubs, police and government organizations, and businesses in the area.
That support and other efforts don't come as a surprise to Stoddard.
"It's a strong family state," she said. "When parents volunteer and their children see that, they just grow up and that's what they think you do. It just continues that culture, and I think we're fortunate that that happens on a pretty strong basis within our state."
×
Photos
Most recent Utah stories