Estimated read time: 2-3 minutes
This archived news story is available only for your personal, non-commercial use. Information in the story may be outdated or superseded by additional information. Reading or replaying the story in its archived form does not constitute a republication of the story.
Most Utahns want to know how high the scandal over the Republican primary for treasurer reaches into party leadership. In an election year, there could be massive pressure to find those answers.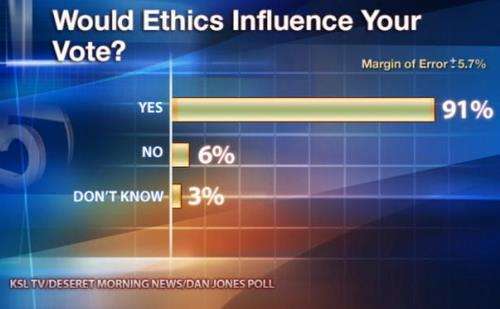 In a poll for KSL by Dan Jones and Associates, 92 percent said if Mark Walker actually did offer a huge raise to his opponent to drop out of the race, he was wrong to do it. Eighty-two percent said if someone else signed off on such a deal, they want to know who.
This could just be a question of ethics, but it also could be a question of political motives.
When Rep. Mark Walker resigned, attorney David Irvine made this comment after the aborted ethics hearing: "A decision was made, in chess terms, to sacrifice the pawn in order to save the king; and that's all that this is about."
But Irvine admits he isn't sure who the "king" might be.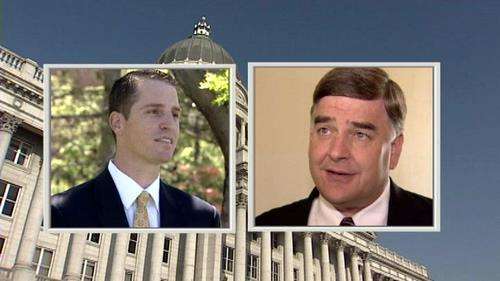 There are, in fact, several "kings" in legislative leadership. There is House Majority Leader Dave Clark and Majority Whip Gordon Snow. In the Senate, President John Valentine, Majority Leader Curtis Bramble and Assistant Majority Whip Sheldon Killpack all made it clear they supported Walker for treasurer.
But behind the scenes, one name gets mentioned more than any other as that "king:" House Speaker Greg Curtis. He denies it.
"I did not talk with Mark Walker at all in regards to treasurer's race, salary or anything else," Curtis said.
During his time in public office, Curtis has been aggressive and, at times, abrasive. That, and the fact that of all the obvious "kings," Curtis is the most politically vulnerable, might make him a target.
"He is in an unfortunate position of having a very tough race. He barely survived the last one," said Kirk Jowers, director of the Hinckley Institute of Politics at the University of Utah.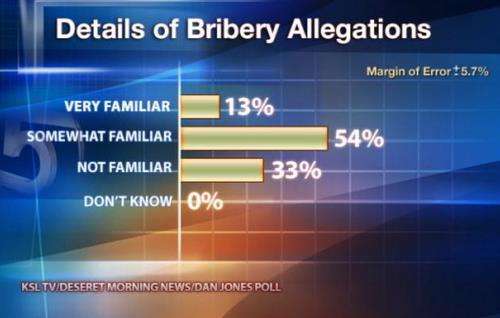 "If they have evidence of anybody's involvement, if anybody has any evidence of anybody's involvement, bring it forward. Let's stop with the insinuations and the accusations based upon assumption," Curtis said.
The speaker and others have raised the question about whether Ellis' campaign strategy included the timing of the accusation. Richard Ellis waited 80 days to report the supposed wrongdoing.
I asked him about that Monday. "Well, it came up ... Um, I didn't want to make this the big firestorm it's become in terms of the whole election process. However, when I got an inquiry from the press, I knew other people knew about it," Ellis said.
Right now, independent investigators are checking e-mail records, interviewing people and cross-checking the facts. Their results could have an even bigger election year impact, or not.
E-mail: rpiatt@ksl.com
×
Related links
Most recent Utah stories