Estimated read time: 2-3 minutes
This archived news story is available only for your personal, non-commercial use. Information in the story may be outdated or superseded by additional information. Reading or replaying the story in its archived form does not constitute a republication of the story.
At Primary Children's Medical Center (PCMC), a Utah infant born prematurely and weighing less than two pounds was one of the smallest premature babies ever to go on a heart-lung machine. He survived high-risk surgery to repair a heart defect.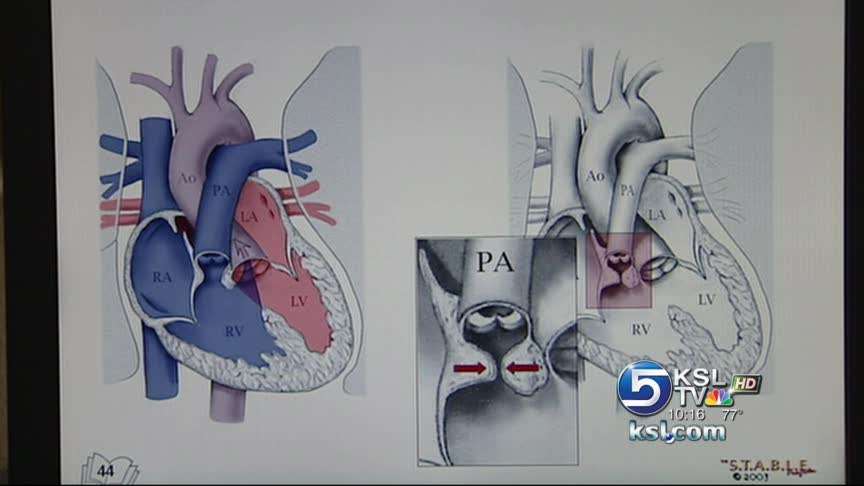 Matthew Steed's mom is holding her son for the first time. Though heavier now, he's still a tiny baby. At birth, he weighed only 800 grams, and like some other preemies, Matthew had a heart defect where red and blue blood mix together through a hole in the pumping chambers. Also, a restriction in the outflow to the right heart was getting thicker and narrower.
Pediatric cardiovascular surgeon Peter Kouretis said, "Matthew was critically ill, having what are called hyper-cyanotic spells, which are dying spells because he's not getting enough blood to his lungs."
Matthew was rushed into surgery for an implant of a three millimeter shunt so blood could be carried from his aorta to the pulmonary artery. What's unique is that during the hour-long operation, the tiny baby was on a heart-lung machine.
"The challenge is putting a baby that small on a heart-lung machine. That was pretty much our only option, our only choice," Kouretis said.
At the time of the operation, Matthew weighed almost three pounds, but even then, he was so small surgeons had to leave the chest open for about a day and a half.
Ashley Steed, Matthew's mom, said, "When they were talking about the risk, it just seemed like there wasn't much hope. I am so amazed, I always knew from day one he was a miracle baby."
PCMC has used the heart-lung machine on only two preemies this small over the past several months. "So those two babies are probably the smallest that have gone on the heart-lung machine," Kouretis said.
It's certainly risky, but Matthew tolerated the heart-lung bypass with no complications and is doing well.
The implanted shunt in Matthew is only temporary. In four or five months, surgeons will make permanent repairs and close the hole in his heart.
E-mail: eyeates@ksl.com
×
Most recent Utah stories