Estimated read time: 7-8 minutes
This archived news story is available only for your personal, non-commercial use. Information in the story may be outdated or superseded by additional information. Reading or replaying the story in its archived form does not constitute a republication of the story.
PROVO — When Southern California athletic director Pat Haden fired head football coach Steve Sarkisian one day after putting him on an indefinite leave of absence, he declined to name the reasons behind the sudden dismissal.
But news slowly trickles out, and multiple reports suggest Sarkisian's personal difficulties involve his struggle with alcoholism — a public struggle that came to a head last August when he showed up intoxicated at a USC booster event.
Whatever the strength and duration of his bout with alcohol addiction, one thing is clear: the former BYU quarterback needs help, and the best thing for him to do now is step away from coaching and seek help for his personal life. Sarkisian has also recently been going through a public divorce from his wife, who he was dating while playing for the Cougars in 1995-96.
A return to the place that first brought him football success would serve Sarkisian well, both professionally and personally. Whether it means a job or responsibility within the BYU athletic department, a network of friends and colleagues who know him as a player, coach and person, or an outreach in a location that is known for its world-renowned addiction recovery centers, Sarkisian could use some of the strengths of his alma mater now more than ever.
Many of Sarkisian's former teammates posted their support for him on social media within the past week, including former BYU tight end and current athletic administrator Chad Lewis and BYU running backs coach Mark Atuaia.
@McMurphyESPN all the best to my former QB. I am pulling for him in every way. Would love to help if possible. — Chad Lewis (@18clew89) October 11, 2015
.@CoachSark you got support out here in the 801. The adversary is real but you don't gotta fight alone. You're our Brother. #BOB#BYUAlum — Vic So'oto (@sooto_vic) October 12, 2015
@CoachSark prayers up brother. We'll never forget how we relied on you to lead us into battle. Be strong. We're here 4 you. #BandofBrothers — Derik Stevenson (@derikstevenson) October 12, 2015
#BandOfBrotherspic.twitter.com/mKeyk9MsWj — Benjamin Criddle (@criddler21) October 12, 2015
Those friendships of former teammates — former elite athletes — could be key cogs in what may be a long road to addiction recovery for Sarkisian. The former coach acknowledged how much the large amount of public support has meant to him.
I would like to thank everyone for their huge outpouring of support and well wishes. — Steve Sarkisian (@CoachSark) October 14, 2015
Dr. David Sack is the chief medical officer of Elements Behavioral Health and Promises Treatment Centers in the Los Angeles area, and — while he hasn't treated Sarkisian directly — the 30-year specialist in addiction recovery said drugs and alcohol pose a unique problem to elite athletes, former athletes and celebrities who spend significant time in the public eye.
"Pain is the common factor in causing problems with drugs and alcohol; people drink because they can't sleep at night from pain, or they take drugs," Sack said by phone from his Los Angeles-area office. "The struggle with that is a way to manage old and repetitive injuries. We see a lot of that with elite athletes, and that's true regardless of the sport they are in."
Alcohol addiction, in particular, tends to be a progressive problem for former athletes like Sarkisian. It can take 5-10 years for alcohol dependency to reach an area where it dramatically impairs one's functioning, and many athletes and former athletes don't see a problem until they are well into their 30s.
Treatment for addictions include intense abstinence programs from the addictive substances and behaviors, as well as traditional medicines that help reduce cravings.
Sack also said building a support network that includes former athletes who have overcome similar pain management and alcohol and drug addiction-related ailments can be a key factor in recovering one's sobriety.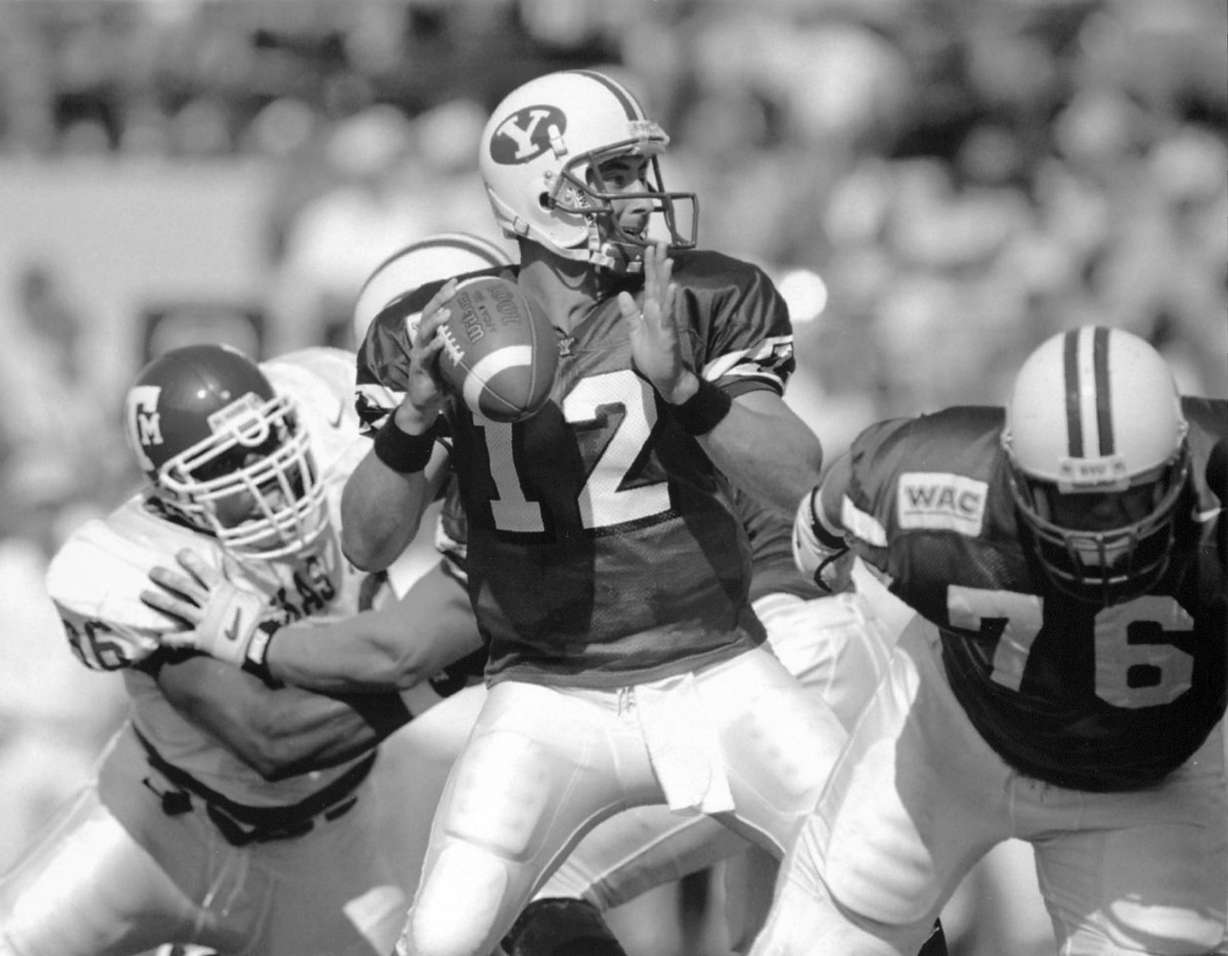 But building an adequate support network can be easier said than done, especially for athletes and coaches who spend much of their time on the road — and are ingrained from childhood with busy schedules that isolate them from all but a handful of similar aspiring athletes.
"Athletes often do really well when they are mentored by other recovering athletes," Sack said. "They understand the special challenges that staying sober on the road creates. Somebody who is an athlete who understands those struggles can be very helpful in recovery."
A role within BYU athletics wouldn't just be a courtesy call to Sarkisian, either. In his time at USC as quarterbacks coach and offensive coordinator, as well as head coach of Washington, Sarkisian was at times an offensive guru. The former Cougar signal caller who also played and coached at El Camino (Calif.) Community College has mentored a plethora of offensive talent and helped recruit former standout quarterback Matt Barkley to USC.
Current BYU students also recently showed support for Sarkisian, one of the school's top alums who helped the Cougars to a 14-1 record in 1996 and the program's only win in a New Year's Day bowl game, against Kansas State in the Cotton Bowl.
In addition to a natural support network of friends and former teammates, Utah offers some of the top addiction recovery centers in the United States. A responsibility around the game Sarkisian loves, along with a family of fellow BYU alumni and special teams coach Kelly Poppinga, offensive coordinator Robert Anae, quarterbacks coach Jason Beck and other graduates, Sarkisian would be afforded a significant support network of colleagues who both know the game and also know what the ex-USC coach is going through.
The list of successful BYU alums who are also accomplished head football coaches isn't long, and Sarkisian was on his way up that list before his sudden dismissal at USC. BYU could be instrumental in helping Sarkisian rebuild himself, not just personally but also professionally, as it mentors the former quarterback on a road to recovery in a way that few schools would be able to do.
The structure provided by a university with high standards for both its students and faculty would only help Sarkisian's treatment options. The LDS Church-owned university has a rigid code for employees as well as students, and that environment would only benefit Sarkisian's attempted recovery.
"There's a misconception that in order for people to get better, they have to want to change," Sack said. "But a lot of addiction recovery comes after forced sobriety. They often make changes that might not have occurred if there wasn't a lot of external sanctions on them."
Sarkisian's road to recovery has already begun. It's not the only option, but adding his alma mater to the program would only help increase his chances at a full recovery.
"In sports, you don't have the same control over your work environment that other people may have," Sack said.
But at BYU, Sarkisian would have as great a chance at recovery as anywhere else — and maybe even more.
Sarkisian has demonstrated a desire to change. The next step is where BYU could come in.
This is a very difficult time for my family and me. I am facing these challenges the best I can and your support helps immensely. — Steve Sarkisian (@CoachSark) October 14, 2015
×
Related stories
Most recent Sports stories