This archived news story is available only for your personal, non-commercial use. Information in the story may be outdated or superseded by additional information. Reading or replaying the story in its archived form does not constitute a republication of the story.
Editor's Note: This article is part of the Utah Inventions series, which features a different inventor or invention with Utah ties each Wednesday. Tips for future articles can be sent to ncrofts@ksl.com. OGDEN — Many consider the most famous firearm in the world to be the AK47 or the M16 and their variants. But if you ask firearms experts today which firearms designer changed the world the most, John Moses Browning would be the first person mentioned.
He was part of a famous Utah gunsmithing family before he started his independent and extraordinarily successful design business. His guns included the Winchester 1894 (a much improved version of the Winchester 1873, the gun that won the west) lever action which had more than 6 million manufactured over a hundred years and the Model 1911 .45 caliber pistol.
The Model 1911 pistol is still considered to be the gold standard of firearms and is often described as the best pistol ever designed. It was the official sidearm of the U.S. military until 1987. Even today, during competition it is nearly perfect in operation with almost no failures.
Browning's lever action, gas-operated automatic and recoil-operated semi-automatic gun designs are still manufactured today. Many other modern guns have designs that are copied from Browning's designs. He also designed the .30 caliber water-cooled and .50 caliber air-cooled machine guns. The air-cooled machine gun is still a military workhorse.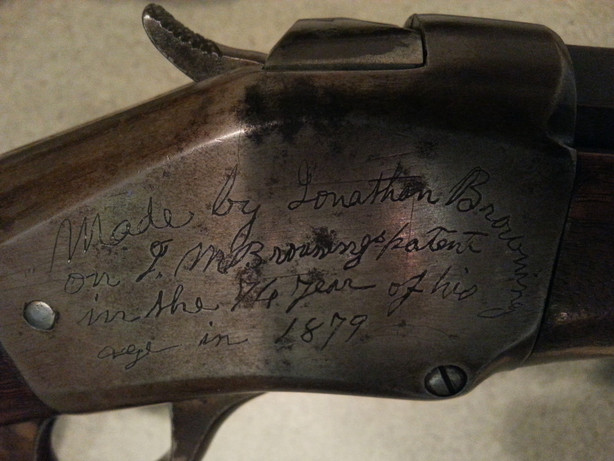 Browning was born in Ogden in 1855, the son of a gunsmith. His father, Jonathan, developed a repeating rifle in 1831 and came to Utah with the pioneers. Browning worked in his father's gunsmith shop starting in 1876 and soon patented his first design in 1878 at age 23.
When John designed and patented a better gun in 1879, his father built it. That kind of fatherly respect seemed to have had a big impact on Browning's life.
When Browning sold his .32 caliber pistol design to Fabrique National, the manufacturer recognized his reputation by calling it the Browning. He made 61 transatlantic trips to Fabrique National in Europe and was closely involved with developing one of the best pistols ever.
The name Browning became synonymous with the best firearms. Most pistols, lever long guns, machine guns and shotguns were designed by or copied from Utah's Browning designs. He considered his design of the first automatic shotgun in 1902 to be one of his best designs and it monopolized the market.
At the start of the last century, his designs were in most of the U.S. sporting arms. John Browning had 128 patents for guns. His designs were considered to be mechanical engineering marvels and were manufactured by almost all of the gun manufacturers worldwide. Fabrique National, who idolized his design genius, bought the Browning Arms Company in 1977.
Browning died in 1926. He was a family man, married to Rachel Theresa Browning with 10 children. He influenced his son Val to follow in his footsteps as a gunsmith and businessman. Val died in 1994.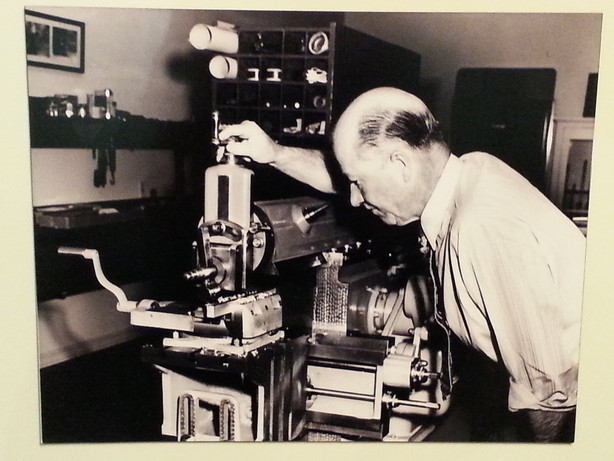 Browning said of his life that "one drop of genius and a barrel of sweat wrought this miracle." His saying, which is memorialized on a plaque at the John M. Browning Museum in Ogden's Union Station, is often repeated by inventors in Utah and around the world.
Browning's firearm designs are considered to be the most reliable in the world and are still in good operating order over 100 years after they were manufactured.
A few years ago, the State of Utah made the Model 1911 pistol the official State firearm. The Governor of Utah, Gary Herbert, said that it wasn't about guns, but paying tribute to Browning as an innovator and entrepreneur.
Browning firearms still has a small facility that employs about 200 people in Mountain Green, which is located in Morgan County.
The Browning Firearm Museum at Ogden's Union Station has an extensive collection of his work and includes Browning's workshop. It is open from 10 a.m. to 5 p.m. Monday through Saturday. The cost is $5 for adults and $4 for students and seniors. Children, ages 3-12, are charged $3. If you go, plan on spending many hours there because the Station also houses an art gallery, a classic car and a railroad and cowboy museum.
Related Story
George Chapman graduated from the University of Utah in 1974. After military service, he worked in computer software and hardware.
×
Photos
Related Stories