Estimated read time: 3-4 minutes
This archived news story is available only for your personal, non-commercial use. Information in the story may be outdated or superseded by additional information. Reading or replaying the story in its archived form does not constitute a republication of the story.
UTAH STATE PRISON — Evelyn Johnson, 79, needs a walker to get around. She has trouble just sitting in a chair and getting up.
She needs help from others carrying her food tray in the cafeteria. She is also suffering from Alzheimer's and has a hard time remembering certain details.
Johnson hardly looks like a person who is serving time in prison for killing another person.
But on Tuesday, Johnson attended her first parole hearing since her 2011 conviction for shooting her husband four times. She was charged with murder, but pleaded guilty to a reduced charge of manslaughter, a second-degree felony, and was sentenced to one to 15 years in prison.
The Utah Department of Corrections has recommended that Johnson be moved from the prison to a "skilled nursing facility" where better treatment can be provided to her than the prison is able to offer.
Johnson moved slowly Tuesday into the parole hearing room with the assistance of her walker. A chain was wrapped around her waist but the handcuffs attached to it lay harmlessly to her side and not to her wrists.
Parole board member Chyleen Arbon started the hearing by asking Johnson if she knew what day it was and if she knew where she was. Johnson answered both questions correctly, though she had trouble remember what housing unit she lives in. When Arbon asked if she was ready to proceed, Johnson replied, "Yeah, might as well."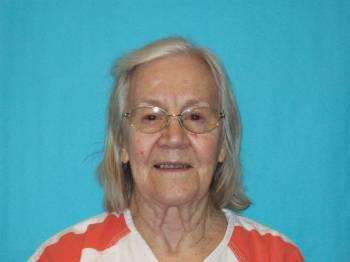 Johnson told Arbon that her "whole health" is becoming an issue, that she is "getting weaker," and that she is not "able to walk like I should or I like to."
The elderly woman appeared visibly nervous and slightly stressed as she attempted to answer questions and recall some of the details about why she is in prison. At the end of the hearing, she noted, "My head feels big. I don't feel good. I'd just like to go somewhere and lay down and rest."
The incident
On Aug. 24, 2004, a day after Alan Lavoy Johnson, 71, filed for divorce from Evelyn Johnson, he invited her into his Vernal trailer for coffee to talk about the paperwork. During that meeting, Johnson shot her husband at least four times with a .22-caliber handgun.
During her trial, her attorney painted a picture of a woman who had been abused for years and finally had had enough. But the judge disagreed, noting disparities in her story to police and to the court.
Her trial was delayed because Johnson was initially deemed incompetent and was twice committed to the Utah State Hospital for treatment.
Tuesday's hearing
During Tuesday's hearing, Johnson couldn't remember when she killed her husband, how long they had been married, even when she married him. She also had a hard time recalling why she killed him.
"I don't know. I just shot my husband," she said. "I don't know why. We were just having trouble."
---
I just shot my husband. I don't know why. We were just having trouble.
–Evelyn Johnson
---
Johnson said she was "pushed around" and told Arbon that there were a lot of problems in her marriage in the final years. But she said things always seemed to work themselves out.
"I'm sorry. I didn't think I was going to kill him," she said. "I didn't believe it. I didn't really want to kill him. I'm sorry. That's all I can say."
Arbon asked Johnson, who was divorced twice before, why her other marriages were able to end without violence.
"Because my head was crazy, I guess. I'm sorry I can't tell you better," she replied.
When asked if being moved to a care facility would be OK with her, Johnson replied, "Wherever they move me I get used to my room, then it's my room … that's the way it is. … It would probably be better to go," she continued. "I'm not going to get better anyway.
"I'm sure whatever you decide will be good," she later said. "Please do what you have to."
What's next?
A final decision over whether to move her out of prison and into a care facility will be voted on by the full five-member parole board in the coming weeks
No friends or family members of Evelyn or Alan Johnson attended Tuesday's hearing.
×
Photos
Related stories
Most recent Utah stories