Estimated read time: 2-3 minutes
This archived news story is available only for your personal, non-commercial use. Information in the story may be outdated or superseded by additional information. Reading or replaying the story in its archived form does not constitute a republication of the story.
Tomorrow night when fireworks fill the sky, be cautious because smoke will also fill the air. Last year on the Fourth of July, pollution spiked to unhealthy levels in neighborhoods where people lit off fireworks.
The Utah Division of Air Quality does not want to dampen the excitement of fireworks but does want to remind everyone to be cautious of that smoke. New evidence from recent years shows how dangerous the smoke can be.
Fireworks thrill big crowds. Neighborhood arsenals can put on quite a show, too. But the pyrotechnics not only raise risks for wildfires, they also pump fine-particulate pollution into the air, and that causes a spike in unhealthy, even dangerous air.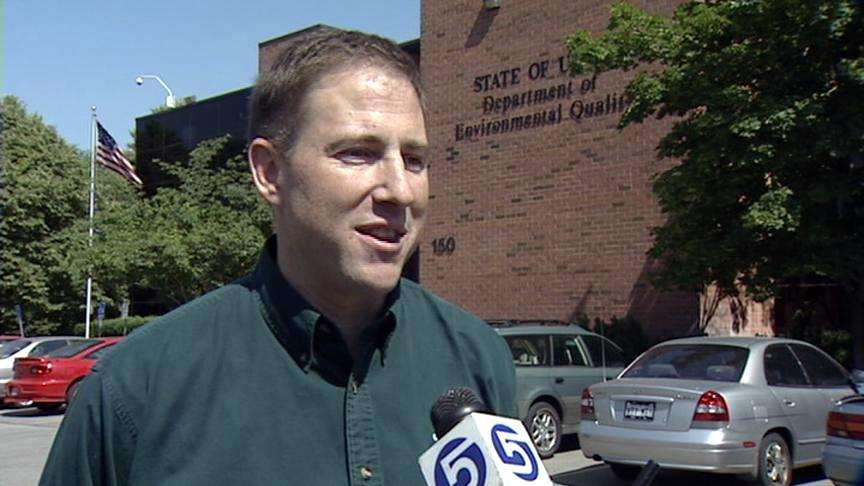 Bryce Bird, the planning branch manager for the Utah Division of Air Quality, said, "Some of these spikes really go into the unhealthy range where everyone would be impacted, lung function and irritation and things like that."
A graph showing the air quality in an Ogden neighborhood last July 4th shows a spike of pollution between 8 p.m. and midnight, soaring to a level 25 times higher than the health standard.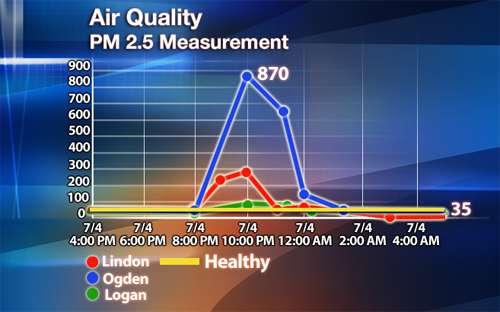 Department of Air Quality filters also trap chemicals and metals from the fireworks combustion, like sulfur oxide and potassium. That pollution comes from street-level fireworks shot off in every neighborhood along the Wasatch Front, not from community displays.
Bird said, "The high-level ones that are exploding up in the air, really are dispersed and aren't impacting the ground. Really where we are seeing impacts are at our neighborhood monitors, which are located at residential areas."
Concerns surfaced a few years ago when the Department of Air Quality was able to see data from real-time monitors. Short-term exposure can aggravate asthma and lung disease.
"It's obvious when we have those real-time monitors in place we can see those elevated levels, and it's something to be concerned about," Bird said.
When the air is still, like it is this week, the bad air can hang around for a few hours. If it's breezy the clouds will clear more quickly. The simplest way to be cautious is, if you can see the smoke, stay away from it and don't breathe it.
People most likely to see trouble from that are pregnant women, young children, the elderly and people with respiratory problems like asthma.
Fires in northern California are also affecting Utah's air quality this weekend.
E-mail: jboal@ksl.com
E-mail: aadams@ksl.com
×
Related links
Most recent Utah stories