MILFORD — Milford High School handed out diplomas this month to 45 students who dropped out of school in the 1940s to fight World War II.
Recently, Cheryl Elmer, who grew up in Milford, was trying to organize her mother's obituary collection by classmates.
"She was saying over and over to me, 'You will not be able to find his graduation date because he went to war,'" she recalled. "I began researching this a little bit and found the impact of war mobilization on Milford High School was immense."
Elmer poured through old Milford High School ledgers dating back to the war years to see how much that impact really was. She said she found the names of students who had withdrawn from school during this period. Elmer cross-checked those names against World War II rolls of local soldiers. In the end, she said she found 45 veterans who never received diplomas. Elmer wanted to make sure each veteran received a degree.
"It is an important acknowledgment to the family of the sacrifices their father, or their loved one gave to this country for our freedom," said Elmer.
Of the 45 soldiers, Elmer found five had died during the war. One man was killed at the Battle of the Bulge, another at Guadalcanal and a third as a POW on a Japanese ship that was destroyed.
Another 36 had died in the years following the war, and only four were still alive.
Elmer set out to find the families of all 45 men.
"The roots run deep here," said Elmer. "So I was able to mostly contact relatives and go from there."
In Nevada, she found Clarence "Bud" Williams still alive. And in Washington State, Bud's younger brother Leon. The men dropped out of high school to go to war.
Bud was the first to go, dropping out in 1942.
"We decided it might get over with before we got in there," remembered Bud. "That's all we did. We went to Farragut, Idaho. I spent my boot camp there and after that they shipped me down to California and they shipped me to Kodiak, Alaska."
Bud Williams said he began his naval career on a construction detail in Alaska, but ended up being a baker.
Related Story
"They had bacon powder biscuits for breakfast and nobody knew how to make them," remembered Bud. "I was KP, I got a tap on my shoulder and he said, 'Come with me, I want you to make us some biscuits.' I said, 'OK,' and when I went there I found 2,200 rations. I've only made a panful of biscuits in my life. He said, 'Well, you tell us how and we'll help you.' Right there, I said, 'OK,' and they turned out great so there I was — a baker from then on."
Bud's baking career in the Navy was short-lived. An injury to his legs sent him home just months later.
"I've had trouble with me legs ever since," said Bud. "They couldn't operate on them, them days. So they shipped me back to Seattle, and I was in the hospital there for a long time. They decided they couldn't do anything with me, so they gave me a medical discharge."
Leon Williams scuttled his sophomore year to follow brother, Bud, into the Navy the next year.
"I went in three months before I turned 17," recounted Leon. "My mother signed for me, so I went to boot camp. You had to be 17 when you got out of boot camp."
Like Bud, Leon was sent to the Farragut Naval Training Station in Idaho. Within a short while, he was instructing other recruits on how to shoot.
"I was from small-town, Milford, deer-hunting family and hunters, so I had quite a bit of experience shooting a gun," said Leon. "So, I went to the rifle range, and I shot 143 out of a 150 and carried that all the way through the Navy."
Leon's marksmanship earned him a spot as a gunnery officer in the Pacific fleet. He saw action from the Marshall Islands and the Gilberts, to Guadalcanal and Guam where he shot out cement barriers.
---
That's one of the benefits of being young. You don't realize the danger. I was there, but I never ever gave it a thought that I would be wounded, or killed or anything.
–Leon Williams
---
"They (Japanese military) had railroad rails on top of the cement barriers," he said. "Our tracks could not get over those rails, so we had to blow them out so we get in there."
Leon said he never gave a second thought to the close calls along the way.
"That's one of the benefits of being young. You don't realize the danger. I was there, but I never ever gave it a thought that I would be wounded, or killed or anything," said Leon.
When the war ended, Leon eventually made it back to Milford without much thought toward finishing high school.
"As soon as I came home, I got a job; They hired me as a city marshal," remembered Leon. "I came home, went to work — just did my thing."
"I worked at the ice plant in Pocatello for a long time," said Bud. "When I got fixed up so I could do something, I got me a job with the railroad."
The Williams' experiences were typical for the Milford veterans returning home.
"They came back to the farms, and they came back to the shops," said Elmer.
Even in rural Utah in the 1940s, getting a job without a high school diploma was not always easy.
"I'm hearing from some of the veterans that it was important," said Elmer. "They attempted to get a job on the railroad, and they had to pull some strings. Someone would have to write a letter saying, 'Yes, please hire him, he's a good person.'"
This past Labor Day weekend, hundreds of people packed the auditorium of Milford High School as diplomas were handed to the families of 43 WWII veterans.
"Now, we can honor them," said Elmer. "They deserve this diploma. I'm just sorry it has taken us 70 years to figure that out."
Of the four surviving veterans, only Bud and Leon Williams were able to make it to the ceremony. Both received standing ovations when they were handed their diplomas.
Both brothers say they plan on framing their newly received diplomas to share with families. But Leon also quipped that he might apply for some student loans for college.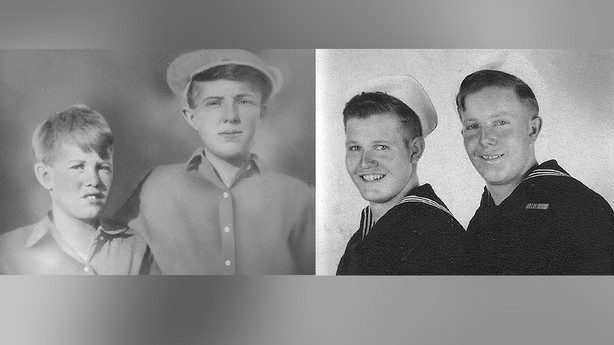 ---
KSL is a proud sponsor of Utah Honor Flight, which takes veterans like the Williams brothers to Washington, D.C., to see their memorials. If you'd like to donate, visit UtahHonorFlight.org.
×
Photos
Related Links
Related Stories