This archived news story is available only for your personal, non-commercial use. Information in the story may be outdated or superseded by additional information. Reading or replaying the story in its archived form does not constitute a republication of the story.
SALT LAKE CITY — Ben Carson is the favorite Republican presidential candidate among Utahns, according to a new poll taken before his controversial claim that a Muslim should not be president of the United States.
The UtahPolicy.com poll found 18 percent of Utahns wanted to see the GOP nominate the retired neurosurgeon for president, followed by national frontrunner Donald Trump,with 12 percent, and former Florida Gov. Jeb Bush with 11 percent.
The poll was conducted for the online political news source by Dan Jones & Associates Sept. 8-17 of 604 Utahns and has a margin of error of plus or minus 4 percent.
On Sunday, Carson said on NBC's "Meet the Press" the he did not believe Islam is consistent with the Constitution and he "would not advocate that we put a Muslim in charge of this nation. I absolutely would not agree with that."
Pollster Dan Jones said Monday it's not clear how much support Carson might lose among Utah voters as a result of that statement.
"I think people are looking in Utah for more religious tolerance," Jones said. "They know what it's like."
Utah GOP Chairman James Evans said the party's 2012 nominee, Mitt Romney, lost votes because of questions over whether a Mormon could be president raised by evangelical voters who didn't see Romney as a fellow Christian.
"That was so disheartening. Let's call it what it is, this is religious bigotry. That's what Ben Carson has espoused, religious bigotry," Evans said. "There's just no way around it. I think he should rethink that conclusion."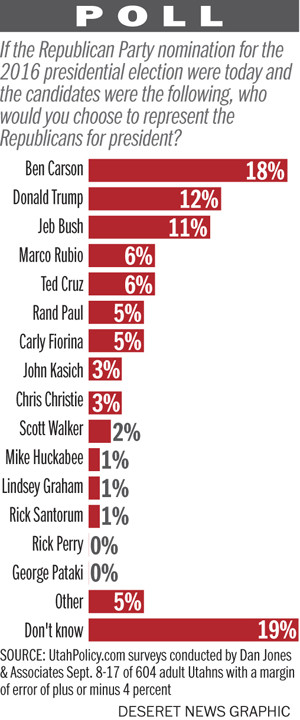 Brigham Young University political science professor Michael Barber said Utah voters won't like what Carson said about Muslims.
"There's a familiar sound to that criticism," Barber said. "Being a Mormon state, people will hear those statements and remember not so long ago when people were making those statements about a Mormon not being president."
But Beth Powers, the Utah organizer for Carson's super PAC, told KSL Newsradio's Doug Wright that voters should give Carson time to explain his views.
"If they don't know who Ben Carson is, that's going to be a very awkward statement," Powers said. "But Ben Carson is taking a line here. He is taking a stand. … If he were to back down, he would lose my respect."
Carson's business manager, Armstrong Williams, told CNN Monday that the candidate will not apologize or clarify his statement. Williams said Carson is "not trying to be politically correct. This is America. It's a place of freedom of speech."
Imam Muhammed S. Mehtar, religious leader of the Islamic Society of Greater Salt Lake and the Khadeeja Mosque, said Carson "has done a lot of damage," especially to how the United States is seen in the Muslim world.
"In America, we say, 'In God we trust.' What type of God does he trust when he makes a statement like this?" Imam Mehtar said. "He undermined a lot of good America does. That's what hurts me."
The imam said Utahns "are more open towards learning and understanding cultures as well as other religions. That's a blessing one would find in Utah." He said guests regularly visit the mosque to learn about Islam.
University of Utah political science professor Matthew Burbank said he's not sure Carson's statement will have "that big an impact" because most people, including Utahns, would choose a Christian presidential candidate over a Muslim.
"What this will likely do is pick up on the theme he doesn't have that much political experience," Burbank said because of Carson's response to questions about Trump not correcting a supporter who suggested President Barack Obama is a Muslim.
#poll
Voters likely have not settled on a candidate this early in the presidential race anyway, BYU's Barber said, noting when it came to both Republican and Democratic candidates, "Don't Know" had the most support.
"I think that suggests that most people are still quite far away from making a decision," Barber said. "Voters' opinions on these candidates are very soft at the moment. I think they're very quick to change."
He cited Wisconsin Gov. Scott Walker, who announced Monday afternoon he was suspending his campaign after falling fast from frontrunner status to barely registering in national polls.
Walker had 2 percent in the UtahPolicy.com poll, behind Sens. Marco Rubio of Florida, Ted Cruz of Texas and Rand Paul of Kentucky, as well as business executive Carly Fiorina and Govs. John Kasich of Ohio and Chris Christie of New Jersey.
Sanders tops Democrats' list
The poll also asked Utahns who they'd like the Democrats to nominate in 2016. Vermont Sen. Bernie Sanders topped the list, followed by Vice President Joe Biden, who has yet to say if he's running.
Among just Democratic voters, Hillary Clinton, former first lady, senator and secretary of state, was a close second to Sanders. In the poll of all Utah voters, however, she was in third place.
State Democratic Party Chairman Peter Corroon said Utah's majority Republicans may have second thoughts after hearing what Carson as well as other GOP candidates, especially Trump, have said about minorities.
"I think the comments some of them are making should help people in Utah understand Republicans may not be the be-all and end-all of political parties to follow lockstep," Corroon said.
"People forget that America is a melting pot and that's what makes us great."
×
Photos
Related Stories