Estimated read time: 2-3 minutes
This archived news story is available only for your personal, non-commercial use. Information in the story may be outdated or superseded by additional information. Reading or replaying the story in its archived form does not constitute a republication of the story.
It's a battle between a railroad and a small business. Two days after a pallet company went up in flames, questions remain about who is to blame.
Central Pallet of Utah lost its entire building and nearly all of its equipment and inventory was destroyed. Firefighters say it may have been a spark from a passing train that ignited the fire, and this isn't the first time.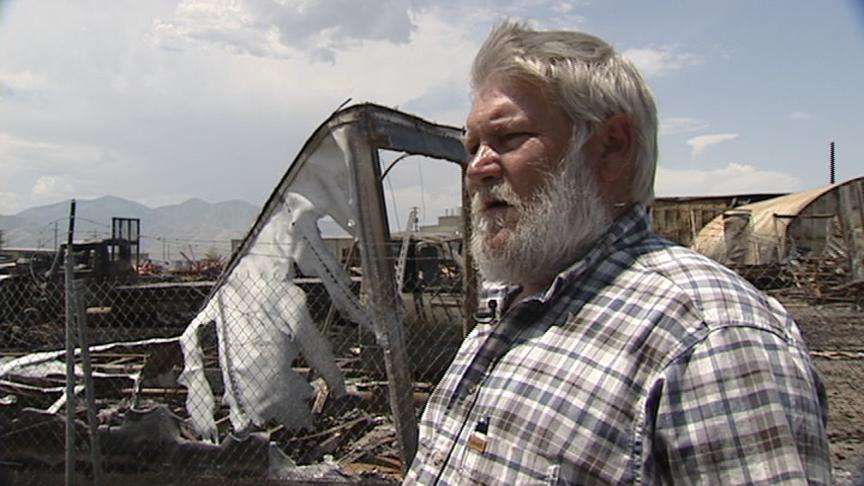 Central Pallet's building is right up against the railroad tracks. This is actually the second time a spark from a passing train may have ignited a fire in this area. But this time, it was absolutely devastating. Some say the railroad company needs to claim responsibility.
Hundreds of pallets, propane tanks and dry grass made for the perfect fire. "All I could think was: 'Not again, not again,'" said Rex Merkey, operations manager for Central Pallet of Utah. "Everything is gone. I mean, we have nothing."
What's even more upsetting for Central Pallet of Utah, Merkey says it was exactly two years ago today that the business went up in flames the first time.
Investigators believe a spark from a passing train igniting dry grass may have been the cause of both fires. But this time, the damage is much worse. "We have to start all over from scratch," Merkey said.
Over the past five years in Utah, the state fire marshal's office reports there have been 61 fires caused by a spark from the railroad. Most are relatively small; 33 are grass fires alone.
"They're a concern for us. As we continue to develop and grow and build more, it will become more of a problem because we will be building closer to those railroad right of ways," said Utah State Fire Marshal Ron Morris.
The railroad company, Union Pacific, is required by federal and local regulations to remove vegetation that could become a fire hazard.
But the questions, as they pertain to the fire at Central Pallet, are whose grass caught fire and who was responsible to keep it clear?
Merkey says Union Pacific owes him and his 22 employees a new business. "It's tough because we're a small company," he said.
Union Pacific released a statement on the issue, which reads in part: "At this point, the cause of this fire is still undetermined. Union Pacific has 33,000 miles of track that we try to diligently maintain... We try to be as vigilant as possible to try to avoid situations such as these, but when we are at fault, we work with the other parties to try to make it right."
The attorney for Central Pallet of Utah did not return our phone calls to discuss any legal proceedings in the matter.
E-mail: wjohnson@ksl.com
×
Related links
Most recent Utah stories