Estimated read time: 5-6 minutes
This archived news story is available only for your personal, non-commercial use. Information in the story may be outdated or superseded by additional information. Reading or replaying the story in its archived form does not constitute a republication of the story.
BYU became the first team to beat Nebraska at Memorial Stadium since 1985 with a last-second 33-28 victory over the Huskers.
But the mood was markedly subdued following the win with news that senior quarterback Taysom Hill is likely done for the season with a fractured foot. The highs of coming from behind to win a game in which Nebraska was favored by as many as seven points were immediately subdued with the injury news to Hill, as well as defensive lineman Travis Tuiloma's knee injury that will keep him out four to six weeks and a handful of other role players.
With the win, the Cougars move to 1-0 on the young season — but questions remain as they head home to open LaVell Edwards Stadium in 2015 against equally unbeaten Boise State.
Here's how BYU stacked up on Saturday afternoon in Lincoln, Nebraska.
Offense: B
Nick Kurtz flashed the speed and hands he's shown in preseason scrimmages, nearly getting into the end zone before setting up Taysom Hill's 3-yard touchdown run on the second offensive series of the game for BYU. The junior college transfer finished with 123 yards on five catches, an average of 24.6 yards per catch.
Still, the BYU offense was inconsistent — mustering brilliant play in the second quarter and getting needed utility from Hill's legs, but also stalling after several defensive adjustments after halftime.
BYU's run game was nonexistent, or worse, outside of its running quarterback. The running backs combined for negative-9 net yardage through three quarters of play, and Algie Brown's dropped pass on fourth down late in the second quarter haunted the offense all day.
But a win masks a lot of offensive inefficiencies and — though it's only one play — the 42-yard Hail Mary pass by freshman quarterback Tanner Mangum and Mitch Mathews that inched across the goal line with no time on the clock raises the Cougars' overall offensive grade to adequate.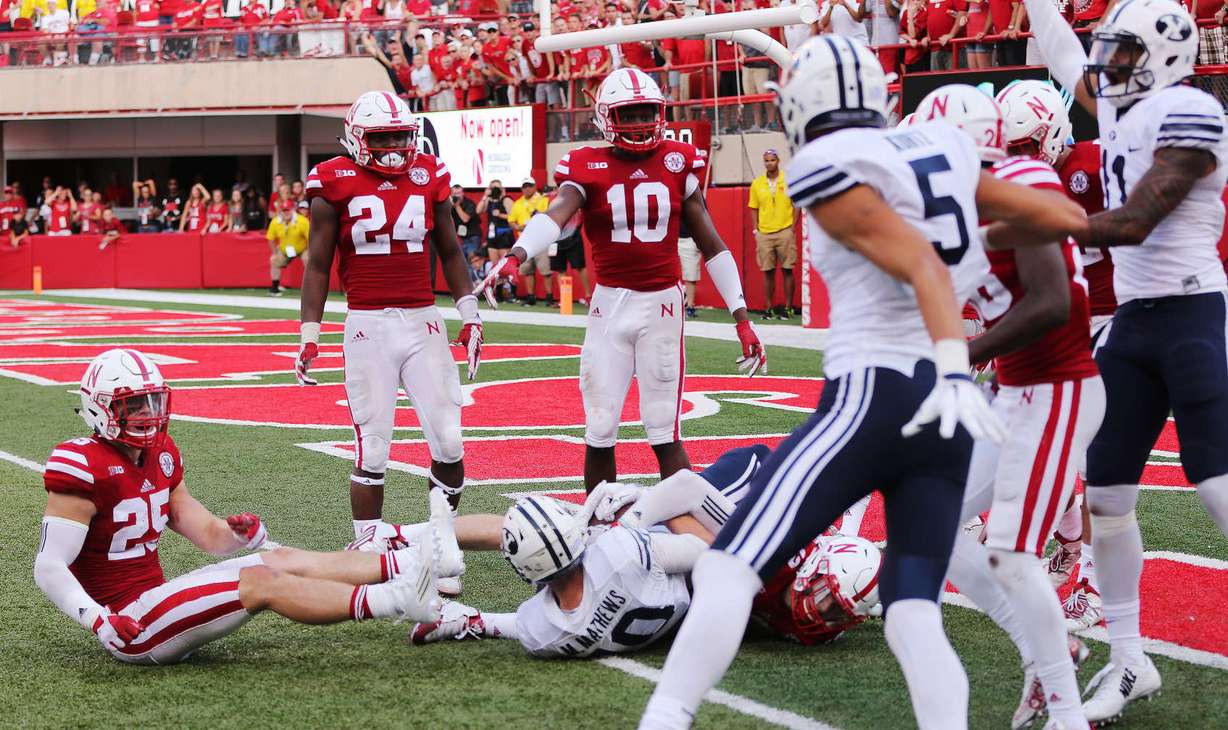 "The victory and defeat hangs in the balance on the results of one play," BYU coach Bronco Mendenhall said. "I know what defeat feels like. I know what it looks for the team, our community and our family. And I know what the win looks like and to be almost at the mercy of that and watching the play, there's no more raw emotion than a setting like that."
Defense: C+
Mike Riley's familiarity with the BYU defense showed on the Huskers' first drive of the game, carving up the Cougar defense. Tommy Armstrong nailed 5-of-6 passes for 71 yards to open the scoring on Jordan Westerkamp's 14-yard TD grab. Westerkamp evaded Harvey Langi's tackle on the right side of the field, then crossed to the left sideline and ran in the score.
"While you were getting set up I was taking a quick look at my friend Mike Riley on the TV there and my heart goes out to him and the team," Mendenhall told reporters after the game. "He's a good friend of mine and a really good person and a really good coach. Nebraska's to be praised. They played really hard right to the end, and so did we."
The defense turned in a remarkable performance in the second quarter, and after a couple of shaky defensive possessions, the defense turned it around in the second quarter. Fred Warner recovered a fumble to take over on a short field, and Bronson Kaufusi had a sack that was later turned into intentional grounding in his return to defensive end as BYU flipped the momentum from a 14-7 first-quarter deficit.
Basic tackling was rough, and the Huskers were constantly slipping out of tackles by opposing BYU defenders.
Sophomore Micah Hanneman had several shaky moments in his first start following a two-year LDS Church mission. But he made one of the biggest plays of the day with an interception to end the third quarter and give BYU the first offensive drive of the final period.
With no timeouts, Kaufusi forced a third-down stop and Nebraska missed a potential game-clinching field goal with just over a minute left to give BYU a lifeline and set up Mangum's final drive.
"We were inconsistent and certainly have a ways to go, but I'm going to draw on the fact that when there were critical stops needed, we made the critical stops," Mendenhall said. "That will be my message before we work on all the other things we need to work on."
Special teams: A-
In his first college football game after a star college and international rugby career, punter Jonny Linehan had a standout debut.
Linehan's second punt of his college football career went 64 yards into the wind, and he added a 77-yard punt with four minutes left in the third quarter. The junior from Auckland, New Zealand, finished with 255 yards on five punts, averaging 51 yards per kick.
Trevor Samson went perfect from the kicking tee, nailing a 41-yarder in the second quarter and tacking on a 35-yarder in the fourth to pull the Cougars within one point.
The only minor hiccup in the special teams' operation came in the return game — namely, there just wasn't much of it. Micah Hanneman returned just one punt for 11 yards and Eric Takenaka had just one kick return for 19 yards.
Coaching: B-
The play-calling was conservative on offense, but BYU flipped amends with regular pressure and blitzes on the defensive side of the ball.
BYU burned its final timeout with two minutes left in the game and down a point — but the lack of timeouts didn't burn BYU in the end.
Overall: B
BYU goes into Memorial Stadium for a million-dollar paycheck, and walks out 1-0 with the first win by an opposing team in an opener in 24 years. But the loss of Hill (along with several other starters) will hurt this team going forward.
Premature or not, the Tanner Mangum era has begun at BYU — and the Eagle, Idaho, native gets the first start of his collegiate career next week at home against Boise State.
×
Related stories
Most recent Sports stories