Estimated read time: 4-5 minutes
This archived news story is available only for your personal, non-commercial use. Information in the story may be outdated or superseded by additional information. Reading or replaying the story in its archived form does not constitute a republication of the story.
SALT LAKE CITY — A significant majority of Utah residents are willing to pay more for their homes and utilities if it means they have a greater ability to bounce back and resume their normal lives after a flood, fire or earthquake strikes.
Envision Utah has released the latest component of its "Your Utah, Your Future" survey — focusing on disaster resiliency — charting four likely scenarios on the level of preparedness and response that might exist in 2050.
The outreach involved nearly 53,000 Utah residents who were asked to weigh in on scenarios crafted for 11 key issues ranging from education and transportation to air quality and agriculture.
Against the prediction that Utah's population is expected to nearly double 35 years from now, the nonprofit, nonpartisan organization assembled working groups for each of the key issues and asked them to develop likely scenarios that include business-as-usual approaches or aggressive policy changes that are instituted regardless of cost and lifestyle impacts.
Disaster resiliency is defined not only as the ability to survive an earthquake or catastrophic flooding, but how quickly a community and people can recover and minimize long-term disruptions to the economy and quality of life.
Ari Bruening, Envision Utah's chief operating officer, said it is clear Utah residents see a real need to boost the ability to bounce back after a natural disaster.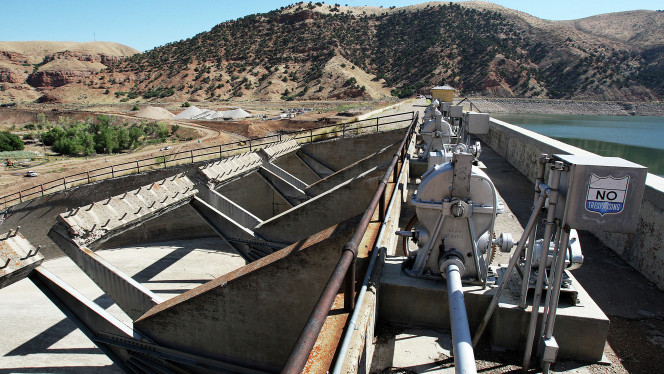 Ravell Call/Deseret News
"Almost everyone picked a scenario where we are more resilient than we are today, and more than half picked the scenario where we are the most resilient. That says to me Utahns want to be much more resilient, and we are not talking about just having a 72-hour kit and food storage in the basement," he said. "It is about having infrastructure and buildings that are strong enough that if we do have a disaster, we bounce back more quickly."
The survey notes that the state has 165,000 unreinforced brick buildings, which will cause 55 percent of the deaths should a large earthquake strike. Utah, according to experts at the University of Utah Seismograph Stations, has a 1 in 4 chance of that happening in the next 50 years.
Bruening said 78 percent of the survey's participants said they are willing to pay more for a house and their utilities if it means disruptions to their lives and community well-being are lessened after a disaster.
"We basically asked them if they were willing to have a little more skin in the game to be more resilient, and they overwhelmingly said, 'Yes,'" he said.
According to the survey, retrofitting a house to withstand earthquakes and be inhabitable would cost between $5,000 and $10,000. The cost of new buildings would go up approximately 1.5 percent, but the risk of a new home being uninhabitable decreases by half.
Residents are willing to pay for upgraded storm sewer systems to handle the effects of larger storms and also said they are in favor of requirements that any homes constructed in wildfire prone areas be constructed of fire-resistant materials.
"I think this gives everyone pause about whether we can be doing a better job to more resilient," Bruening said.
Lisa Sun, co-chairwoman of the disaster resilience working group, said Utah residents have done a good job of preparing for short-term disaster response via 72-hour kits and are good at helping out after floods or fires occur.
---
We basically asked them if they were willing to have a little more skin in the game to be more resilient, and they overwhelmingly said, 'Yes.'
–Ari Bruening, Envision Utah
---
"I don't think we have done as much as we could to prevent and mitigate disasters in the first place, before they happen," said Sun, who specializes in disaster law at BYU's law school.
"The trick is that Utah has not had as many disaster events such as places like California, so we have not had the drive to focus on decreasing that risk," she said.
Sun added that the need to retrofit and have tougher building codes becomes especially critical for hospitals, schools, nursing homes or long-term rehabilitation centers — buildings that house vulnerable, largely captive populations.
"I think there are a lot of takeaways for policymakers on how we go about retrofitting these buildings," she said.
Both Bruening and Sun note that one of the most compelling reasons survey takers said disaster resiliency needs to be improved is to reduce the time it takes to recover, such as getting utilities turned back on and businesses reopening their doors.
That sentiment of safeguarding self-sufficiency dovetails with Utahns' priorities in other survey areas, such as energy and agriculture, Bruening said.
Residents strongly urged that energy supplies be protected against service disruptions and said it was paramount Utah's agriculture be protected to improve self-sufficiency with food supplies.
Bruening said the theme keeps cropping up throughout the Envision Utah outreach.
"We know from our values study that the No. 1 value in Utah is safe and secure communities," he said. "I think the idea of self-sufficiency contributes to a feeling of safety, security and piece of mind. The bottom line is that Utahns don't want to have to worry about these things."
×
Photos
Related links
Related stories