Estimated read time: 2-3 minutes
This archived news story is available only for your personal, non-commercial use. Information in the story may be outdated or superseded by additional information. Reading or replaying the story in its archived form does not constitute a republication of the story.
Un par de trabajadores de la construcción en Missouri tomaron un descanso de soldadura para construir un mensaje especial para una niña que los había estado observando todos los días desde la ventana de enfrente.
A tan solo 2 1/2 años de edad, Vivian Keith está enfrascada en una batalla por su vida. Ella fue diagnosticada con leucemia linfoblástica aguda - cáncer de la sangre y la médula ósea que afecta a las células blancas de la sangre - el invierno pasado, de acuerdo con USA Today.
A causa de su cáncer, el cuerpo de Vivian es incapaz de luchar contra la infección y tuvo que pasar mucho tiempo en aislamiento en el noveno piso del Hospital de Niños de St. Louis. Si quería ver lo que estaba sucediendo en el mundo fuera de su habitación, tenía que asomarse a la ventana.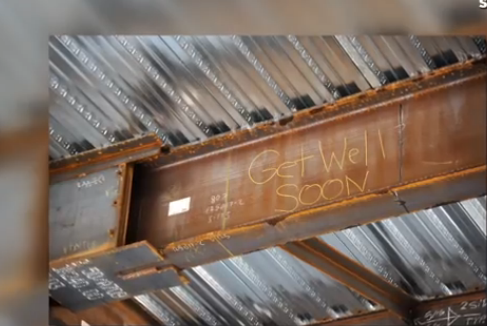 Vivian fue rápidamente cautivada con la construcción sucediendo en el edificio de enfrente, y se convirtió en una tradición diaria para saludar a los trabajadores que se presentaron cada día.
"Cada mañana me despierto y los saludó", dijo la madre de Vivian, Ginger Keith, a USA Today. "Hemos tenido que agitar (nuestras mano) hasta que alguien le devuelve el saludo".
Dos de los trabajadores de la construcción, Travis Barnes y Greg Combs, esperan con interés saludo diario de Vivian. Los hombres decidieron devolver el gesto y hacer algo especial para la niña en la ventana, informó USA Today.
Un día, cuando Vivian fue a la ventana, se dio cuenta de algo espectacular: un mensaje gigante, "Get Well Soon", fue garabateado en una de las vigas en el sitio de construcción.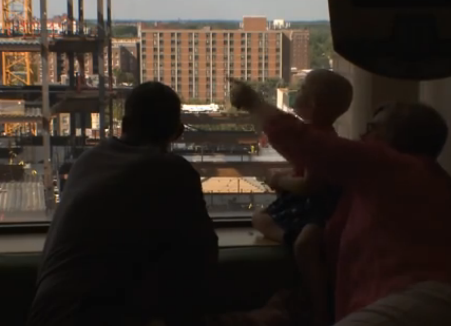 "Estaba pensando en mis propios hijos y lo preciosa que es la vida", dijo Combs. "Me hace feliz que algo tan simple como esto podría hacer el día de alguien mejor".
Tan pronto como Vivian fue capaz de salir de aislamiento, recibió la visita de sus nuevos amigos, de acuerdo con USA Today. Peines y Barnes trajeron sus regalos e intercambiaron abrazos - algo que alegró a Vivian, de acuerdo con su madre.
"Fue increíble", dijo Keith. "Fue un día increíble para ella. Les doy las gracias por hacer de la estadía de Vivian algo mucho mejor".
En cuanto a Barnes, él siempre va a estar inspirado por la niña en la habitación con la vista.
"Te toca", dijo. "Es que te retrasa por un minuto. Te das cuenta de lo buena que es tu propia vida".
×
Most recent News stories