This archived news story is available only for your personal, non-commercial use. Information in the story may be outdated or superseded by additional information. Reading or replaying the story in its archived form does not constitute a republication of the story.
LEHI — Carla Grow remained in the hospital Tuesday fighting for her life but showed signs of improvement as she opened her eyes for the first time since the accident.
Now a tight-knit group of girls and coaches are trying to do all they can to support her and her family.
Tim Kennedy is head coach of the Lehi High School girls softball team.The team has won the 5A state championship for the last two years. Kennedy does all he can to prepare his girls for whatever comes their way on the field.
"You can teach them the Xs and Os of the game," said Kennedy. But there are some things no amount of practice can help.
"It's something that you can't coach, you know, when there's a tragedy like that," Kennedy said. That tragedy happened Sunday evening.
"I saw the lightning myself just 10 miles away," Kennedy said.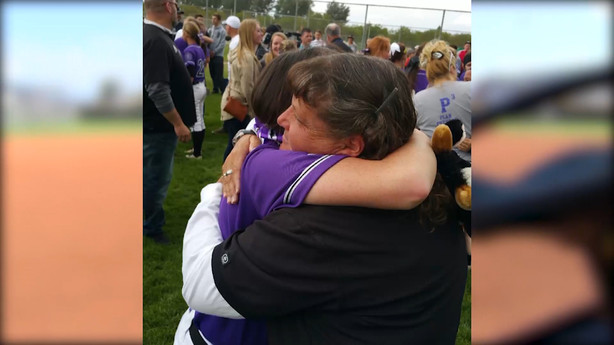 Coach Carla Grow was at a family picnic in Lehi when lightning struck the tree above her. The jolt put her into cardiac arrest and she's been in a medically induced coma ever since.
"I started getting texts from all the team and the other coaches," Kennedy said. Everyone met at the hospital and on Tuesday many of them were still there. Two of the girls met KSL at the high school softball field for the chance to talk about what Coach Grow means to them.
"She's probably the most selfless person I've ever met in my entire life," former player Kyla Dyer said. Dyer said she's a woman committed to the team.
"I'll come here in the morning for school and she'll be out here dragging the field, watering the field," softball player Brogan Kirby said. "She just loves this field."
Signs of Coach Grow were everywhere. Her handprint is pressed into the concrete dugout and her name tag hangs over her locker.
---
I don't know what the team would do without her. She is such an important part of this team.
–Brogan Kirby, softball player
---
"I know she'd be right there to help anyone she could because that's just the kind of person she is," Dyer said.
She's found a place in the hearts of the girls.
"To know Carla is to love her," Dyer added. Now they all hope she'll make a full recovery and come home soon.
"I don't know what the team would do without her," said Kirby. "She is such an important part of this team."
There is a GoFundMe account* set up to help with Grow's extensive medical bills, and the girls have planned something special. On Oct. 10 they're holding a pancake breakfast and home run derby at the high school. They plan to donate money raised to their coach.
*KSL.com does not assure that the monies deposited to the account will be applied for the benefit of the persons named as beneficiaries. If you are considering a deposit to the account, you should consult your own advisors and otherwise proceed at your own risk.
×
Photos
Related Stories