Estimated read time: 4-5 minutes
This archived news story is available only for your personal, non-commercial use. Information in the story may be outdated or superseded by additional information. Reading or replaying the story in its archived form does not constitute a republication of the story.
This story is sponsored by KSL Local. Find local services, restaurants and much more.
Labor Day weekend ends what officials call the 100 deadliest days on Utah roads. According to Zero Fatalities, there have been 189 (as of 8/31/15) traffic deaths in Utah in 2015 so far. Furthermore, AAA reports that distracted driving accounts for 25-50 percent of all auto accidents (nationwide).
While those 189 tragic deaths occurred on roads all over the state, it's important to note that certain stretches of road are more dangerous than others. If you're aware of where these roads are located, you will likely be more conscientious when driving through these spots in the future.
This week we've teamed up with Utah Advocates, personal injury attorneys in Utah, to make you aware of the five most dangerous roads in Utah:
I-15
Starting at the northernmost part of the state and running to the southwest corner, Utah's I-15 runs through the most populous cities of the Wasatch Front, Provo, and down to St. George.
The freeway is designed to offer commuters a quick route to their destinations, as speed limits are higher than other roadways. However, the ability to drive fast has made I-15 the most dangerous and deadly road in the state, with the highest number of deaths this year, at 38.
It should also be noted that Salt Lake County, due to the high population, is where the majority of accidents occur.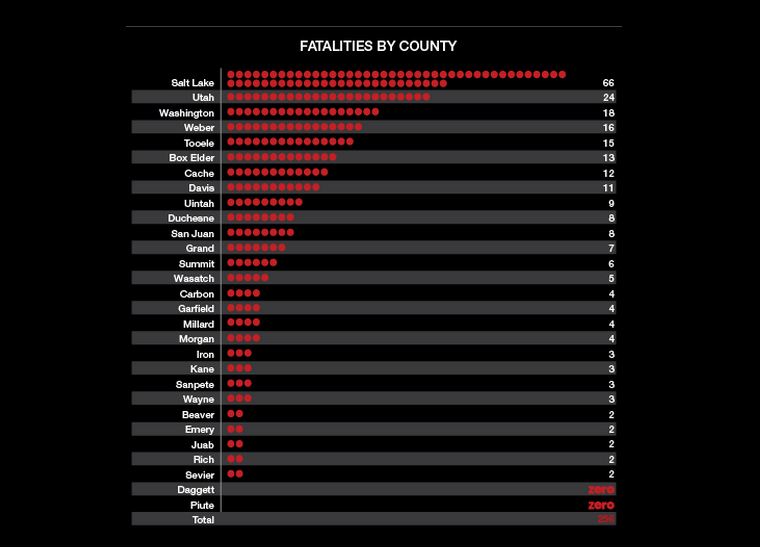 U.S. Route 89
Spanning more than 502 miles from Arizona to Logan, Utah and beyond, it was established in 1926 as State Road 89 and later renamed to U.S. Route 89, it's one of the oldest highways in the state.
While the highway is rich in history, it is also the second most dangerous road in Utah, with 18 deaths in 2014, according to the Utah Crash Database.
In June, a woman was killed and a family of six seriously injured after a head-on collision on southbound 89 in Logan, near Beaver Ski Resort. Members of the family are still recovering from their injuries.
I-80
Interstate 80 is a transcontinental highway in the United States that runs from downtown San Francisco, California, to New York City. The portion of the highway in Utah is 196 miles and runs through the northern part of the state. It comes in at third as the most dangerous roadway in Utah, with 15 fatalities reported in 2014.
It isn't just fatalities that make this stretch of road dangerous. In July, three women were injured on I-80 in Grantsville, in an alcohol related roll-over.
I-70
Spanning 2,153 miles, from Baltimore, Maryland, to Utah, near Cove Fort, I-70 is one of the major highways in the United States.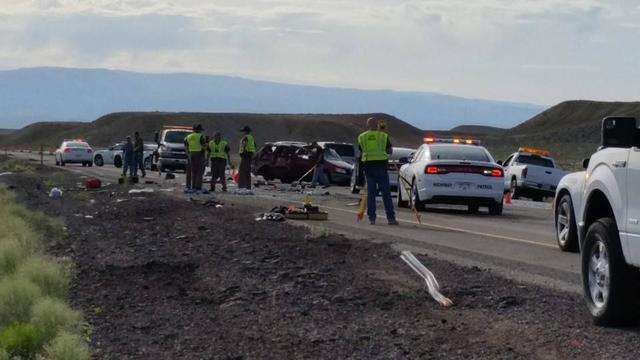 Even with its long-standing history, I-70 does not connect a single urban area, with Richfield being the largest Utah city served by the freeway. Despite this, the interstate ties for the fourth highest death toll in Utah, with eight fatalities last year, according to Zero Fatalities.
"Although 19 percent of the U.S. population lived in rural areas, rural fatalities accounted for 54 percent of all traffic fatalities in 2012," according to the U.S. Department of Transportation.
U.S. Route 6, between Price and Spanish Fork
Highway 6 is a road with curves, twists and turns. Because of this, it has earned a reputation as one of Utah's most dangerous and deadly roads, despite the past decade's efforts to improve conditions. So far this year, there have been eight fatalities.
Just this month, in fact, a mother and her young son were killed and three others critically injured in a two-car crash Aug. 15.
"I don't believe the canyon is a dangerous place," Utah Highway Patrolman Justin Cloward told KSL. "I believe the people that drive it need to slow down and not be in a hurry."
On all Utah roads, 2014 was one of the deadliest years to date, with 256 lives lost.
The Advocates, injury attorneys here in Utah, advise drivers to take responsibility for their safety and make Utah's roads a safer place.
"Most of us think WE are the exceptional individual who can multi-task and do everything at once, and do it all very well," according to the Advocates website. "It's the other guys that can't text and drive, right? Let's all be accountable, and try to do better."
×
Photos