Estimated read time: 6-7 minutes
This archived news story is available only for your personal, non-commercial use. Information in the story may be outdated or superseded by additional information. Reading or replaying the story in its archived form does not constitute a republication of the story.
SALT LAKE CITY — Here are 10 local stories you may have missed this weekend. As always, click on the headline to read the full story.
A man and his 5-year-old daughter died, and the mother and another daughter were critically injured when the car they were in was pushed into the rear of a semi truck Sunday.
At 5:23 p.m., Utah Highway Patrol troopers were performing a "slow down," where a trooper with lights and sirens drives back and forth across all lanes of traffic to hold traffic back and create a safety zone for another trooper to remove a hazard from the road.
During the procedure, a Mazda passenger car headed north on I-15 near the I-84 junction was stopped behind a semi truck when a Chevy passenger car driving at freeway speeds collided with the rear of the Mazda, pushing it into the rear of the semi truck, according to UHP Sgt. Mary Kay Lucas.
Pollen, bee stings and peanuts are all common allergies, but 19-year-old Alex Visker's issues are far more severe. He's allergic to food.
From a very young age, allergies were Alex's worst enemy. He recalled an incident when he was being babysat by his neighbors and had an encounter with peanuts.
"I turned bright red, and had hives from head to toe," he said.
As the years passed, Alex got worse.
SWAT officers rushing to rescue a woman held hostage by her estranged husband avoided a potential natural gas explosion Saturday by holding their fire even as dozens of shots came their way, police said.
Police say the man — accused of shooting one woman outside the home before taking his wife hostage inside — had apparently cut a natural gas line in the home and turned on the kitchen stove and oven before allegedly shooting his wife, prompting officers to move into the house following a three-hour standoff.
The potential explosion threatened nearby homes and businesses, police said.
Most chose to go on their bellies. Some slid on their backs. A few, the most adventurous, strapped GoPros to their heads or posed for selfies as they zipped down the 1,000 foot slip-and-slide on Main Street.
Whatever the method, about 3,000 people made it down the 1,000 foot water slide on Saturday at the second Slide the City event in Salt Lake.
"It was kind of costly, but it's worth it," said Langi Sofele, a Cottonwood Heights grandmother who brought her kids, nieces, nephews and grandchildren — about 20 members of her family in total — to the event.
The Provo First Ward building is tucked among the quiet residential streets of Provo. Among the mix of student apartments and old pioneer homes, this church is part of the charm of the downtown area. Neighbor of historical buildings such as the old Maeser School and the Senator Reed Smoot residence, it too has a unique history of its own.
The Church of Jesus Christ of Latter-day Saints building was designed by architects Pope & Burton, a team which also produced the Laie Hawaii and Cardston Alberta temples. A glance at their work on the LDS architecture blog shows an interesting spin on the craftsman style that was so popular in the early 20th century. Built in an interesting Y-shape, the church in Provo retains many of the original features which set it apart.
Sports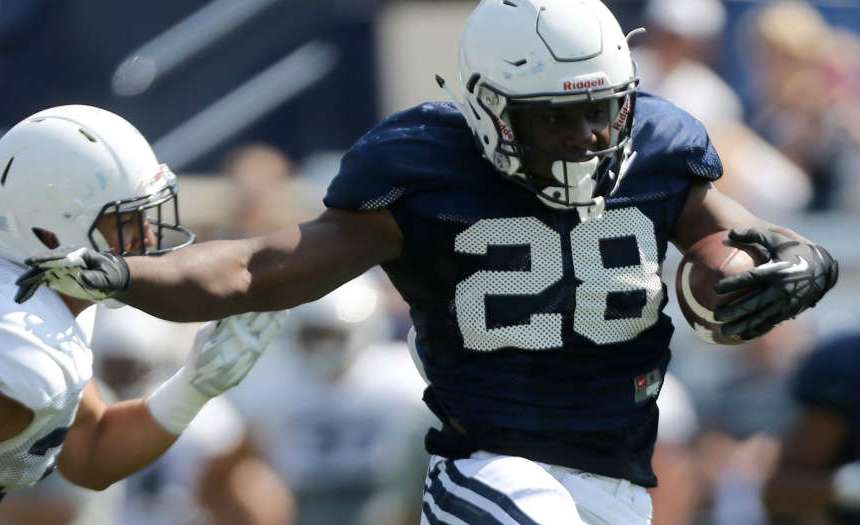 After last week's scrimmage, BYU offensive coordinator Robert Anae praised the work of running backs Algie Brown and Nate Carter, then singled out senior tailback and return man Adam Hine as needing to catch up.
Hine narrowed the gap at Saturday's second scrimmage of fall camp.
The fifth-year senior and Snow Canyon High product ran the ball five times for 73 yards and two touchdowns, including a 53-yard touchdown early in the 11-on-11 session to help move the offense forward.
The final scrimmage of Utah State's fall camp took place Saturday night at Maverik Stadium. With about 90 plays in the scrimmages, there was a limited contact "thud" scrimmage in which the starters saw very limited action.
The scrimmage opened with some special teamwork, with Brock Warren and Jake Thompson locked in a tight competition for field goal duties.
"The bright spots were the kickers kicked well on field goals," third-year head coach Matt Wells said. "Jake and Brock have had a good competition through training camp, and it's really going to come down to the wire the next couple of weeks."
Javier Morales led Real Salt Lake to its seventh shutout of the season with a 2-0 home win over Seattle Sounders FC to keep its playoff hopes alive Saturday night in front of 20,559 fans at Rio Tinto Stadium.
Morales started the scoring early, stepping up to the penalty spot after Seattle's Roman Torres was whistled for a handball in the box. The Argentine midfielder stutter-stepped, then calmly lifted his penalty shot past Stefan Frei for the 1-0 advantage in the 12th minute.
"I tried to be calm, and knew it was an important goal," Morales said. "It could open the game. I just tried to take it in a way that I did, and I was happy it was a goal."
Check back here for the latest scores from all the week 1 prep football games across the state.
You can also watch games live on KSL.com, such as the SportsBeat Game Night Game of the Week: No. 2 Brighton vs. No. 4 Herriman.
Heading out to a game tonight? Remember to tag your photos on Twitter using #KSLGameNight and we'll feature some of the best in a weekly gallery on the SportsBeat Facebook page.
Nathan Lashley won his second Utah Open title with a 22-under-par 194 in Sunday's final round at Riverside Country Club, edging Utah State Amateur champion Jordan Rodgers by two strokes.
Rodgers turned pro shortly after winning the state amateur at Soldier Hollow Golf Course in July, and he was aiming to be the first golfer to win both events in 81 years.
The recent BYU graduate held a one-shot lead on the par-4 14th hole Sunday when he nearly holed out a chip for eagle. He finished the hole with a birdie and took a two-shot lead with four to play.
×