Estimated read time: 4-5 minutes
This archived news story is available only for your personal, non-commercial use. Information in the story may be outdated or superseded by additional information. Reading or replaying the story in its archived form does not constitute a republication of the story.
PROVO — Trey Dye came to BYU after a standout career at Cooper High School in Abilene, Texas, where he was a Texas Class 5A all-state honorable mention and all-district selection.
The son of former Cougar returns specialist James Dye, who attracted plenty of attention and still lives on in the collective memory of the BYU faithful, averaged 7.6 yards per carry and 19.5 yards per catch as a prep senior in 2013, helping Cooper advance to the 2013 UIL state playoffs and finishing the year with 1,949 yards and 29 touchdowns.
But Trey Dye found limited opportunities as a pure wide receiver, playing in just six games and catching only three passes for eight yards as a freshman.
At Saturday's second scrimmage of 2015 fall camp, the 5-foot-9 Dye showed he's not going away anytime soon.
"I kind of got to see glimpses of what I know I am capable of doing," Dye said after recording a team-high six catches for 62 yards. "Consistency is the next step in everything."
The sophomore has found a way to help out the offense, too, slotting into the H-back role — a hybrid receiver/smaller running back who can catch balls out of the backfield and fit into the slot and inside receiver positions.
After averaging just 2.7 yards per reception in 2014, Dye's speed could become a factor. The versatile Texas native averaged 17.5 yards per kick return as a freshman, and he flashed the speed of a 4.48 40-yard dash time in Saturday's scrimmage.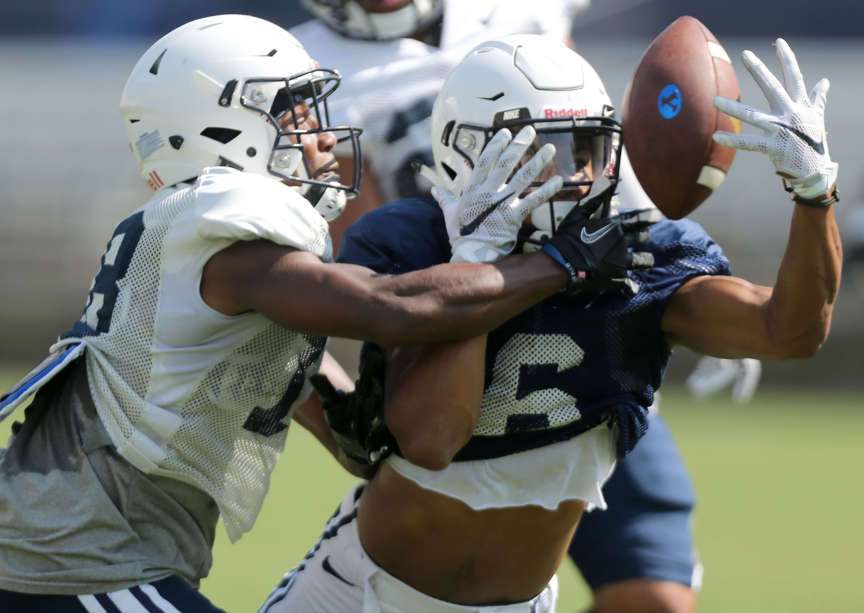 "That's what I love to do: whatever I can to help this offense," Dye said. "I'm willing to do it. I feel like that's one of my biggest traits, just versatility to do different things.
"Whatever coach wants me to do, I'm up for it."
With a pair of 6-6 and 6-5 receivers on the outside in Mitch Mathews and Nick Kurtz, Dye also knew he had to do something to set himself apart in a deep receiving corp. To help with that transition, Dye and fellow H-back Mitchell Juergens have been working with new student assistant JD Falslev to try to maximize their strengths.
"We're little guys, so you have to know how to play with your body," Dye said. "I'm not Nick Kurtz or Mitch Mathews; I have a different body type. (Falslev) has taught us to control our bodies, play in space and find those windows in the defense."
So far, the extra work is paying off, according to head coach Bronco Mendenhall.
"I think Trey's maturing and growing and becoming more consistent," he said. "It's never been an issue of ability. It's just been youth and inconsistency, which usually go together. He's now maturing and becoming more consistent. His ability is able to show at higher and more consistent level."
BYU's receiving corps is as deep as it has been in recent years. A season after losing former UTEP graduate transfer Jordan Leslie to the NFL (he's currently with the Minnesota Vikings), the Cougars return Mathews and Kurtz, as well as Dye and Juergens, seniors Devon Blackmon, Terenn Houk and Kurt Henderson, and junior Travis Frey.
They also bring in freshmen like Josh Weeks, Talon Shumway, Rickey Shumway and Moroni Laulu-Pututau, each of whom has impressed in various practices through the first two weeks of training camp.
The depth is so severe, Houk joked after practice last week it's hard to help out the younger players — for fear of losing his job.
"It makes you want to get better, but also you want to develop those young guys so you don't have to wait for them to catch up," Houk said. "You don't want to leave anyone behind, but you know the offense is moving forward with or without you. Those guys know if they want to roll with Taysom, they have to be able to make plays, and I think they are doing that."
Related:
Even veterans like Houk have seen their roles evolve with the expansive depth at receiver. No longer "just" an inside receiver, Houk has seen his position evolve to fill in the slot, on the outside and in the back field — even as an extra blocker for quarterback Taysom Hill.
"We block, we catch passes; we don't run the ball — that's more Mitch Juergens' style," Houk said. "But we do a lot in the inside spot."
The passing game is at its best when Hill can spread the ball around, as well.
"Taysom can't just rely on one person," Houk said. "I think that he's really come far in that, and he's been giving me and other guys the ball. I think that after being injured so much, he doesn't want to run the ball, but play off the reads and see everything he can do before running the ball."
A little depth and competition is good for everybody, too.
"That's why we play this game," Dye said. "I feel like everybody on this field is looking to compete. You've got to bring it to the table."
×
Photos
Related stories
Most recent Sports stories