This archived news story is available only for your personal, non-commercial use. Information in the story may be outdated or superseded by additional information. Reading or replaying the story in its archived form does not constitute a republication of the story.
SYRACUSE — Two recreational lakes were included in a new housing development in Syracuse and a city official said it has been the boost that city housing construction needed.
The lakes are part of the Stillwater Estates housing development. Syracuse City Community and Economic Development Director Brigham Mellor said the idea came from developer Mark Thayne's love of water skiing. Thayne liked the idea of having water skiing available right in his backyard and worked with city officials to get it approved, Mellor said.
The construction for the development and lakes began in the fall of 2014 and was completed by early summer, Mellor said. The result was two side-by-side 12-acre lakes that have docks and built-in boathouses for homeowners to keep their boats right on the lake. A tunnel under a dividing barrier connects the lakes, allowing boaters to do a large loop that includes both lakes.
The lakes in the middle of the development with houses built along the shore are unique, and Mellor said there's isn't anything quite like it in the state.
"Apparently there is something slightly similar out by Vernal, but this is extremely unique because of the luxury aspect and the proximity to the airport and the proximity to urban centers," Mellor said. "You are close to 13 ski resorts within an hour's drive and it's chock-full of all these different amenities. … And you got a ski lake right out your back door."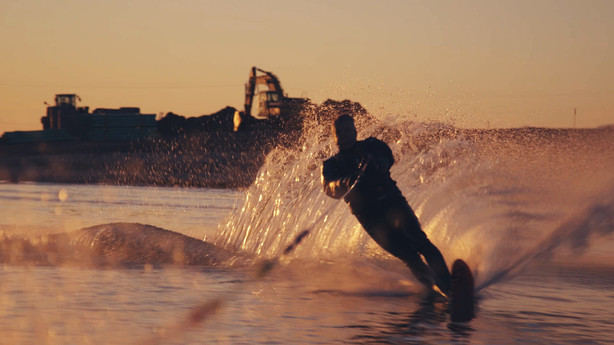 About 30 houses in the development will have lake access to the private man-made reservoirs that will allow the homeowners to ski and wakeboard. Four of the lots have been sold and Mellor said the construction on the homes will begin in the next few months.
Mellor said the unique development has actually driven traffic and business into the area.
"People have found (Thayne's) development entering into Salt Lake International Airport," Mellor said. "People will fly in … and look out the window and think, 'Wow, what is that out there?' So people will contact him and he's actually had people that are interested in purchasing lots that have seen his development from the air."
Mellor also credits Stillwater Estates for helping revitalize the city's housing construction.
"This is kind of our rebound story of housing construction," he said. "Our building permits dropped off dramatically during the recession and now they are bouncing back. … The city is excited about it because it is very unique and has renewed some attraction that we felt we lost during the recession."
Stillwater Estates held a public open house for the new development on Saturday.
×
Photos