This archived news story is available only for your personal, non-commercial use. Information in the story may be outdated or superseded by additional information. Reading or replaying the story in its archived form does not constitute a republication of the story.
SALT LAKE CITY — I walked into the Zions Bank Basketball Center this weekend to a group of about 25 men and women in formation, each of them pulling a backflip from a standstill, and landing it.
Whoa.
That wasn't the only amazing trick I was in for as I watched warmups and then the tryouts for the Utah Jazz Stunt Team. Throughout, I saw a veritable smorgasbord of flips, twists, throws and feats of strength from the stunt team hopefuls.
The Utah Jazz Stunt Team is one of three rotating groups that perform at EnergySolutions Arena during a Jazz season, along with the Dunk Team and the Junior Jazz Dancers. These groups are assigned to the 41 home games, meaning that the Stunt Team will get 13 or 14 dates on which to perform per year. At each of those games, they'll perform at least once in a quarter break, but usually at a timeout or halftime too. Occasionally, they'll let the Jazz Bear, a capable stuntman, in on the act.
Saturday was the tryouts for the Stunt Team. The goal of program director Summer Willis was to get the roster down to a group of about 10 women and 12 men who could perform at the games next season. Given that there were about 25 people at the tryouts, and another five submitting videos to show off their skills, tryouts were relatively laid back compared to, say, Jazz Dancer tryouts, in which hundreds of potential dancers are rejected.
But the relatively high acceptance rate doesn't mean stunting is easy. It's not just throwing a flier into the air and having them stand on a pedestal. The initial throw has important steps of technique, especially when flips or twists are involved. The idea, generally, is to throw the top person so that the thrower doesn't have to bend in order to catch her at her peak: that takes ridiculous strength.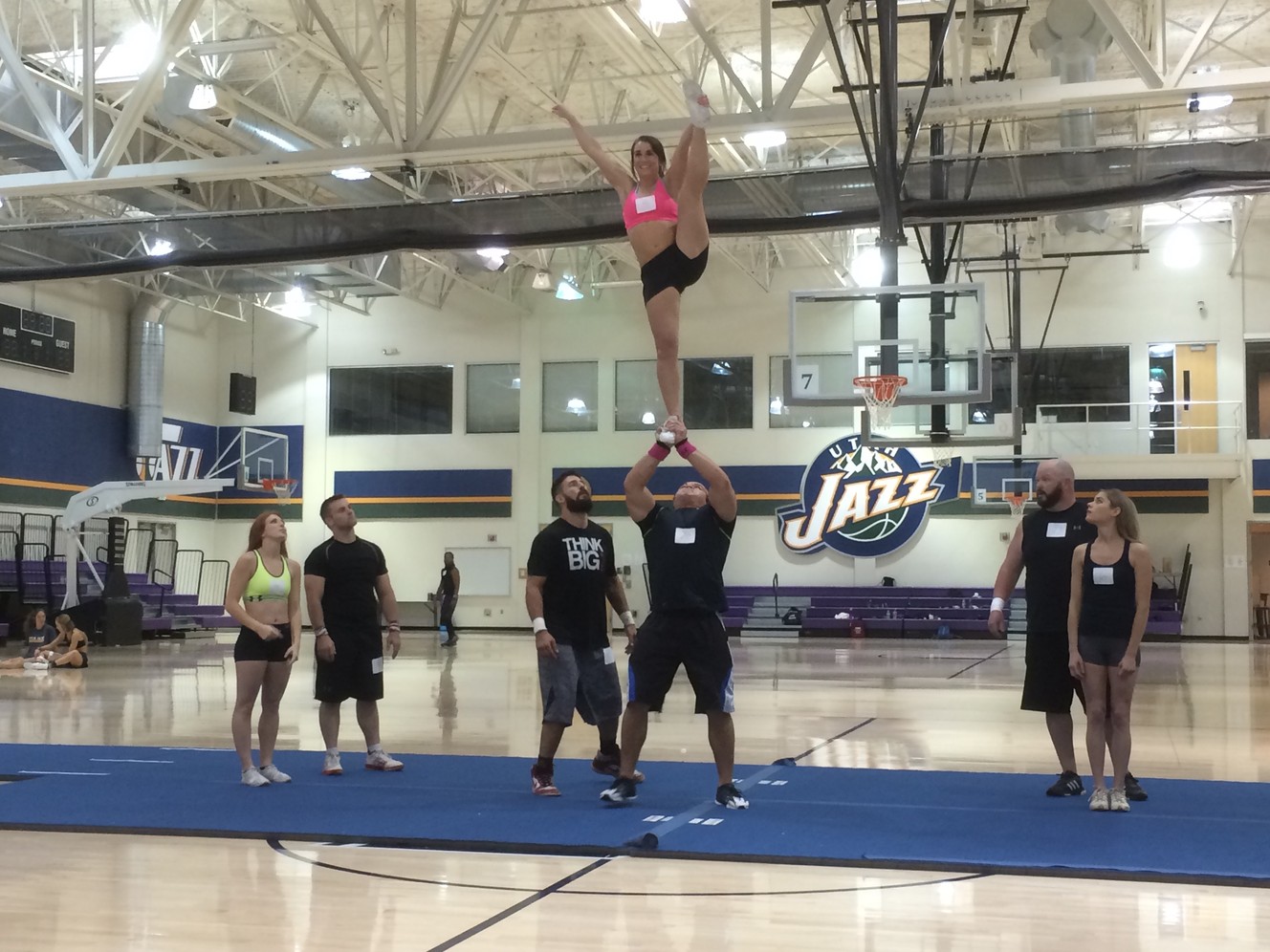 Then, balance comes into play on both parties. A sturdy base is important, then the top person's balance is critical, or else the whole apparatus moves all over the floor. The center of balance has to be right over the thrower's grip.
That grip has points of technique, too. It's not a pedestal, but actually a very real grabbing of the foot that means the dancer can do stretches and stunts from high up in the air. And the dismount is tricky too: getting down safely at all is often a concern, then there's sometimes flips and twists added as well. It's all actually pretty complicated.
Willis admits that the crowd doesn't see all of this. "You wouldn't know that from the outside looking in," she says. "You just see the end result, if she falls or if she doesn't."
Willis, though, is a master teacher of the hidden technique — she's led the Weber State University Spirit Squad for 17 years. Upon taking the opening, she rebuilt the program for five years and turned it into the nationally competitive outfit it is today. The Wildcats have won three national championships, in 2009, 2012, and 2013, and haven't ever finished worse than third at nationals.
So when the Utah Jazz were looking for a way to diversify their in-game entertainment four years ago, Willis was a natural call to make, and the team knew it could count on her, with the Weber State squad as a base, to make a group that had enough quality for professional entertainment. While the Jazz aren't the only NBA team with a stunt team, it's a relative rarity for NBA franchises.
For those who are on both the Weber State team and the Jazz's team, performances at Jazz games are "a little bit more laid back," according to Chelsi Lee, an early childhood/special education major who performs stunts for both teams. "At college, it's everyday practicing."
That means the participants on the Utah Jazz team are excited that they've gotten the opportunity. Richie Stevenson, a junior at Weber State who is going into his second year on the Jazz stunt team, said, "It's such a rush, there's nothing better."
"When you practice stuff for years and you get to go out and perform in front of tons of people? It's the best."
×
Photos