Estimated read time: 3-4 minutes
This archived news story is available only for your personal, non-commercial use. Information in the story may be outdated or superseded by additional information. Reading or replaying the story in its archived form does not constitute a republication of the story.
SALT LAKE CITY — A local man's frustration with his new bride's complicated U.S. immigration paperwork led him to create a new online platform designed to help others in similar situations.
The website his team created, called SimpleCitizen, launched Thursday with the goal of assisting people as they work through the immigration process to apply for green cards and eventually obtain citizenship. The company's software simplifies the application by essentially turning it into an online form and guides users through each step of the process, according to the company's CEO and founder Sam Stoddard.
"It's just a very daunting task and it is such an important part of people's lives that they don't want to be one of the 100,000 applicants that are rejected every year because they checked the wrong box or didn't put their application together correctly," he said. "This is also the reason why immigration lawyers are able to charge so much money for relatively straightforward paperwork."
What it does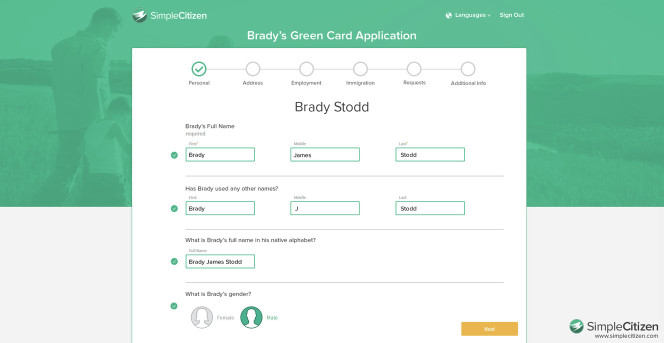 Photo credit: SimpleCitizen
The company is focused on family immigration and aims to be an affordable alternative for those who don't want to pay expensive immigration lawyers but who are also uncomfortable going through the application process on their own. SimpleCitizen has a one-time fee of $249, with the option of paying an additional $99 to have a lawyer personally review the application, compared to the thousands of dollars it can cost to hire an immigration lawyer, according to Stoddard.
He said using SimpleCitizen is similar to filling out an online job application. It asks users to answer a few basic questions about themselves and prompts them to upload the required documents. The website also hosts a learning center and discussion boards so people going through the process can connect with each other.
Inspired by personal experiences
The idea for SimpleCitizen was born when Stoddard experienced the application process himself about two years ago when he married his wife, who is originally from South Korea. He said he and his wife started out by going to an immigration lawyer who told them they had a straightforward case but that it would cost them a couple thousand dollars to use the lawyer's services.
Since Stoddard was studying tax accounting at Brigham Young University at the time, he attempted to wade through the approximately 80 pages of paperwork himself.
"I was pretty familiar with government forms from studying taxes so I kind of thought I could tackle it on my own," he said. "But it really was just very confusing. I had a lot of anxiety, just stress, because this was really important. This was my wife and I didn't want to run into any problems, but my other option was to pay a couple thousand dollars."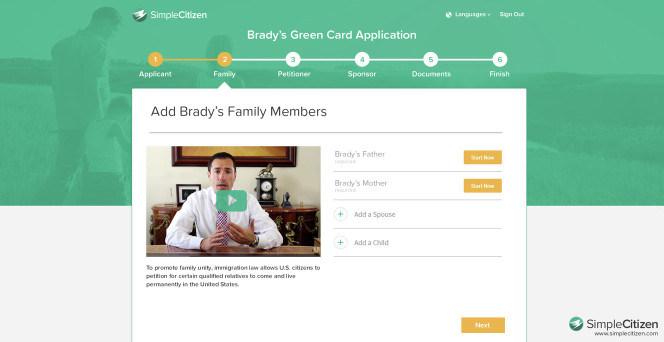 Photo credit: SimpleCitizen
One of the other founders of SimpleCitizen, Aydé Soto, who is originally from Mexico, experienced similar frustrations while applying for a green card about a year ago, according to Stoddard. He said she heard about SimpleCitizen after they won first place at a student entrepreneurship competition at the University of Utah and then reached out see if she could help.
"(The process is) just a real pain for people who have been through it," Stoddard said. "It's good to see that we're solving a real problem."
Stoddard's nephew, Brady Stoddard, also joined the SimpleCitizen team as a cofounder. The two are close in age and had always wanted to go into business together.
SimpleCitizen got help for its launch from StartStudio. It was the first startup to be admitted into the program, which was designed to help entrepreneurs mitigate some of the risks that come along with starting a new company.
×
Photos
Related links
Related stories
Most recent Utah stories