Estimated read time: 3-4 minutes
This archived news story is available only for your personal, non-commercial use. Information in the story may be outdated or superseded by additional information. Reading or replaying the story in its archived form does not constitute a republication of the story.
PROVO — The biggest change at BYU this past offseason wasn't head coach Bronco Mendenhall taking over defensive coordinator duties.
There's another role players believe will have an even bigger impact on their potential success this season.
Frank Wintrich's new job is the head strength and conditioning coach for the BYU football program. But his official title perhaps reflects the biggest change the players have seen in him since coming to Provo in January: director of football performance.
Wintrich's routines encompass more than better weightlifting techniques or cardio-endurance training. To him, the mental side of training is connected with the physical aspects of his role.
"Coach Wintrich likes guys to do things exactly as he asks them to do it," Mendenhall said during media day last month. "He's very demanding; very exacting. They aren't only getting better physically, but they are very sharp (mentally) to get through a workout."
Wintrich's sessions, which are the main contact the current players have with the program in the summer, include boot camp-style conditioning drills and routines conducted in military time.
He's been compared to a drill sergeant — not just in his look, but in his approach to fitness as well.
"I feel like he brings intensity every single day," BYU linebacker Fred Warner said. "Having him as that source rubs off on people like me. I love being excited about what we are doing."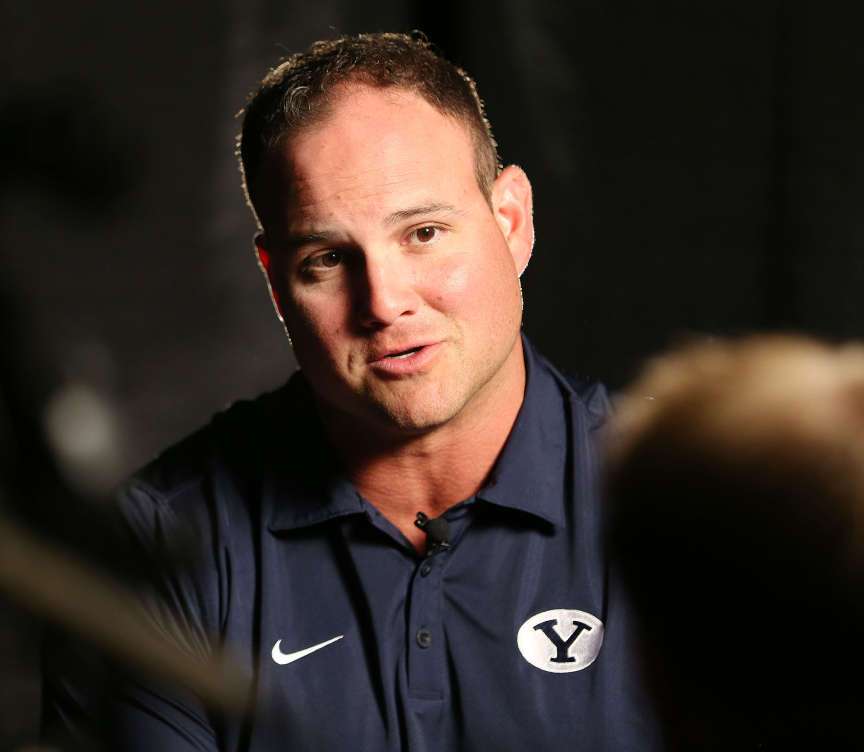 There's also a purpose to his intensity, though.
"Training has to be demanding," Wintrich said. "If we don't do that, we're going to have players rise up or fall to the level at which we train them. It's essential that we train at a very high level each and every day."
To help prevent offseason burnout, Wintrich's athletes train for two weeks and then have a week off. It's a schedule that has especially helped quarterback Taysom Hill, who is still recovering from a midseason injury last fall.
"It gives us the ability to work out harder for two weeks, knowing we can recover for that full week," Hill said. "I think, being here for four years, I've been going through the grind of only having one week off, total. You can become a little burned out before the season starts. This new program has allowed us to stay healthy, fresh and hungry."
But the approach provides BYU with one of its more consistent patterns of offseason training, Wintrich said, and places a lot of emphasis on conditioning.
"We run an awful lot in our program," Wintrich said with a smile. "There's a very high level of emphasis on our guys generating force into the ground. I think that helps guys stay on their feet and move better on the field."
Wintrich, a two-time Division II All-American at Kentucky Wesleyan College in 2001-02, came to BYU after three years as the director of football performance at the University of North Texas. It isn't his first stop in the Beehive State, however. He was an assistant strength and conditioning coach at Utah State in 2004-05. He also had staff experience at Arizona State, South Florida and The Citadel, among other schools.
But Wintrich, who is not a member of The Church of Jesus Christ of Latter-day Saints, immediately took to the unique nature of the BYU football program.
"The great thing about this place is the kids are amazing," Wintrich said. "I've never been around players that buy in and give such great effort."
Contributing: Jeremiah Jensen
×
Photos
Related stories
Most recent Sports stories