Estimated read time: 2-3 minutes
This archived news story is available only for your personal, non-commercial use. Information in the story may be outdated or superseded by additional information. Reading or replaying the story in its archived form does not constitute a republication of the story.
Alex Cabrero reportingAfter 56 years of flying helicopters, a man from England did something today in Lehi he had never done before. He crashed.
Fortunately, the pilot, Dennis Kenyon, was able to walk away with just a few scratches. It's amazing he hasn't done this before, especially when you consider he has more than 13,000 hours in the air as a helicopter pilot; and not as just any helicopter pilot, but as an acrobatic helicopter pilot.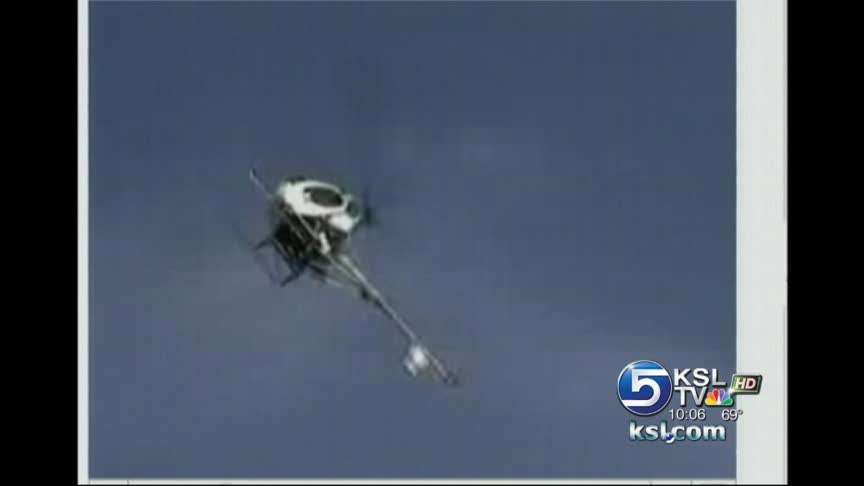 He has quite a reputation, but after today, he may be done. There aren't too many helicopter pilots who can do the things he can, even fewer who would want to.
"It was all going normally and, pilot error. I flew it into the ground," Kenyon said. He's an acrobatic helicopter pilot from England who was in Lehi today showing off some of his moves. The fact that he's talking to us shows his best move yet is walking out of the wreckage. As he said, "Thank God I'm alive!"
Kenyon has videos of his flying on the Internet. His skills are so impressive, he was invited to Lehi this week for the city's first annual popular rotorcraft association event. However, during a maneuver where he essentially does a backflip, something went wrong.
Mike Brownlee saw it happen. He said, "Initially, it's just a shock that it even happened, you know? And then obviously everybody came running to help him out."
Kenyon had just some cuts and scrapes on his face. He thinks not being used to Utah's altitude and elevation density had something to do with why he crashed. He's pulled that maneuver thousands of times in his 56 years of flying and was planning to do it during an upcoming world championship event. Now, he thinks those acrobatic days are behind him. "It would've been nice to win or place in the world championships, at my age, that would've been nice, but that's not gonna happen," he told us.
Kenyon says he will still pilot helicopters; he's a trainer in England. But today's close call convinced him, he says, to stop flying acrobatics.
E-mail: acabrero@ksl.com
×
Most recent Utah stories