Estimated read time: 3-4 minutes
This archived news story is available only for your personal, non-commercial use. Information in the story may be outdated or superseded by additional information. Reading or replaying the story in its archived form does not constitute a republication of the story.
Keith McCord and Andrew Adams reportingTo show off the improvements done to the refurbished Pioneer Park, Salt Lake City is holding a party. The party kicks off with one of the sure signs that summer has finally arrived: the start of the Downtown Farmers Market.
There are some new things at the market this year. For one, the park itself is new. A lot of new renovations have been completed and will make it a lot easier for vendors and shoppers to get around. It's an indication that the popularity of the market continues to grow.
The final preparations are underway for the 16th annual Downtown Farmers Market. Employees with the Downtown Alliance were hanging signs and banners and marking off vendor booth spots in anticipation for another big year here.
The market has certainly become more popular since that first year, which had only five vendors and a handful of visitors. "It's been real rewarding to see it grow as much as it has. There's now about 300 different vendors that come for each week for 20 weeks, and, over the course of the season, almost 150,000 people," said Bob Farrington, executive director of the Downtown Alliance.
That's roughly 5,000 to 7,000 people each Saturday.
Because of the popularity of the Farmers Market, the city recently spent $1 million on significant renovations to make the experience more functional and enjoyable for everyone.
"It makes for better accessibility to the park, easier maneuvering. If you have strollers or are carrying your Radio Flyer with all that fabulous produce you're buying for your weekend barbecue, there are new benches, additional trees," said Danica Farley, public relations and communications manager for the Downtown Alliance.
The renovation is the start of a long process to rebuild trust in a place better known for drug deals and stabbings. Some of the park's neighbors insist that things have changed for the better.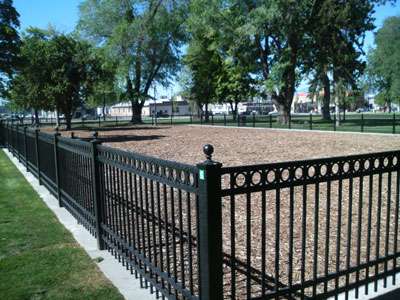 Coffee shop owner Diego Castro remembers a day he sent his daughters on an errand. He said, "They were scared, completely. A couple of guys approached them, tried to sell something."
Castro says now, for the first time in a long time, he can see children playing on their scooters.
Salt Lake City police Sgt. Phil Eslinger says when a park is busy, the bad guys tend to disappear. And the park will certainly be busy tomorrow. The Downtown Farmers Market is one of largest in the Intermountain West.
Since many of the products are harvested at different times throughout the summer, it's a good excuse to make multiple trips there to see what's new.
But with all the talk about the economy and prices going up for just about everything right now, will that have an effect here? The thinking is it will not because people are willing to pay for quality, locally-produced products.
"They want to have that connection to the grower and producer of goods. And they're valuing more food and what it means in their whole life, and being healthy, and being fit. And I think that's all a part of what happens here," Farrington said.
Again, the Downtown Farmers Market runs from 8 a.m. to 1 p.m. starting tomorrow, and runs through Oct. 18.
E-mail: kmccord@ksl.com
E-mail: aadams@ksl.com
×
Related links
Most recent Utah stories