This archived news story is available only for your personal, non-commercial use. Information in the story may be outdated or superseded by additional information. Reading or replaying the story in its archived form does not constitute a republication of the story.
ROOSEVELT — A judge has suppressed all statements made to police by a former nurse accused of sexually abusing a patient after finding evidence of misconduct by the Roosevelt police detective who investigated the case.
Eighth District Judge Ed Peterson wrote in a blistering 33-page ruling handed down Wednesday that Roosevelt Police Lt. Pete Butcher misled a judge to obtain a warrant for the arrest of Joshua Platte Shumway, used coercive interrogation tactics while interviewing Shumway and failed to fully advise him of his Miranda rights.
The judge also said Butcher — who has been on paid leave since he shot and killed a man last month in an unrelated case — played to Shumway's Mormon faith and convinced him he was acting on his behalf as a religious counselor.
Shumway was arrested on Dec. 8, 2013, one day after a former patient at Uintah Basin Medical Center came forward with allegations that she had been sexually assaulted multiple times and threatened with death during an overnight hospital stay in April 2013.
In his ruling, Peterson called Butcher's subsequent one-day investigation of the woman's claims "superficial and insufficient." He said the detective never sought to confirm if Shumway actually matched the woman's description of her attacker — a man with facial hair and glasses who smelled like a smoker, wore shoes that squeaked when he walked and had moles on his abdomen — and failed to include much of that detailed description in his application for an arrest warrant.
Instead, the judge wrote, the detective's arrest warrant affidavit made it seem as if the woman and hospital administrators had positively identified Shumway — who wears glasses and had a beard at the time — as the alleged attacker based on photographs and the fact that he no longer worked at the hospital.
"In fact, there was no positive identification made by either the alleged victim or hospital administrators at any time prior to submitting the affidavit to the magistrate, nor was there even an attempt by detective Butcher to have them identify Joshua Shumway," the judge wrote.
Peterson ruled that Butcher failed to act in good faith when he submitted the affidavit and wrote that his "representations to the magistrate were both dishonest and reckless."
The judge didn't stop there, finding that Butcher not only misled the court but also failed to fully advise Shumway of his Miranda rights and then misled him during a pair of interviews conducted within 48 hours of his arrest.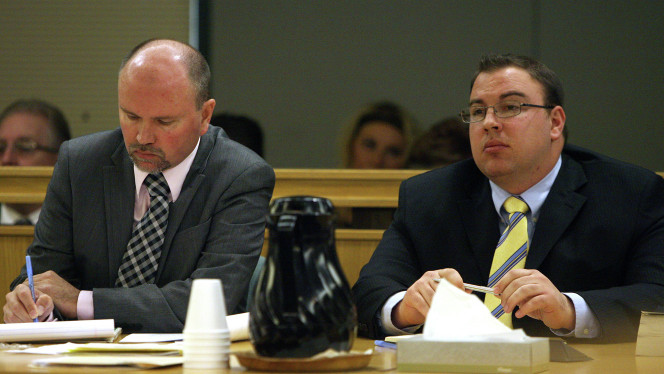 Geoff Liesik/Deseret News
During those interviews, "the detective told (Shumway) that he had a solid, thorough case that he had been investigating for weeks, if not months," Peterson wrote. Butcher mentioned nonexistent DNA 27 times during an interrogation, made more than a dozen references to "expert scientific evidence" and referred to the strength of the evidence against Shumway nearly 50 times, according to the judge.
"The only evidence detective Butcher was aware of at the time of the interrogation was the statement from the alleged victim, made seven months after the alleged crime took place," Peterson wrote. "Nevertheless, detective Butcher informed (Shumway) that this was a slam dunk case and that there was overwhelming evidence."
In addition to misrepresenting the evidence, the judge said Butcher employed a "false friend" tactic with Shumway, seeking to create rapport through their shared membership in The Church of Jesus Christ of Latter-day Saints.
"(Butcher's) continual use of religion and religious beliefs was so overwhelming and so repeated, that by the end of the interrogation, the relationship between the detective and (Shumway) was muddied to the point where it appeared akin to that of a cleric taking a religious confession of sins," the judge wrote, adding that there were at least 50 references to religion by Butcher during the two interrogations.
---
(Butcher's) continual use of religion and religious beliefs was so overwhelming and so repeated, that by the end of the interrogation, the relationship between the detective and (Shumway) was muddied to the point where it appeared akin to that of a cleric taking a religious confession of sins.
–Judge Ed Peterson
---
The ruling quotes several examples from those interviews, including an apparent reference from the police lieutenant that he was acting on God's behalf: "This is why this whole process came through because God loves you, he knew you needed help … help comes in strange ways sometimes. And you know what, today he's wearing my clothing and he's here to help you."
"The court finds that the combination of detective Butcher presenting himself as a man of God, and lying to (Shumway) about the amount and type of evidence against him, particularly powerful in overcoming the defendant's will," Peterson wrote.
Shumway asked Butcher to pray with him following the second interview, according to court records. He also wrote an "apology letter" at the detective's request.
"When (Shumway) wrote his 'apology letter,' he still had no recollection of any specific event and truthfully did not put facts on paper he did not believe," Peterson wrote. "He was convinced by the multifaceted tactics employed by the detective that there was proof he had in fact done something and wrote a generic apology to an individual he did not know and could not recollect."
Shumway was subsequently charged with object rape, a first-degree felony, two counts of forcible sex abuse, a second-degree felony, and two counts of witness tampering, a third-degree felony. He remains free on bail.
Defense attorney Gregory Lamb said his client has always maintained his innocence in the case. He called Peterson's ruling "thorough, thoughtful and reasoned."
"This is a situation that has created devastation for my client," Lamb said. "It's an allegation that anybody could throw out at any time and then it just becomes a firestorm, a whirlwind of allegations and charges."
Shumway, who surrendered his nursing license to state regulators the day after his arrest, is pleased with the ruling but "disappointed and frustrated with the system and how it has treated him," according to his attorney.
"In my opinion, the case should be dismissed," Lamb said. "The state has no evidence. The state had no evidence to begin with."
Duchesne County Attorney Stephen Foote said Thursday he had not yet had a chance to review Peterson's ruling and, therefore, could not comment on its findings. Roosevelt Police Chief Rick Harrison also declined comment because he hadn't had a chance to review the ruling either.
Butcher did not respond to a message seeking his response to the ruling. He is currently on paid administrative leave following a May 3 officer-involved shooting that left 36-year-old Kevin Vance Norton dead. The Utah County Attorney's Office is still reviewing Butcher's use of deadly force in that case.
×
Photos
Related Links
Related Stories