This archived news story is available only for your personal, non-commercial use. Information in the story may be outdated or superseded by additional information. Reading or replaying the story in its archived form does not constitute a republication of the story.
MURRAY — The sister missionary who was injured in a car accident in Atlanta on May 29 has been transferred to a hospital in Utah and remains in critical condition, according to her father.
Sister Rachel Beckstrom, 19, Tooele, was injured in a car accident with a semi truck while traveling 45 miles per hour as she and her companion attempted to make a right turn with limited visibility. Her companion, Sister Natalie Barnard, 20, Snoqualmie, Washington, was killed in the accident. They were serving 18-month missions for The Church of Jesus Christ of Latter-day Saints in the Atlanta North Mission.
Sister Beckstrom's father, Curtis Beckstrom, said when he received the call that his daughter was injured, he travelled to Atlanta with his wife and another of his daughters.
Sister Beckstrom is now in a trauma-induced coma. She had a broken rib, a broken bone in her groin area and some lung issues, Curtis Beckstrom said. She had part of her skull removed for emergency brain surgery immediately after the accident. Eighty percent of her brain was affected by the accident.
After several weeks of monitoring and treatment, Sister Beckstrom was finally stable enough to be transported from Atlanta on June 17 and is now in the Intermountain Medical Center in Murray. Curtis Beckstrom rode in the jet with her to Utah.
Related:
"The doctors can't give us a straight answer as to when she will come out of the coma," Curtis Beckstrom said. "I'm no expert, but it seems like all the time she remains (in a coma) is just time for her brain to heal."
Curtis Beckstrom said he has been very impressed with the amount of support his family has received from the community for his daughter.
A GoFundMe account set up for patrons to donate money to the Beckstroms to help with medical expenses has raised over $10,600 so far. Dinners, support and loving messages were provided from the Coal Mountain Ward of the LDS Church in Atlanta and by the Beckstrom's home ward in Tooele.
"The (LDS) Church has been overwhelmingly helpful during this difficult time," Curtis Beckstrom said. "We are very appreciative of all the support."
Curtis Beckstrom said his daughter was "a little rebellious" growing up. Sister Beckstrom decided with her bishop that she wanted to go on a mission a year before announcing it to her family, Curtis Beckstrom said.
"When she finally told us she received her mission call, we were surprised because she never let us know before," Curtis Beckstrom said. "She had completely turned her life around and was a very lively missionary in Atlanta."
Sister Beckstrom had been in the mission field for 12 weeks when the accident happened. She always seemed happy serving, Curtis Beckstrom said.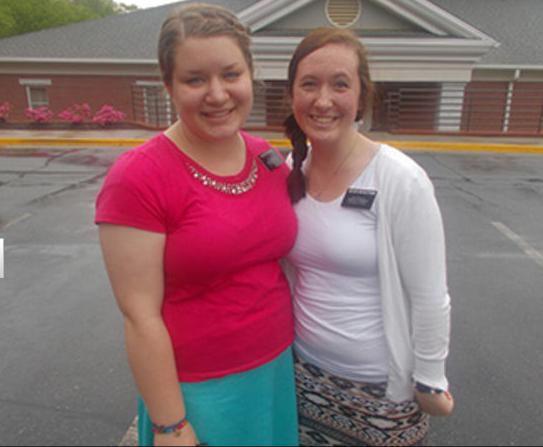 Image provided by Barnard family
"She never said anything negative or complained about anything on her mission," Curtis Beckstrom said. Curtis Beckstrom said his daughter had become good friends with Sister Barnard and was planning on spending time with her after both of their missions were over.
"I feel especially bad about for the Barnard family and what they are having to go through at this time — dealing with the death of their daughter," Curtis Beckstrom said.
Curtis Beckstrom said it will be a long and slow road to recovery for Sister Beckstrom. She will have to endure six months to a year of physical and sleep therapy after she awakes from the coma, Curtis Beckstrom said.
"It's still a gloomy time for our family," Curtis Beckstrom said. "But for now, we can just wait and pray."
---
Spencer Ricks is a KSL.com news writing intern and student at Dixie State University from Snoqualmie, Washington. Contact him at newsintern@deseretdigital.com.
×
Photos
Related Stories