Estimated read time: 2-3 minutes
This archived news story is available only for your personal, non-commercial use. Information in the story may be outdated or superseded by additional information. Reading or replaying the story in its archived form does not constitute a republication of the story.
Alex Cabrero reportingOne of the proudest moments a hunter can have is when it's time to hang those prized antlers from the latest hunt on the wall. Or, you can just buy them. We found an auction where the action is almost as exciting as the hunt itself.
In a state where many wives cringe at the opening day of hunting season, auction day just might really set them off. Greg Carter says if his wife knew he was there, bidding on antlers, "she'd say we were broke and I'm in trouble, get home."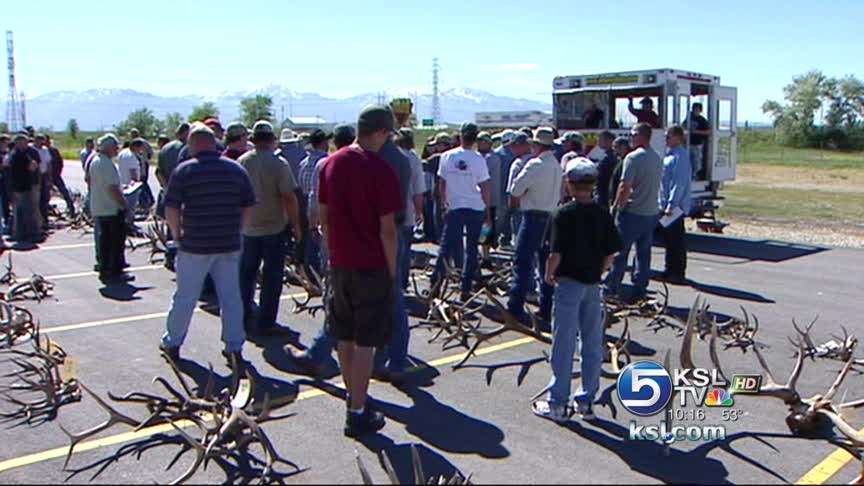 There were lots of calls home, asking permission to spend money at the Division of Wildlife Resources' (DWR) antler auction.
Lake Shore resident Brent Shepherd said, "We all have a horn addiction. Just like to look at them and grab a hold of them."
Hundreds of antlers -- some of them from road kill horns, most from poaching cases -- were collected by the DWR in the past three years.
Bill Nielsen was just happy to have a shot. He said, "When you get old and can't get them anymore, you gotta go buy one."
Don't think for one second that something like this is attractive only to guys, either. Payson resident Janna Barry said, "My husband has a real job, and this is what I do, the antlers." She says there is a huge market for antlers overseas. She spends close to $20,000 at these auctions, knowing she'll make money in future sales.
And you should see it when Barry outbids a guy who really wanted the antlers she just won. "They tease me, and I tease them back. You got to have a tough skin for this crowd," she said.
Shepherd already has antlers at home, but even so was busy thinking of excuses to tell his wife for why he needed more. "She just learned to live with it. We have a lot of horns at our house, and she's getting use to them, so maybe I'll bring her some more home," he said.
One set of antlers sold for $1,700. All the money goes into the DWR's general fund for future projects.
E-mail: acabrero@ksl.com
×
Most recent Utah stories