Estimated read time: 5-6 minutes
This archived news story is available only for your personal, non-commercial use. Information in the story may be outdated or superseded by additional information. Reading or replaying the story in its archived form does not constitute a republication of the story.
AMERICAN FORK – John Chad Jarvis, also known as "JC" was Trina Jarvis' first child.
"I was 25 when I had him," said Trina Jarvis. "I so wanted a baby."
JC was born six weeks early, leaving doctors to believe he would have to stay in the ICU for weeks.
"He was only in the hospital for eight days," said JC.
Jarvis said she always saw her son as a strong person, despite what others thought of her son.
"He hit all of his milestones when he was supposed to," said Jarvis. "They said he would be slow."
Because doctors weren't sure if JC would live, they told her to cherish every moment she had with her son.
"Every time I put him down to sleep I prayed, 'please, let him be OK. I promise I will cherish every minute that I have him.'"
Jarvis kept that promise until the day her son committed suicide in February of 2014.
"I don't want people to remember him by the way he died," said Jarvis. "It didn't define him."
TRINA JARVIS
Jarvis wants people to focus on remembering his life.
"He was so smart," said Jarvis, reflecting on his childhood. "When he was two he named dinosaurs by their real names ... He loved to read. We used to do it together. He even took Japanese in school."
Jarvis said she always felt a special bond with her son.
"He had the best sense of humor," she said. "He was so funny. He was the one that got my jokes. My husband and daughter don't understand (our humor)."
But life wasn't always filled with laughter for JC.
"Growing up he didn't have a lot of friends. His best friend had to move back to Argentina, and I think that was really hard on him," said Jarvis. "But I think kids liked him because people would say 'hi' to him. He was shy."
Although Jarvis noticed her son wasn't very social and had issues in school that could have led to his depression, she believed she had more time.
"I knew he wasn't happy," said Jarvis. "You always think you have more time."
With tears filled her eyes, Jarvis reflects on trying to help her son during his final days.
Jarvis tried having JC meet with a counselor, get more sun outside with friends and take melatonin to get more sleep.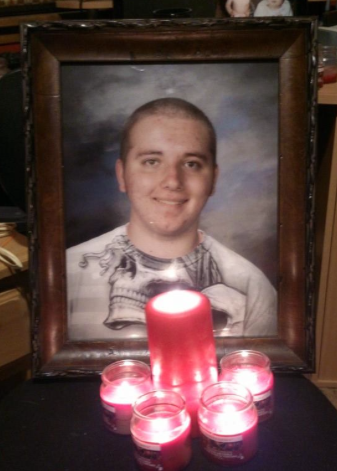 "I think that's a big part; when you don't sleep, you go crazy," said Jarvis. "I wish I would have taken it more seriously."
Over time, JC stopped talking about his future.
"He talked about being a writer when he grew up, getting married and having kids," said Jarvis.
Jarvis left her son's room filled with papers JC wrote, pictures he's drawn, flowers and letters from friends, and various other memorabilia.
Since her son died in his bedroom, Jarvis says she chooses to go to there to mourn instead of his grave.
After her son's death, Jarvis joined a support group with people who've gone through similar situations as her.
"Even the one's that have lost everything in their life there's still a why," said Jarvis. "Why did he not feel like he/she could turn to us?"
Jarvis says the support group has taught her that suicide isn't selective.
"I can't tell you how many people (I've met) have said there were no signs. He was captain of the football team, whatever, but they're still in the same boat as me," said Jarvis. "You're not immune. It can happen to anyone."
Jarvis said she believes men are at higher risk for suicide because they are afraid to ask for help.
"I think JC didn't want me to worry about him," said Jarvis. "I think he didn't want me to worry about how I would pay for his therapy bills. I think that happens with a lot of people; they think they're causing more problems."
Although she says she has regret, Jarvis says she didn't ever think suicide was on her son's mind.
"It's hard to see the forest for the trees," said Jarvis. "You're so busy dealing with the little (things)."
When he was alive, Jarvis told her son she loved him every day.
"My last words to him were I love you," she said.
Jarvis said she still feels connected to her son.
"I talk to him all the time," she said. "I tell him it's OK to be happy now. I want him to enjoy heaven. I just want him to be happy. I wish that he could have been happy here."
Jarvis said her faith is what sustains her and doesn't want anyone else to feel her pain.
She speaks at suicide prevention awareness events and has started a Facebook page in honor of her son.
"There's a point where I think they get so far into the darkness that they're in that they can't see the light anymore," said Jarvis. "Until you have been there you don't realize. (We need to) spread the word so that there is hope out there. They can be helped before it's too late."
TRINA JARVIS
If you or someone you know is struggling with thoughts of suicide, KSL encourages you to call the suicide prevention hotline at 1-800-273-TALK.
Crisis Hotlines
Utah County Crisis Line: 801-226- 4433
Salt Lake County/UNI Crisis Line: 801-587-3000
Wasatch Mental Health Crisis Line: 801-373- 7393
National Suicide Prevention Lifeline: 1-800-273-TALK
Trevor Project Hotline for LGBTQ teens: 1- 866-488-7386
Online resources
Story Idea? Email: jjacobson@ksl.com
×
Related Links
Related Stories