Estimated read time: 3-4 minutes
This archived news story is available only for your personal, non-commercial use. Information in the story may be outdated or superseded by additional information. Reading or replaying the story in its archived form does not constitute a republication of the story.
Team coverage The Food and Drug Administration (FDA) warns some tomatoes are not safe. Now grocers and restaurants are taking aggressive action.
The Utah Department of Agriculture and Food (UDAF) has started advising local grocery chains and food distributors to start pulling certain kinds of tomatoes because of a nationwide salmonella outbreak. Salmonella food poisoning linked to raw tomatoes has sickened more than 100 people in 16 states, including Utah.
UDAF's Larry Lewis said, "If there's any doubt, throw it out. That's our motto with food safety. It doesn't pay to take chances."
The Food and Drug Administration(FDA) says to be safe, stay away from eating certain raw tomatoes including red Roma, red plum or red round tomatoes.
The UDAF is now putting out the warning as well. Several restaurant chains are pulling the produce. McDonald's, Chipotle Mexican Grill, Wendy's and Taco Bell have stopped serving sliced tomatoes. Others stopping sales of some raw tomatoes include Burger King and Outback Steakhouse. Many other restaurants are voluntarily taking tomatoes off the menu.
Earlier today we contacted a number of non-chain, local restaurants. Some hadn't heard anything about salmonella tomato problems. Others were still deciding what to do.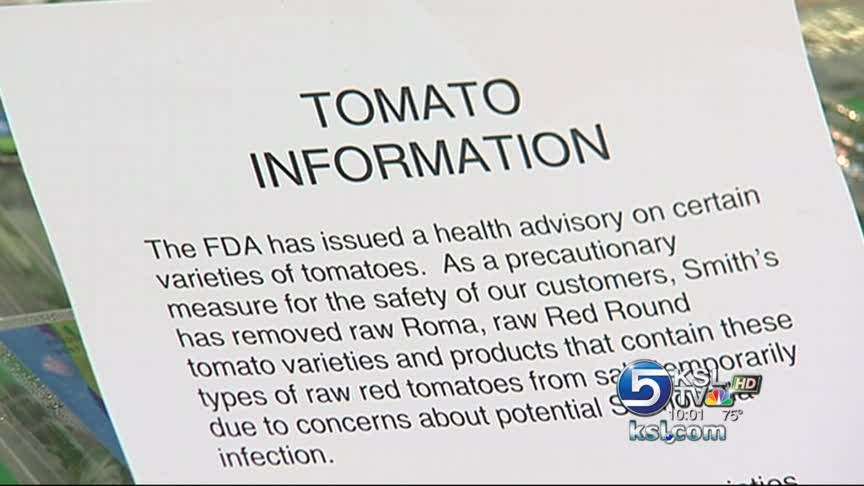 The UDAF has contacted the 10 largest grocery store chains and food distributors in Utah to confirm they received an FDA warning about certain raw red tomatoes and are taking action to protect consumers from salmonella associated with those tomatoes. Those chains and distributors represent more than 100 individual stores in Utah.
All of the chains and distributors indicated they are aware of the warning and are taking action. None of the 10 indicated it found any of the raw tomatoes in question.
"They have checked their inventory and found none of the suspect tomatoes in Utah, but they're pulling those tomatoes as a precaution," Lewis said.
Harmons, Albertson's, Smith's, Wal-Mart and others voluntarily pulled varieties linked to salmonella, even though none of the tomatoes in Utah were linked to illness.
Smith's Store Director Curt Gay said, "It's for the safety of our customers. It's precautionary, totally voluntary, because they don't know where it's linked to."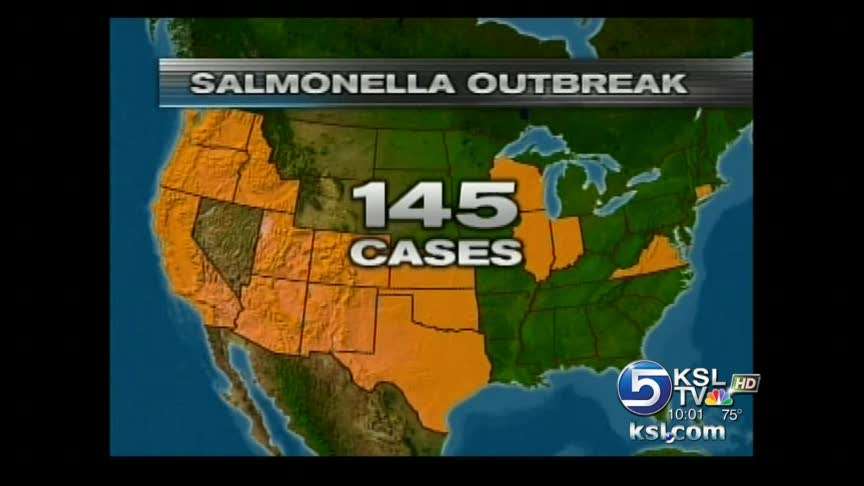 Utah is among 16 states listed in the salmonella outbreak. Nationwide there have been 145 cases of the St. Paul strain of salmonella reported. Twenty-three people have been hospitalized. A spokesperson for the Utah State Health Department told us they believe the Utah patient got sick in another state.
We're also hearing about a death that might have been connected with this outbreak. The Houston Chronicle reports a man died from cancer but salmonella was a contributing factor.
As the FDA searches for the cause, it advises against eating raw red Roma, red plum and red round tomatoes.
"But we want to stress that these are still safe to eat: The vine, the cherry and the grape tomatoes," Gay said.
Some of the 100 stores are placing signs in their produce section indicating their tomatoes are not the ones in question.
Again, according to the Utah Department of Health, the types of tomatoes listed below likely are NOT to be the source of this outbreak.
-
cherry tomatoes 2. grape tomatoes 3. tomatoes sold with the vine still attached 4. tomatoes grown at home
Cooking tomatoes at 145 degrees will kill salmonella. If you have Roma or round tomatoes from last week, take them back to the store or throw them away. *E-mail:
* *E-mail: * (The Associated Press contributed to this story. Copyright 2008 by The Associated Press. All Rights Reserved.)
×
Related links
Most recent Utah stories