Estimated read time: 4-5 minutes
This archived news story is available only for your personal, non-commercial use. Information in the story may be outdated or superseded by additional information. Reading or replaying the story in its archived form does not constitute a republication of the story.
SALT LAKE CITY — Surely you've heard of an eye surgeon, but do you know about the small group of men and woman world wide who create prosthetic eyes?
They're called ocularists, and their job is to create a variety of prosthetic eyes for the thousands of people who lose vision in their eyes due to accidents, disease or various other medical conditions each year.
"It's a rare field," said Richard Caruso, an ocularist in Utah. "There's close to 160 to 180 ocularists in training or board certified around the world."
However, not every state in the country has an ocularist, and Utah has only two practicing ocularists.
"We service St. George, we get clients from Arizona, Nevada and California, because it's easier for them," said Caruso.
Caruso said an ocularist must have a bachelor's degree, but the course of study is irrelevant. After graduating from college, an ocularist must commit to a five-year training program and travel around the country to learn from other ocularists.
"You go every six months to a new city for a week," said Caruso. "All the lectures and testing are done through the organization."
Related Story
Caruso also keeps up with continuing education every six months.
Historically speaking, prosthetic eyes were typically made of glass. Germany produced the glass eyes and the United States bought them.
Because of the war in the 1930s, the United States was unable to import glass eyes from Germany.
"Our government then figured out how to make acrylic artificial eyes. So now we don't have any glass eye makers in the United States to my knowledge," Caruso said.
Today prosthetics are made of poly methyl methacrylate, a plastic substance instead of a glass substance. Caruso said these products are made from a much better material than glass.
"The plastic eyes are a lot stronger," Caruso said.
Caruso said there are two different types of artificial eyes: an ocular prosthesis and a cover shell. An ocular prosthesis means the patient had an enucleation, meaning their eye was completely removed.
"The surgeon inserts an ocular implant and then we make an artificial eye that fits over that with comfort, movement and all the detail of the existing eye," said Caruso.
The cover shell fits over a blind, disfigured globe portion of an eye.
"That eye is very special because it's around a millimeter in thickness or less. It's almost like a contact lense," said Caruso. "It fits over the entire globe so that person can wear it for up to 24 hours a day."
Caruso said 50 percent of his business is working with a "live eye." With a live eye, Caruso creates a prosthetic to cover the eye so patients can take it in and out.
Steven Trane is one of Caruso's patients who needs an ocular prosthesis.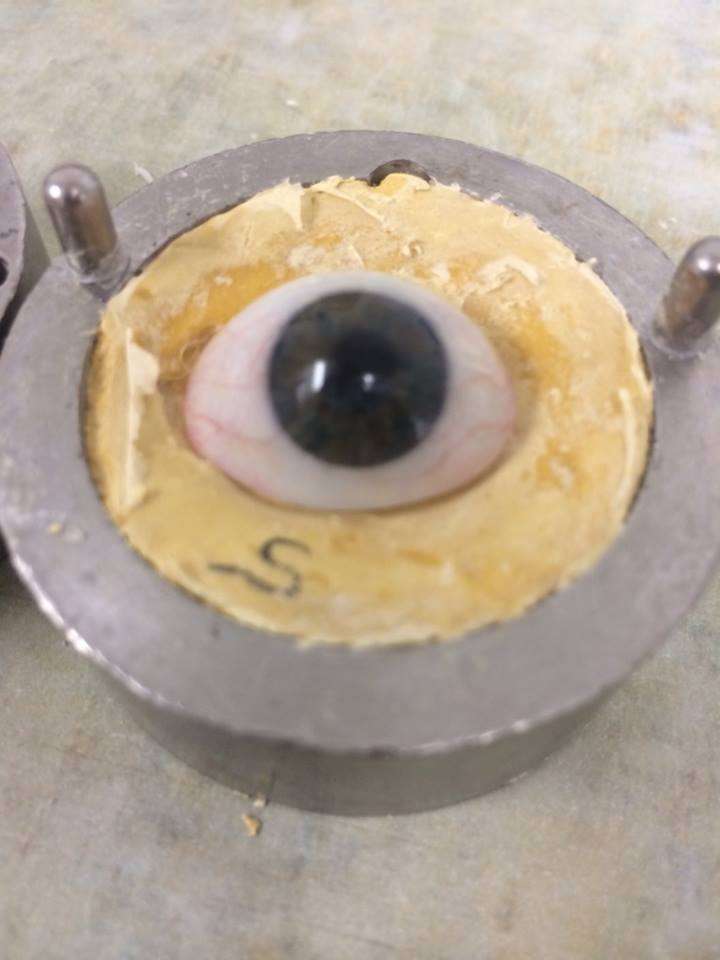 At 70 years old, Trane has tried a variety of eyes after losing his eye to a bow and arrow accident at the age of 5.
"I've seen so many different types of eyes, because I had some real problems when I was 5," Trane said. "I had all these different implants and they kept falling out. I just had a terrible time with them. I've had balls and pegs in there and now this real small thing is quite unique. It's going to be great."
Trane said people just think he has a lazy eye — not a prosthetic eye.
"My grandkids like to bring their kids and say 'Grandpa, take out your eye,' but I don't do that," said Trane.
Ocularists like Caruso are still trying to improve imperfections in the product, such as temperature issues.
Patients say when the temperatures drop in Utah, they feel it in their eyes.
"I have plenty of skiers who wear an artificial eye," said Caruso. "When they go skiing, a large percentage of them describe it like an ice cream headache."
Caruso said he plans to figure out a way to find more comfort for his patients.
"I'm always working on ways to improve. I have a lot of outdoor enthusiasts and I have to be up to date on drops to nullify some of the side affects of wearing a prosthetic."
While the job requires painting, Caruso doesn't consider himself an artist.
"I don't see it as artistic. I see (my job) as if I'm just a glorified copier. I've always had a strong artistic nature in me, but I haven't had a strong artistic background."
Caruso said he keeps a close relationship with eye surgeons to make sure both give patients the best artificial eye possible.
"That's what I'm trying to do: fool everyone," Caruso said. "Get the best color, the best fit of the existing eye. What I really shoot for is 'didn't you have an eye surgery?' It looks that good."
Caruso said he loves what he does for a living.
"For me it's the best job in the world. I hate the fact that people need my service, but I love the way they look and the way they feel by the time they leave my office."
×
Photos
Related stories
Most recent Utah stories