Estimated read time: 3-4 minutes
This archived news story is available only for your personal, non-commercial use. Information in the story may be outdated or superseded by additional information. Reading or replaying the story in its archived form does not constitute a republication of the story.
SALT LAKE CITY — Utah's energy sector contributes nearly $21 billion to the economy, supports about 40,000 jobs and pays $656 million in taxes and fees to local and state government, a new study finds.
Commissioned by the Governor's Office of Energy Development and conducted by Las Vegas-based Applied Analysis, the comprehensive look at the energy industry in Utah was released Thursday to coincide with Utah Gov. Gary Herbert's fourth annual Energy Summit.
The study maps production values for natural resources such as coal, oil, natural gas and uranium, as well as the volume, prices and location of resources. In addition, it looks at the value of Utah's energy distribution, the generation of power by source, and tracks the impact of solar panel installation in Utah.
Utah's 29 counties were examined for each energy industry "power" generator that may exist, such as fossil fuel, biomass or solar resources, with economic impact detailed for the variety of sources.
Earlier at the summit, Herbert said the state's robust energy development is a driving factor for the state's fiscal health, helping it earn the No. 1 spot in the country for job creation.
"If we have a healthy economy, virtually everything else falls into place," he said.
For the first time at the summit, the event was host to an international panel featuring participants from Canada and Mexico, and Herbert was joined on a national panel discussion by Colorado Gov. John Hickenlooper, a Democrat with whom he shares some common ground on issues such as sage grouse and President Barack Obama's proposed Clean Power plan.
"Energy development really ought not to be a partisan issue," Herbert said. "The focus should be on having a good economy … and it has to be at least in part focused on energy."
Both men said the country's energy economy needs to figure in the 2016 presidential race, with Hebert stressing that the problem with Obama and his administration is lack of business experience.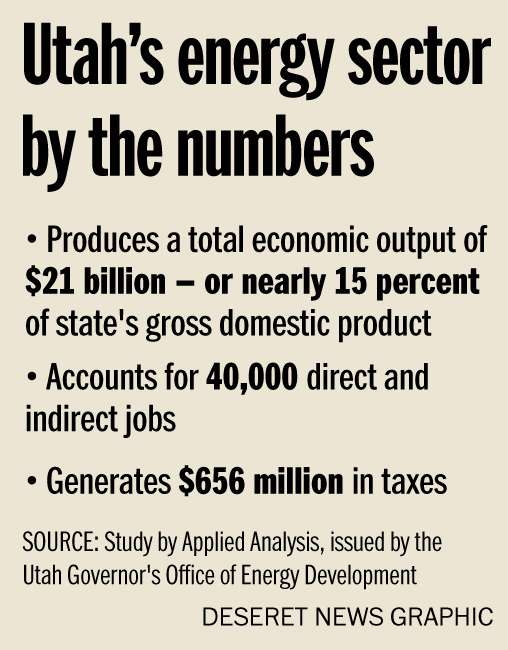 The country needs leaders who have run an "enterprise" and have real-world experience, he added.
"If you've never had a root canal, I wouldn't want you to do mine," Herbert said.
The summit drew more than 1,400 participants and had 85 vendors on site, including exhibits of all-electric motorcycles with a 185-mile city range and other alternative fuel vehicle options.
As in past years, multiple environmental groups staged protests outside the summit at the Salt Palace Convention Center, including men and women who dressed up as zombies and bemoaned the state's pursuit of "dirty" energy.
Clean air advocacy groups such as HEAL Utah and Utah Physicians for a Healthy Environment criticized the summit for its scant attention to renewable energy and the "narrow" conversations taking place inside the convention center.
"In the wake of our driest and warmest winter ever, we need to move beyond a heedless rush to wring every ounce of fossil fuels out of Utah lands," said HEAL Executive Director Matt Pacenza. "It's disappointing that the summit has so little focus on the clean energy sources — renewables and efficiency — that must form the core of our future, low-carbon energy strategy."
Herbert, in rebuttal, said everyone was invited to participate.
"But the reality is the bulk of our energy comes from carbon-based fuels and that is probably reflected by the percentages and participants at this conference," he said.
Herbert added that the pie chart of energy generation for the nation and Utah continues to have its largest chunk devoted to carbon-based fuels — which, along with nuclear energy, will provide the base load for energy for at least the next generation.
"We all want energy that is affordable, accessible and cleaner, and if there is a better way to do things, we will find it," he said. "That is the evolution of energy development."
×
Photos
Related stories