Estimated read time: 3-4 minutes
This archived news story is available only for your personal, non-commercial use. Information in the story may be outdated or superseded by additional information. Reading or replaying the story in its archived form does not constitute a republication of the story.
FARMINGTON — When John and Michelle Callister welcomed their third child into the world, they were ecstatic.
"I wanted Daisy so bad," said Daisy's mother, Michelle.
"She was a typical little girl. (She was) full of life and very busy," said Daisy's father, John.
Michelle said there was no reason to believe Daisy would be born with a genetic predisposition for a rare eye cancer. There was no family history of such a gene, and there were no signs of an eye problem until Michelle noticed something odd in a photo of Daisy.
"I got a picture of it on my camera — the white spot that I had seen (in Daisy's eye). Then I could see it every time I look at her … my husband saw it, too," said Michelle.
After some research, John and Michelle believed their daughter could have retinoblastoma, a rare form of cancer that rapidly develops from the immature cells of a retina, the light-detecting tissue of the eye.
"Retinoblastoma is the most common eye tumor that a person gets," said Dr. Aparna Ramasubramanian, Daisy's doctor. "On an average I would say around 300 cases are diagnosed in the United States each year, so it's not a very common tumor."
According to Ramasubramanian, the tumor develops in only about one in 16,000 births.
However, although Daisy's cancer is in remission, Ramasubramanian says Daisy still has a chance of developing other tumors in the body because of a gene mutation.
"She could develop a tumor anywhere else in the body," he said.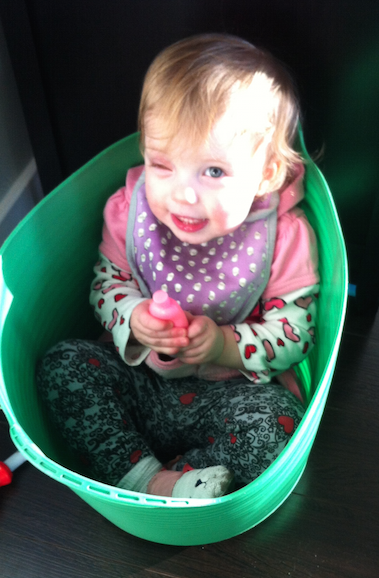 "That's what's hard for me," said Michelle. "I told myself the problems would end with the one eye removed, but to know that that's not the end of the problems. It could show up in her other eye or her brain."
Michelle and John say watching their then 16-month-old daughter lose her eye to cancer was very difficult.
"It was very hard," said John. "We placed blind faith into our doctor that the right things were happening."
"That day was very hard," said Michelle. "I just kept staring at her eyes, just knowing I was not going to see both of them again."
Now the couple is on a mission to remind others of a simple sign to watch out for, just in case someone else's son or daughter's eye could be saved.
"All we want to do is educate people," said John. "Retinoblastoma is a rare condition, (but) if parents notice that their children lack a red-eye reflect (in a photo), look into it."
Although they wished Daisy had a different outcome, the couple remains positive in their circumstances.
"There are days I look at Daisy and I'm petrified," said Michelle. "I worry if she will get another cancer, but I say I have no control over it. It will be what it will be. All I can do is worry about today and just love her."
"I think (our) family is learning immensely from her," said John. "I think this is something she's going to grow from."
To see more of the story, watch the video above.
Michelle also documents Daisy's story on her blog. To follow the Callister family's journey, visit: www.johnandmichellecallister.blogspot.com.
Contributing: Heather Simonsen
×
Photos
Related links
Related stories
Most recent Utah stories