Estimated read time: 2-3 minutes
This archived news story is available only for your personal, non-commercial use. Information in the story may be outdated or superseded by additional information. Reading or replaying the story in its archived form does not constitute a republication of the story.
SALT LAKE CITY — "If you want to go to the NFL, you should go to the University of Utah."
It's a recruiting pitch said over and over to prospective football players nearly every day from the coaching staff. But a new study may actually be on Utah's side now.
In a study on player salaries in professional sports conducted by Sporting Intelligence, Utah is the No. 7 program nationally and the No. 1 program in the Pac-12 in terms of the highest average salary earners for a player in the NFL. Utah's average amongst its 17 active players last season was $3.097 million for a total of $52.65 million.
San Diego Chargers safety Eric Weddle was the highest-paid Ute in 2014, making $7.5 million in the second to last year of his $40 million, 5-year contract. Kansas City Chiefs quarterback Alex Smith recently signed a $68 million, 4-year contract earlier this year, making him now the highest paid Ute. Smith will receive $11.9 million in the 2015 season.
In case there weren't enough reasons to be a Ute! #UtesInTheNFLhttp://t.co/SYUDKrsztQ — Morgan Scalley (@SafetyPride) May 21, 2015
USC and California lead the Pac-12 in the number of players in the NFL at 30, but their players only averaged $2.4 million last season. California's total player salary was $72.32 million and USC's was $72.01 million. Ole Miss leads the country with 18 players in the NFL making an average of $4.05 million last season.
"Though it may fluctuate from year to year, some colleges will produce handfuls of elite graduates, raising their respective average salaries," the study states. "Florida State, Notre Dame and LSU by contrast have produced a large current class of NFL players with relatively low average salaries."
The study also broke down NFL players by state and found that Texas, California and Florida produce a significant amount of the players, but are "on the lower end of average salaries." In comparison, Alabama and Louisiana produce a high number of players and have a higher pay.
Utah, as a state, has 30 active players, with an average salary of $2.5 million, which ranks No. 11 out of all 50 states.
The study looked at colleges with more than 15 active players in the NFL. No other Utah school made the top 35 list and eight Pac-12 schools, including Utah, made the list — Utah (No. 7), Cal (No. 11), USC (No. 12), Oregon State (No. 16), Oregon (No. 20), UCLA (No. 24), Arizona State (No. 29) and Stanford (No. 32).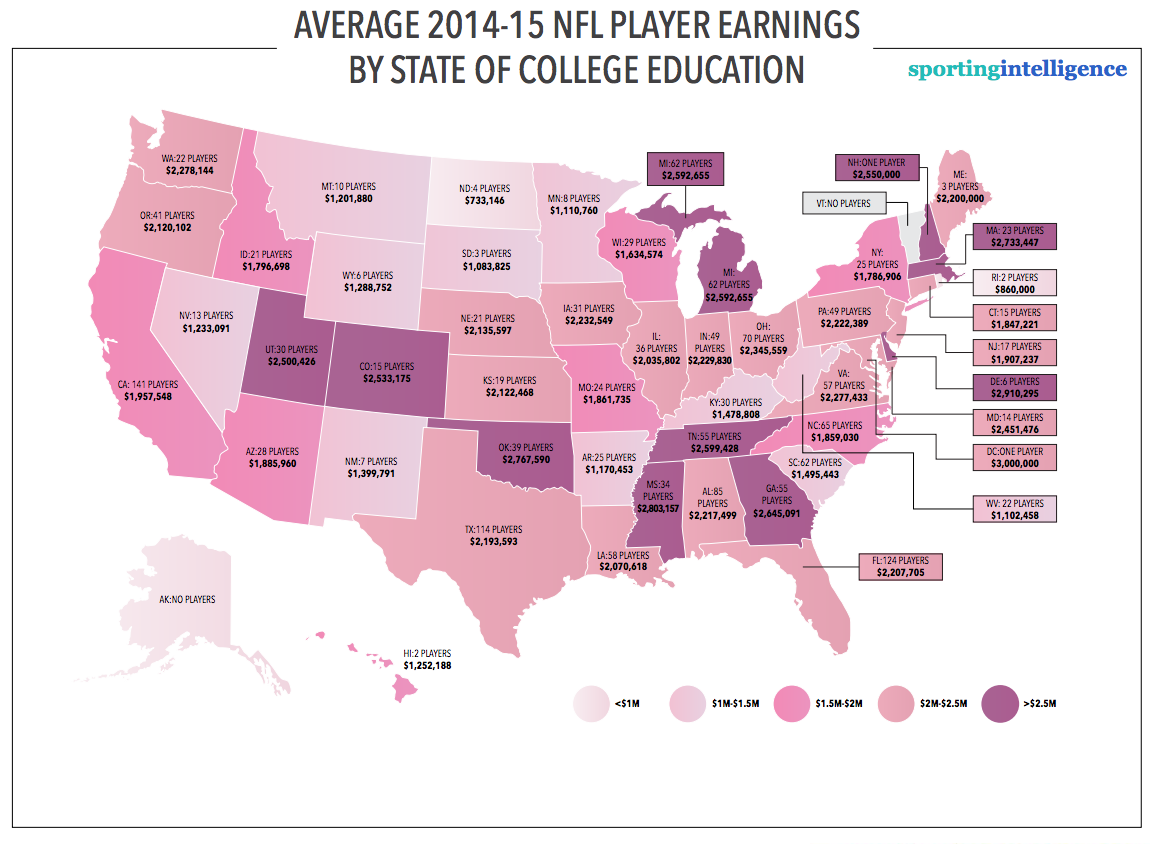 Photo credit: Sporting Intelligence
×
Photos
Related links
Most recent Sports stories