Estimated read time: 2-3 minutes
This archived news story is available only for your personal, non-commercial use. Information in the story may be outdated or superseded by additional information. Reading or replaying the story in its archived form does not constitute a republication of the story.
SALT LAKE CITY — Concussions are a growing concern nationwide among athletes of all ages, with nearly 3.9 million sports-related concussions happening annually in the United States.
It's a statistic 15-year-old Kassidy Dibb knows all too well. Even though she's had three concussions, she still loves playing soccer and other sports and understands the risks that come with being an athlete.
"My first and worst concussion was from basketball. I dove for the ball and my head just bounced," she said.
Regardless, Kassidy still plays.
"(It's) the love of the game," she said. "I just don't want to stop, so I keep playing."
The King-Devick test is a simple two-minute test showing promise in new research at NYU's Langone Concussion Center. Researchers found King-Devick outperformed two other tests, a Standardized Assessment of Concussion — measuring memory and a Timed Tandem Gait Test — measuring a timed walking trial, with 92 percent accuracy. NYU researchers say it was effective in diagnosing concussions in children as young as 5 years old.
With the King-Devick test, all parents need is a stopwatch on their cellphone and three printed-out numerical tests, or an app they can purchase for their iPads. At the beginning of the season, parents time their child reading the three tests, from left to right, to get a baseline number. If parents are suspicious of a concussion during the season, they time the child again using the same three tests. If their time is off the baseline, it's likely they have a concussion and should get checked out.
The test is welcome news for soccer mom Jennifer Tucker.
"I was really surprised when I heard that there was a test, and actually really excited about it," Tucker said. "I can't believe that it's not something that I knew about before."
Soccer coach Curtis Graham said it can help eliminate an athlete's hesitation to speak up.
"They don't want to tell the coach or the parents how they're feeling because they have a fear that they won't play," he said.
According to the Utah Health Department, in 2011, 6,200 Utahns were treated and released from the emergency room for a concussion; nearly 42 percent of them were due to sports or other recreational activities.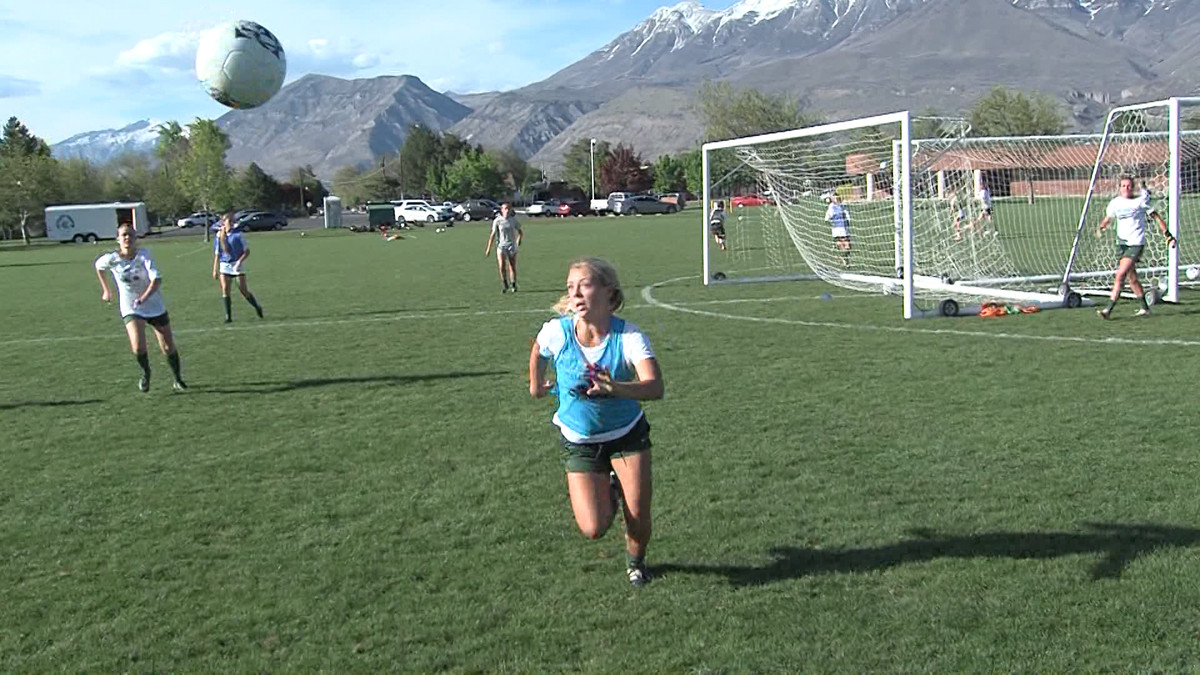 Photo credit: KSL-TV
Bingham High athletic trainer Cynthia Cox said she doesn't discourage parents from using the test. "I think it's a tool. We don't have one single test that gives us all the answers for a concussion," she said.
Cox said athletic trainers still try to teach parents and players to recognize the classic symptoms, like dizziness, a lot of nausea and tiredness. She said parents know their children best, and doctors at NYU agree. If you suspect something is wrong, see your doctor.
As for Tucker, she said, "the test is amazing, and I'm glad to know about it."
×
Photos
Related links
Related stories
Most recent Utah stories