Estimated read time: 5-6 minutes
This archived news story is available only for your personal, non-commercial use. Information in the story may be outdated or superseded by additional information. Reading or replaying the story in its archived form does not constitute a republication of the story.
HOLLADAY — A silent killer may be lurking in Utah schools, but districts aren't required to test for it. Radon is a colorless, odorless gas that seeps up from the ground. Health officials say it is the second-leading cause of lung cancer after smoking. Many Utahns have tested their homes and found high levels of radon, but what's going on in our schools?
To find out, the KSL Investigators teamed up with radon technicians and district officials to test six elementary schools in the City of Holladay: Cottonwood Elementary, Crestview Elementary, Howard R. Driggs Elementary, Morningside Elementary, Oakwood Elementary, and Spring Lane Elementary.
"In Utah it's considered to be one in three homes. Schools? I don't know. There's not a lot of information out there and that's why we're doing these tests," said Timothy Sandberg, sales manager and testing professional for Radovent, a radon mitigation and testing company from Sandy.
Armed with more than 200 charcoal test kits, Radovent technicians set out samples in every office, classroom, and space frequently occupied by teachers, students and staff.
"Radon is one of those things where you never know if it's going to affect one particular building or one particular house," said Travis Jewell, founder of Radovent.
"The major reason why you want to test every single classroom is because of the chance that one side of the building may have high levels and the others may not," said Sandberg.
Once the tests were deployed, the team left the kits to sit for three days to absorb whatever radon might be in the air.
"The EPA says that if radon levels are four (picocuries per liter) or above you should take action to mitigate it," said Sandberg.
"Let's cross our fingers and, hopefully, this radon is low," said Jewell.
All six schools lie within the boundaries of the City of Holladay, where one of the highest home radon levels was ever recorded. Ever since, the city has been collecting the readings of hundreds of home radon tests and adding the results to a map. That map is filled with yellow, orange, and red dots - each indicating a different radon reading - ranging anywhere from 0 pCi/L - 68.8 pCi/L. The EPA recommends taking action to lower radon levels if they reach 4 pCi/L or higher.
---
We are an unregulated state for radon, and so we are not required to test,
–Eleanor Divver, Radon Project Coordinator for the state of Utah
---
"Actually about half of all the tests that were turned in in Holladay required some sort of mitigation, which is pretty shocking if you ask me," said Mayor Robert Dahle. "It's a shocking statistic."
With so many homes testing high for radon, the mayor turned his attention to the schools.
"I just thought it was curious that we hadn't looked at our schools," said Dahle.
The city contacted Granite School District and together they conducted a random sampling on Bonneville Jr. High.
"Which came up completely fine," said Dahle. "We spread it to the elementary schools, in partnership with KSL, too."
With the city's support, KSL contacted the district to test the city's six elementary schools.
"We're happy to test. Good that you're working with us on the story," said Donald Adams, Assistant Superintendent of Support Services for Granite School District.
After three days of sitting, Radovent technicians collected the tests from all the schools and shipped them to the lab for analysis. Out of 175 rooms tested, three registered high for radon.
"Having three that have elevated levels, actionable levels, that's a pretty good percentage," said Adams.
At Crestview Elementary, the cafeteria came back slightly over the EPA action level of 4 pCi/L. At Oakwood Elementary, two rarely used rooms were much higher. One registered 11.2 pCi/L. The other came back at 18.5 pCi/L, more than four times the level considered unsafe.
"Of course it's a concern, but it's nothing that we don't check for on a regular basis," said Adams. "So when we see higher levels we go in, we make sure the HVAC system is operating correctly."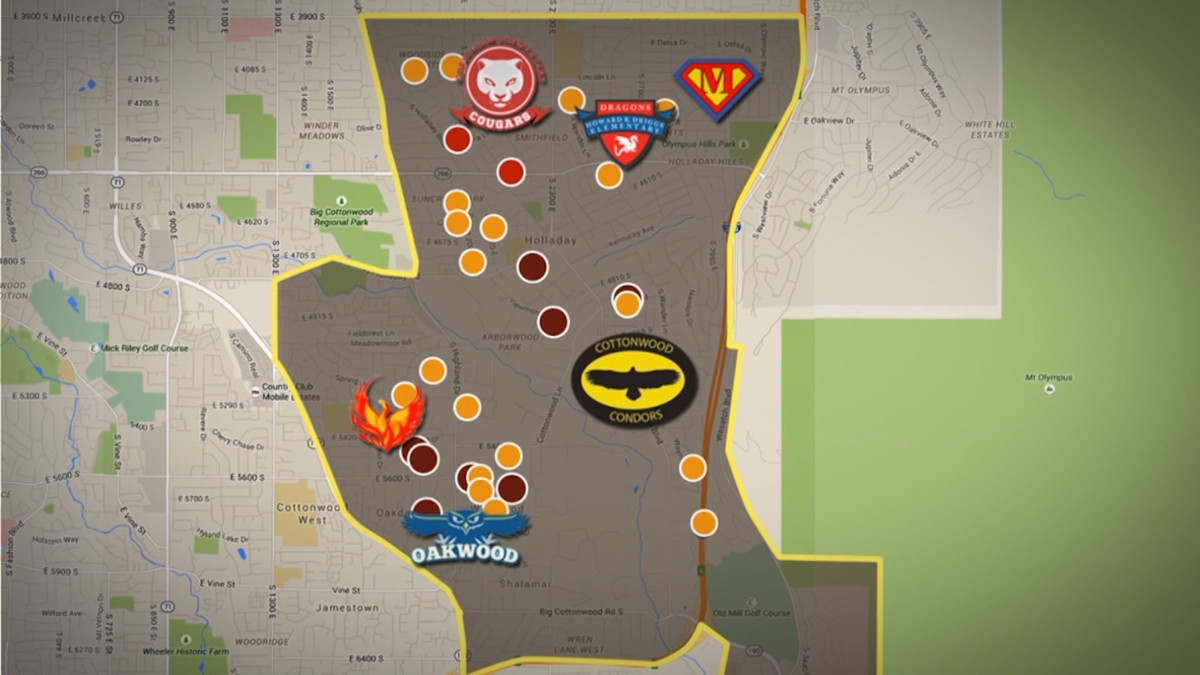 Adams says as soon as those high readings came in, the district went to work to find and fix any problems with the schools' ventilation systems.
"This one is very simple. We adjust the fresh air dampers that let fresh air into the building, and then the rest of the fan system operates," said Adams.
To ensure the repairs worked, Radovent placed continuous radon monitors in the three affected rooms.
"It's going to give us graphical data which will show us the swings of radon from daytime versus nighttime," said Jewell.
The final tests revealed the problem at Crestview Elementary had been fixed. At Oakwood Elementary, the levels spiked throughout the night, but fell below 4 pCi/L during regular school hours. Jewell says results like these prove why it's important to test every room in a school.
"Had a random sampling occurred in this school, what are the chances that those two rooms would have been missed and then this school would have been ruled - quote, unquote - safe?" said Jewell.
Due to anomalies like these, the EPA advises testing every room in every school every year. Yet, to date, Utah has taken no official action.
"We are an unregulated state for radon, and so we are not required to test," said Eleanor Divver, Radon Project Coordinator for the state of Utah.
Divver says the problem with radon in schools is two-fold: students and teachers.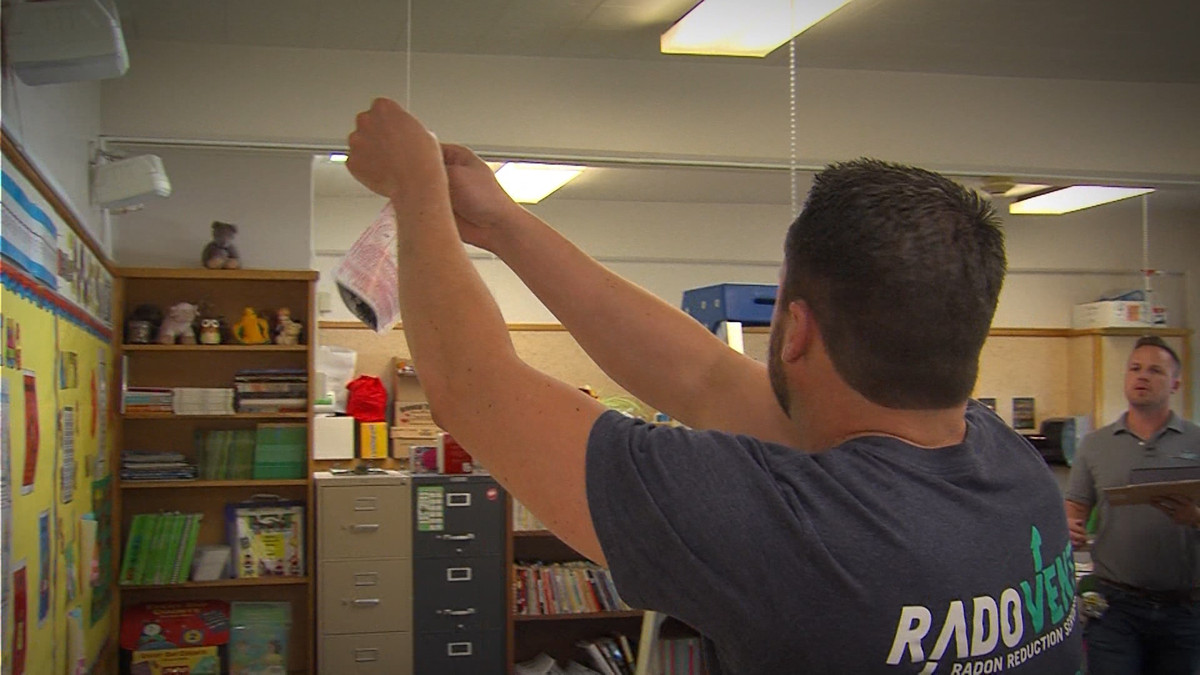 "When children and infants are breathing, they're breathing almost twice as often and fast as adults, and so as a result they're breathing more radon in," she said. "The teacher is spending maybe ten hours every day in that classroom."
Divver says, while Utah may not have any laws on the books concerning radon testing in schools, some districts are testing on their own every year, while others have asked for state help.
"We don't want our teachers or our students being exposed to those high levels," she said.
Granite School District says it does not test all schools every year, but it does conduct random sampling as part of broader air quality tests.
"We test on a regular basis. We want to know if there are issues so we can take care of it," said Adams. "We've changed the HVAC system here and we think we've solved the problem. We feel pretty good about it."
The district says while it is happy with the results, it plans on conducting more testing at Oakwood Elementary this summer to find why the radon levels spiked during the night and to fix any additional problems with the ventilation system.
×
Photos
Related links
Related stories
Most recent Utah stories