Estimated read time: 5-6 minutes
This archived news story is available only for your personal, non-commercial use. Information in the story may be outdated or superseded by additional information. Reading or replaying the story in its archived form does not constitute a republication of the story.
SALT LAKE CITY — THE VOID received nationwide attention last week when it released a YouTube video showing the ambitious virtual reality event.
After writing about the Utah County attraction, I was invited there for an alpha test. It wasn't everything that was shown in the video, but the foundation is there and it is impressive.
There are two elements, a walking tour and a shooting game. Here are some thoughts about the experience.
It was amazingly real
The first thing I noticed going through THE VOID was that the VR technology worked really well. There are some flaws, which I'll talk about a little later, but what they have now is well done.
Walking down a hallway where light was mixing with dust created the look you see in a dusty building when the sun has just come up in the morning. The patches of light with the floating dust particles were missing only the allergic reaction.
Boxes stacked in a room invited my touch; they weren't real, but I thought they were when I first saw them.
Honestly, everything seemed real even as I kept telling myself they were not. One point in particular had me really questioning my safety.
I went outside to a ledge with a huge open valley. My fear of heights immediately kicked in. I tried to convince myself that this wasn't real — I knew it wasn't real, I think — however, as I stepped out, I found myself holding to the wall so I wouldn't fall to my doom.
After a few steps on the ledge, it became an elevator where everything around me was going down. The platform next to me was gone and I was again grasping for safety. The operators turned on fans that blew enough air to make me think I was really outside on the ledge. Eventually it stopped and I walked from the ledge to the exit.
Still an alpha test
It was just really good for an Alpha. The creators wanted to be far along before letting people see it, and they are. But they have a lot more to do before people will be willing to pay money for it.
The graphics were good, but not polished. On the outside section, the mountains in the distance were a little blocky, but passable. The spiders people fire at in the shooting area were cool, but when they died, they did some weird things. There were spaceships to shoot at that looked a little behind the times.
None of this took away from the experience, especially for an alpha test. If they leave it the way it is, it will probably be fine, but I expect more and I suspect they expect more, as well.
While going from one event to the other the programs didn't load perfectly. The second gun and suit didn't sync and had connection issues. These are things they need to fix to have a successful release.
The entire event lasted 20-25 minutes, which is about where it will be for the paid version. While I could have played for hours, I developed a good sense about it in that time.
I didn't get to test the motion simulator that creates the sensation of flying in an aircraft that was in the YouTube video. I also didn't have the gloves that were shown in the video. I don't know if they are not available or if I just didn't get to use them.
The packs and helmet/visor generated a couple of concerns. They were hot inside and seemed a little heavy. The weight would only be a problem for smaller people. The heat may have been because I get hot easy. The microphone volume inside the helmet was a little loud at times. There were times when the sound of my breathing drowned out the ambient noises. That should be an easy fix, however.
The possibilities are endless
After reaching the end of the earlier mentioned long, straight hallway I was stopped and told to remove my goggles. When I looked back without the goggles, I saw a curved corridor. I felt like I had walked down a very straight hallway, but it was definitely curved.
I was told they can create an infinite number of rooms in a limited amount of space. The ability to generate twists and turns that affect the way you walk allows the operators to create huge puzzles inside pods that probably aren't more than 30-feet-by-30-feet. It would take about a minute to walk the pod without goggles, during the event it took over 10 minutes.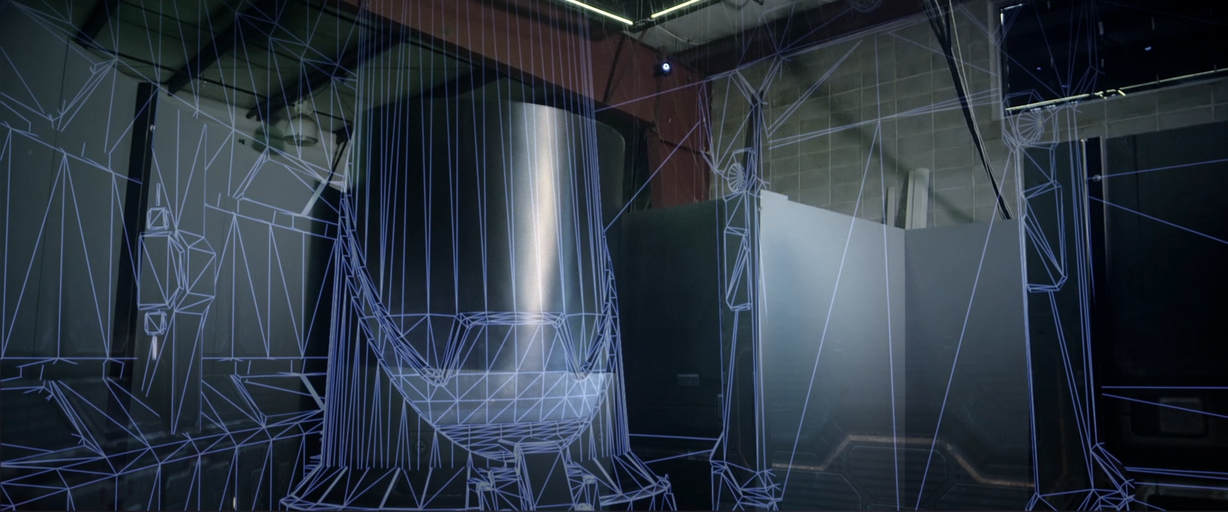 I assume I walked through the same area multiple times during the programs, but I honestly don't know. The event was impressive, but it wasn't as big as it will be once the permanent building is in place.
Shooting event well done
The shooting element worked accurately for my event. The person I was with had issues far away from the hub, which the operators knew about. My only problem was a connection issue. I ended with nine-percent accuracy, but that included a lot of random shots taken while playing around with the buttons.
Among the targets was a cool-looking alien, some space ships and a number of spiders attached to strings that gave the sensation of real spider webs. It was fun. The amount of shooting was limited, but enjoyable.
On the right track
Of course I wanted it to be fun and feel real, but I had doubts. Having experienced virtual reality events that were terrible, it was hard to believe this one would work well, but it one did.
There were some areas where I felt a little off-center, but that was a mix of the user interface and the heavy helmet. After the first few minutes, I felt calibrated and the dizziness went away.
After seeing and testing THE VOID, I believe these people can make this work. They have lots to do, but they are definitely on the right track to create a one-of-a-kind event that could be the next big thing in gaming.
Contributing: Mike Anderson
×
Related stories
Most recent Utah stories