Estimated read time: 2-3 minutes
This archived news story is available only for your personal, non-commercial use. Information in the story may be outdated or superseded by additional information. Reading or replaying the story in its archived form does not constitute a republication of the story.
BALTIMORE — For the second week in a row, the Utah Honor Flight is taking a group of World War II veterans to Washington, D.C., on a free trip to see their memorial.
This is only the second of four scheduled flights over five weeks. Organizers said the trips are happening as quickly as possible because this simply isn't something they can put off.
"We are losing these guys, and we want to make sure they all get there — as many as we can take," said Judy Lemmons with Utah Honor Flight. "We've lost a few that were supposed to be on this flight, and so the urgency becomes greater with each passing day."
It's a long trip with surprises around every corner. After being escorted to their gate by a group of bagpipers, the veterans found themselves seated onboard, then bombarded with letters from friends and family. The Honor Flight calls it "mail call," bringing back memories of times when veterans stationed overseas often had to wait weeks, even months, for correspondence from their loved ones. "Well, they were very complimentary, telling me what a nice guy I was. They don't know me," joked veteran Don Pullan. "It was a thrill-and-a-half to get them. It tears at your heartstrings."
The veterans landed in Baltimore, then disembarked to the biggest surprise yet — hundreds of everyday passengers cheering for each veteran.
"I'm overwhelmed by all of this," said one veteran. "I can't imagine why they're doing all of this. I don't feel that great, but I appreciate it anyway. They're very, very thoughtful, and very, very kind."
After a quiet dinner at their hotel, most of the veterans headed to bed with a full schedule awaiting them the next day: the Lincoln Memorial, the Changing of the Guard at Arlington, and the purpose of the entire trip, the World War II Memorial. Many veterans who've been to D.C. before haven't had the chance to see the memorial since it was only dedicated about 10 years ago.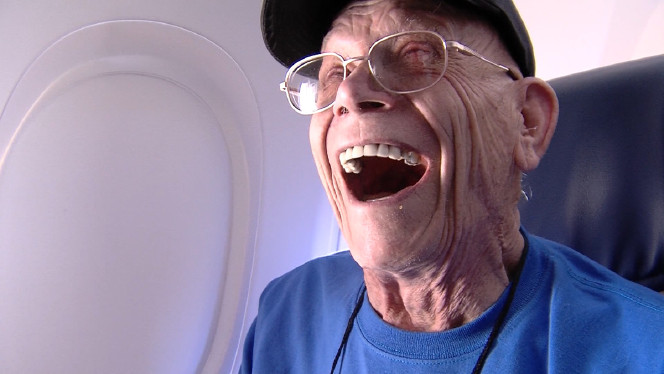 Photo credit: Ray Boone/KSL-TV
"I've never been there," said Bill Samson. "I've been to Washington, D.C., because I worked for the government at one time and I did a lot of traveling, but never been to the memorial. I'm looking forward."
This journey is three very long days for these men, many of whom are in their 90s. Lemmons reiterates that this mission becomes more urgent by the day. In fact, one of the men who took this trip one week ago has already died.
"I think it's one of those things where they want to go so badly, and it's their last hurrah," said Lemmons. "They go to the memorial, and it's like, 'OK, I've fulfilled what I want to fulfill.' "
×
Photos
Related links
Most recent Utah stories