Estimated read time: 6-7 minutes
This archived news story is available only for your personal, non-commercial use. Information in the story may be outdated or superseded by additional information. Reading or replaying the story in its archived form does not constitute a republication of the story.
SALT LAKE CITY — The World Congress of Families will be held in Salt Lake City Oct. 27-30, marking the first time that the international family-focused gathering has taken place in the United States.
But Salt Lake City Mayor Ralph Becker issued a statement Tuesday saying that even though his duties as mayor include protecting people's rights to assembly and free speech, he believes the World Congress of Families' stated goals do not reflect the values of the city.
Also, the newly formed All Families Coalition intends to counter the group with a message of its own, saying that just because an organization calls itself pro-family doesn't make it so.
The formal agreement between the World Congress of Families and the event's host organization, the Sutherland Institute, was signed Tuesday during a press conference at the Grand America Hotel. Cities from around the world bid for the event, which has previously been held in Prague, Mexico City, Warsaw, Amsterdam, Madrid and Sydney.
Organizers expect around 2,000 scholars, religious leaders, policymakers, world leaders, European royalty and interested members of the public from around the world to gather for the event, which is being heralded as a way to celebrate and strengthen the "natural family."
"Natural family" means children growing up with their biological, married parents, according to Allan C. Carlson, co-founder and international secretary of the World Congress of Families. He said the congress arose from research that showed children do best when they grow up in such families, and that it became, for him, "a moral imperative to advance and promote such households."
The congress is founded on principles taken directly from the Universal Declaration of Human Rights adopted by the United Nations in 1948, including that adult men and women have the "right to marry and found a family," that parents have rights to choose their children's education, and that "the family is the natural and fundamental group unit of society and is entitled to protection by society and the state," he said.
He called the gathering "child-centric and human-rights based."
Janice Shaw Crouse, an author and former speechwriter for President George H.W. Bush, is executive director of World Congress of Families IX. She said the conference is designed to bring together people from vastly different cultural and faith backgrounds who disagree on many other things, but agree that the "strength of family truly is the strength of nations."
---
I believe fundamentally family is the anchor and the foundation upon which moral and good societies are built.
–Rev. Greg Johnson, president and founder of Standing Together
---
A different viewpoint
That the Congress is built around emphasis on natural family is sparking some debate at a time when issues of same-sex marriage are being decided. From questions at the press conference announcing the Salt Lake gathering and a different press conference held at the state Capitol afterward indicate not including same-sex marriages in the conference will be controversial.
During a Q-and-A session, the organizers were asked if families formed of same-sex unions would be welcome at the World Congress of Families. While Crouse said the event is based on belief that the natural family is best for children, she added the group also "promotes respectful civil discourse."
Stanford Swim, Sutherland Institute chairman and interim president, noted that anyone can register for the gathering. He said the congress is advocating for the ideal, intact birth families, rather that denigrating other family formations.
Becker in a statement said Salt Lake City was the first city in Utah to adopt a nondiscrimination ordinance regarding sexual orientation and gender identity, "and it is my hope that during this group's time in Salt Lake City they can learn from our community's commitment to inclusion, acceptance and equality for all."
Utahns supporting a newly organized All Families Coalition say they don't plan to attend the congress, though they might invite participants to a public event of their own.
Mark Lawrence, director of Restore Our Humanity, said he's more focused on the coalition's message that there are many types of families. "We want to give a voice to those people," he said.
Lawrence said he agrees that the family is the cornerstone and fundamental unit of society.
"It is, however, short-sighted and even myopic to assume that this fundamental unit of society applies only to a single narrow perspective that these so-called pro-family organizations and groups affirm," he said. "This is not pro-family."
Tim VanZeben, director of the All Families Coalition, said love makes a family. "Love transcends race, gender, sexual orientation, age and national origin," he said.
The group is starting a website, www.allfamilies.org, for families from diverse backgrounds to share their stories. In addition to Restore Our Humanity, supporters of the coalition include Equality Utah, Atheists of Utah and Mormons Building Bridges, Lawrence said.
Lawrence said he believes there is room for all families in society, not just ones that meet a rigid paradigm.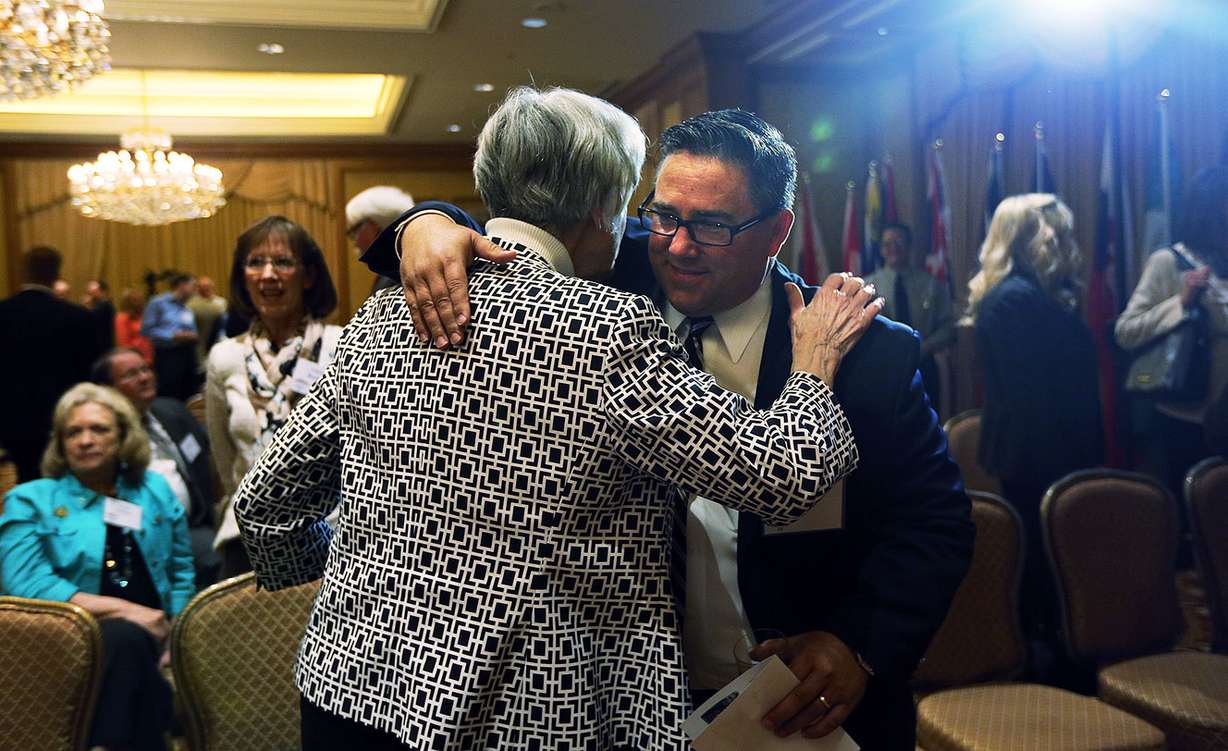 Instead of focusing on true maladies of family breakdown such as poverty, domestic violence and drug abuse, some organizations blame the collapse of the family on loving couples in same-sex marriages and those who favor women's reproductive rights, he said.
The lineup
Families are challenged by too-high divorce rates and the growth of cohabitation and other living arrangements that have grown exponentially but have not been proven by research to be the best way to raise children, Crouse said. She also decried the emergence of "very crude negative influences" in the culture and said the program is designed to "help families become a bulwark against negative things" like too-early sexual experimentation and drugs.
A number of faith traditions besides The Church of Jesus Christ of Latter-day Saints and the Catholic Church are involved with the World Congress of Families.
"I believe fundamentally family is the anchor and the foundation upon which moral and good societies are built," said the Rev. Greg Johnson, president and founder of Standing Together, a coalition of 75 evangelical Christian congregations in the Salt Lake area. He added that "family was God's design and God's plan for creating a moral society, a good society, so I celebrate the natural family."
Speaking for Utah. Gov. Gary Herbert, Pamela Atkinson said it's clear that "some values are pervasive" in multiple faiths in terms of love for family. "The governor believes that if we can have that love in family, nothing is impossible."
Crouse said the program will include a variety of speakers, including Nick Vujicic, a noted motivational speaker from Australia who was born without limbs; San Francisco Catholic Archbishop Salvatore Cordileone; head of the national Hispanic Christian Leadership Conference Sammy Rodriguez Jr.; LDS author and speaker Sheri Dew; economist and author Jennifer Roback Morse; and an LDS general authority, among others.
Another highlight will be a discussion by an international panel of young people in their late teens and early 20s on life, marriage and other family matters, she said.
The gathering will include breakout discussions of topics including sex trafficking, abortion, pornography, the economic burden from family breakdown, Hollywood values, bioethics and more, Crouse said.
To learn more about the World Congress of Families IX or to register, visit www.wcf9.org.
×
Photos
Related stories
Most recent Utah stories