Estimated read time: 4-5 minutes
This archived news story is available only for your personal, non-commercial use. Information in the story may be outdated or superseded by additional information. Reading or replaying the story in its archived form does not constitute a republication of the story.
PROVO — As one of a handful of returning players with BYU men's soccer, midfielder Pedro Vasconcelos knows the Cougars are already in rare air with a first-round match in the prestigious U.S. Open Cup national tournament.
But that doesn't mean he is content with just being there.
"We're going to go for the win, and we're going to try to go as far as we can," Vasconcelos said after training Tuesday at South Field. "But just the fact that we are in the tournament, it's an achievement that we have to enjoy now and for the future."
The Cougars will get that chance Wednesday in their first official home match of the 2015 season, an Open Cup date with Denver-based amateur side Harpo's FC at 7:30 p.m. at the stadium at South Field.
The winner of the BYU-Harpo's FC match will draw USL's Colorado Springs Switchbacks FC in the second round. Clubs from the second-division North American Soccer League (NASL) enter in the third round, and Major League Soccer teams all enter in the fourth.
Naturally, BYU doesn't want to waste this chance. The Cougars were last in the Open Cup field in 2007, when they made appearances in back-to-back seasons that included a Northwest Division title in the fourth-tier Premier Development League.
The 2014 squad qualified for this year's tournament as one of the top teams in the PDL's recently formed Mountain Division. But with only three regular starters back from that squad, youth and chemistry are still working themselves out. Wednesday night's match will be a good chance to test BYU's speed and youth against an older, stronger Harpo's side.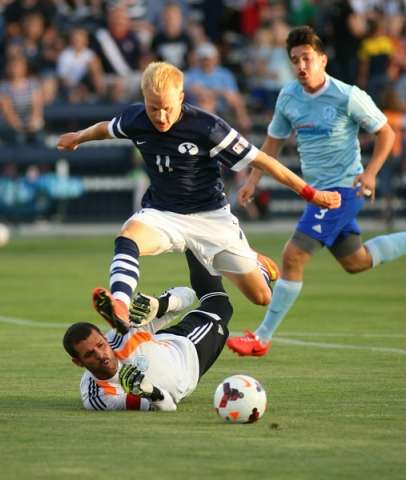 "We have an idea of who the strong players are and we'll prepare for those players," BYU co-captain Ethan Meyer said. "But in the end, it just comes down to how we focus and how we are ready to play."
Head coach Chris Watkins flew to Harpo's play-in match against fellow amateur side KC Athletic, a 2-0 win that saw Harpo's FC become the first-ever Open Cup entrant from the United States Specialty Sports Association.
BYU made history in 2006 when it became the first college club to qualify for the tournament. To date, it is still the only college team to compete in the Open Cup, and the Cougars will look for their first win in the tournament Wednesday night.
"It's a huge opportunity," Watkins said. "To be able to play a great team like Harpo's — and just as important — to have the chance to move on, it keeps you up at night, but what great things could come."
Harpo's FC is led by goalkeeper Zac Gibbens, who made five saves in the shutout of KC Athletic, and Kyle Luetkehans, who played college soccer at Vermont and works a day job as an account executive for a Denver-area software company.
Leutkehans, a Chicago native, also fielded a professional career that included stops in Norway, Finland and the German fifth division before settling in with the Brisbane Strikers in Australia. Current Harpo's teammates Justin Geibel, Aaron Woodruff and Corey Cullen also played Down Under at the same time as Leutkehans.
"They definitely are experienced players, with guys who have played professionally," said Meyer, a native of Dallas. "We're a younger team this year, and I think we just have to play to our strengths.
"We'll have to be smart, because one mistake, and these guys will know what to do. We just have to be careful."
Youth isn't always a bad thing, either, Watkins added.
---
We're going to go for the win, and we're going to try to go as far as we can. But just the fact that we are in the tournament, it's an achievement that we have to enjoy now and for the future.
–BYU midfielder Pedro Vasconcelos
---
"We're a young team, but they're good," he said. "I think we'll have some days where we'll be great and some where we are not that great. As we get further into the season, hopefully we can level those things out."
The younger players will rely on Vasconcelos and the handful of veterans returning to the team. It's a new role for the Brazilian midfielder, but one he is enjoying just a week into the season.
"I should be able to help those players, encourage them, remind them of what they do in practice and try to get them to play to their confidence level," Vasconcelos said. "I really didn't have a need to do that last year with so much experience.
"It's definitely a new feeling."
BYU and the PDL used a bye week following BYU's first week of the season, a loss and a postponed game at Real Colorado Foxes, to prepare for the Open Cup contest. After the match, the Cougars return to league play May 21 at Albuquerque and finish the final road trip of the month May 23 at FC Tucson.
Six of BYU's seven home matches are spread through three consecutive weeks in June, beginning June 5 against Colorado with matches against Las Vegas, Albuquerque and Tucson.
But first, priorities: a strong showing in the oldest national tournament in U.S. soccer history.
"We know the Open Cup; we've watched RSL play," Vasconcelos said. "To be in that same competition that the big guys are playing, it's something that we're pretty excited about."
×
Photos
Related links
Related stories
Most recent Sports stories