Estimated read time: 5-6 minutes
This archived news story is available only for your personal, non-commercial use. Information in the story may be outdated or superseded by additional information. Reading or replaying the story in its archived form does not constitute a republication of the story.
SALT LAKE CITY — The first class of state-educated dentists is already seeing patients, after fewer than two years of study and course work.
The quick success is putting the University of Utah's School of Dentistry on the map as far as dental schools go, according to Dr. Glen Hanson, interim dean at the school.
He said the goal is to become one of the top schools in the country.
It already has students who perform in the top 20 percent of all dental schools, which Hanson said "is exceptional for a first-year class."
Also exceptional is the $36-million, 85,000-square-foot Ray and Tye Noorda Oral Health Sciences Building, the opening of which was officially celebrated on Wednesday.
It's location, saved for nearly 35 years at Research Park, went from being what U. Vice President for Health Sciences Vivian Lee called "the world's largest cavity," to a world-class facility to provide not only dental education, but dental care for Utahns who cannot afford it.
A 62-chair clinic, as well as a separate pediatric dentistry suite, give the school's students — deemed the most elite of several hundred applicants each year — supervised hands on, practical application and experience.
"I can handle just about any mouth," said Kathryn Cameron, a 26-year-old second-year dental student at the Univeristy of Utah. She said work on patients only recently began, giving her and her 19 classmates a dose of reality.
---
My hopes are that whatever you do, wherever you go, you'll donate your time to those who can't afford it.
–Andy Noorda
---
"We've worked on plastic teeth, we've worked on dummies, but it is different when the live patient is there and can hear the occasional 'oops' or hear you talking to yourself about what you're doing," she said. "We're used to working on dummies … the patient can feel everything."
The Noorda family foundation provided a $30-million donation to construct the building, removing the need for students and faculty to race between two buildings on campus and giving them a "home," Hanson said.
While a young, newly married woman, Tye Noorda, also a former New York City model, fell and lost her front teeth. Though devastating, it was a while before the couple could afford to fix her teeth, leading to their passion for providing better access to the underserved, and, ultimately, the family's decision for the donation. Tye Noorda passed away last year, but was able to attend the ground-breaking for the building in 2013.
"My hopes are that whatever you do, wherever you go, you'll donate your time to those who can't afford it," Andy Noorda told students on Wednesday.
More than 750 hopefuls applied for the U.'s first dental class, which began in 2013, but only 20 students — all from Utah — were selected. In each subsequent year, the school has added three students, hailing from other states within the Intermountain West.
It's important for the school to grow responsibly, said Rick Pike, director of external relations at the U.
A legislative mandate, he said, requires the school to cater to the growing desire of Utah students to pursue dental education. The Regional Dental Education Program previously allowed students to attend their first year at the U., then leave the state for the remainder of their education before returning for their fourth year.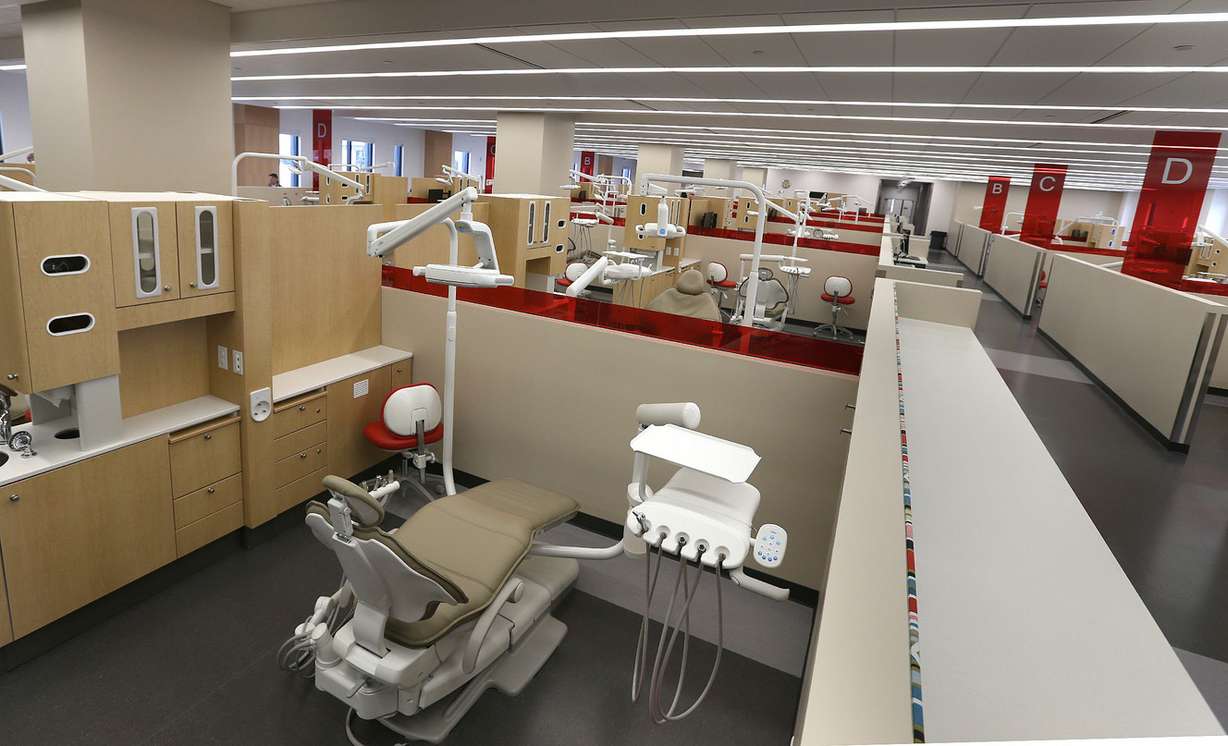 "No longer is dental school a stand-alone endeavor," said Dr. James Bekker, a pediatric dentist, U. professor and president of the Utah Dental Association. He said U. students benefit greatly from having access to other disciplines within the health sciences.
Lee said many parents have thanked her that their students can stay in Utah for their education, as well as avoid mounting student debt that results from paying out-of-state tuition elsewhere.
While there were years of pushback for the prospects of a state-run dental school, Lee said statistics show "we don't have enough dentists in Utah. The majority of counties are underserved."
Aiming to keep more students in Utah post-graduation, the school must accept more local students. And while the market along the Wasatch Front is likely saturated, Pike said, "there's a great need outside of that, even within the state."
Neighboring states, such as Idaho, Montana, Wyoming and New Mexico, he said, also lack a necessary supply of dentists.
But, Pike said, the school has "no problem getting Utah students."
In the first year, around 200 of the total 750 applicants were from Utah, with slightly fewer in the following two years, but making up the majority of applicants. The average grade point average of accepted students is 3.8 and Dental Admission Test scores are competitive.
Cameron, who worked as an orthodontic assistant for more than six years and received a degree in physical therapy prior to being accepted at the U., said she feels "incredibly lucky" to be one of the first 20 students to iron out the curriculum for future classes. The small group of students, she said, has become close as they've worked together through the years.
The new energy efficient building houses multiple technology-equipped classrooms, wide open laboratory areas and the patient clinic, as well as offices and student lounge and locker space.
"It's really nice for me to not have to make my husband move and change jobs," Cameron said. "It really could have changed my life to have to go someplace else for my education."
Unlike many of her classmates who plan to open their own dental offices, she plans to become a dental associate and work part-time while raising a family in Utah. She said the flexibility the profession offers is partly what drew her in, but her passion for building long-term relationships with patients and helping them achieve oral health is what led her to the U. for what she called "an ideal opportunity."
"It's a great career field for anyone," Cameron said. "If you work hard enough, you can achieve it. It's really not as intimidating as it sounds."
×
Photos