This archived news story is available only for your personal, non-commercial use. Information in the story may be outdated or superseded by additional information. Reading or replaying the story in its archived form does not constitute a republication of the story.
AMERICAN FORK — It's only mid-March, but trees are beginning to blossom and flowers bloom.
And that has some orchardists worried.
"You can see they're coming, and that little blossom right there is already starting to open," Jeff Mitchell of Mitchell Farms in American Fork said, examining his peach trees.
Mitchell grows several varieties of apples, peaches, apricots and cherries. The apricots are already blooming, and he suspects the peaches will follow any day.
"These peaches, they're getting in what's called the balloon stage where the blossom's just about ready to open up where they'd need some pollination," he said.
Mitchell is working to get dormant oil on his trees and get their bees to Utah from California as fast as possible.
"They're going to be in that area where it's real critical for temperatures for the next six weeks," he said.
KSL meteorologist Kevin Eubank said the odds of getting freezing temperatures again are above 90 percent in Salt Lake City.
"This week we have lows in Salt Lake going to 37, 38 (degrees)," Eubank said. "Any mountain valley, they're going to freeze this week. Now that's not where the orchards are, but … they have every right to be concerned."
Mitchell said in past years he's seen freezing temperatures into May. This year, he's hoping for the best.
---
It potentially means loss of an apple crop for sure. To have things this early just kind of increases the risk of having a hard frost.
–Lorin Harrison, Paradise Valley Orchard in Paradise
---
"Maybe it'll be one of those years where things are just early and everything works out OK," Mitchell said. "That's what you hope for."
Lorin Harrison with Paradise Valley Orchard in Paradise said his 250 apple trees aren't blossoming quite yet, but they are about three weeks ahead of schedule.
"It potentially means loss of an apple crop for sure," Harrison said. "To have things this early just kind of increases the risk of having a hard frost."
Eubank said one of the biggest problems with a hard freeze depends on during which stage of budding it happens. It becomes critical to what the growers reap.
The longer the tree can mature, the more they can tolerate the cold.
Eubank said damage is done with a hard freeze, which is temperatures at 28 degrees or lower for about two or three hours.
"It's complicated, but all of those factors play huge into these poor people's lives," he said.
"There seems to be risk every year," Harrison said, "and by the looks of things, the longer that it stays warm, the percentage of whether they're going to make it or not increases."
Though Harrison and his wife both work full-time jobs, losing any of the apples "still hurts" economically, he said.
Right now, Harrison said he feels more pressure to get the pruning done.
"Usually I can start finishing my pruning this time of year, but now they're starting to leaf out, and pruning is best done while they're dormant," he said.
Chris Healey, who manages the Manning Orchard in Kaysville, said he's not too worried about the early blossoms.
The orchard's 2,500 trees of mostly peaches and cherries are about two weeks ahead of schedule, Healey said. But he's seen this before.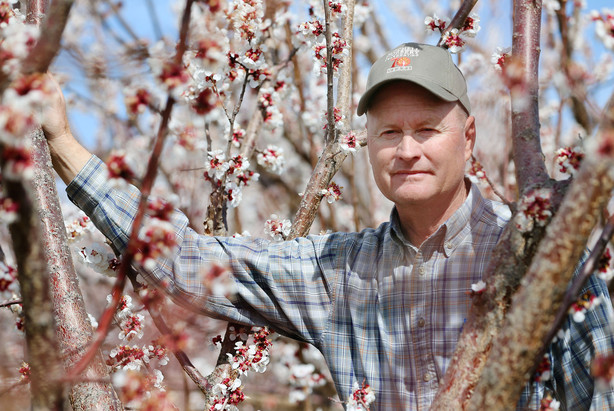 "There's always the scare about everything freezing, but since it's kind of mid-March, we're not that scared about it," Healey said.
"Cherries is a big one that we worry about freezing," he said.
Without a cold winter, Healey said his biggest worry will be controlling pests.
He said he's actually looking forward to being two weeks ahead of schedule. It means he and owner Scott Manning might be off on their birthdays, which typically falls during the harvest.
"So that's pretty good for us," Healey said.
Healey said cherries usually start selling at the end of June and into the Fourth of July weekend.
"This year we'll probably finish up by the beginning of July," he said.
Their peaches are usually in season in mid-August. Healey said he expects those more toward the first the month.
Eubank said the general rule is it's OK to plant after Mother's Day — the second Sunday in May.
"So even if you go a month before that, you're in the middle of April," he said. "And we still have a month left of that. (Orchardists) are very, very correct to be concerned about that."
According to the Utah State University Extension Office, the average last freeze in Salt Lake City is April 26.
"Weather-wise, I can almost guarantee another freeze," Eubank said. "Climatically speaking from the history, you're going to have another freeze."
"There isn't anything you can do," Mitchell said. "If you have a small tree, you might put a blanket or a small tarp over it and maybe survive a night or two."
But he said he doesn't have enough blankets to cover all of his trees.
"Hopefully the weather will stay good," Mitchell said.
×
Photos
Related Stories